UMR co-inventor of cancer-fighting glass beads inducted into National Academy of Engineering
Posted by news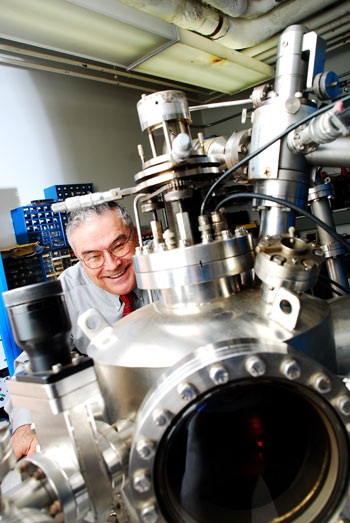 Dr. Delbert Day, Curators' Professor emeritus of ceramic engineering in the materials science and engineering department at UMR, was inducted into the National Academy of Engineering in October. He is the first person in the history of the University of Missouri system to have achieved this honor.
Day was one of 76 engineers inducted on Oct. 3 in Washington, D.C.
He is recognized for his discovery and development of radiotherapeutic glass spheres that are used to treat liver cancer, among other medical applications. As a member of the academy, Day may be called on by the national government to research specific issues involving his area of specialty.
University of Missouri President Elson S. Floyd praised the Academy's decision to honor Day.
"Professor Day has a national reputation as a pioneer in the discipline of engineering and the field of materials science," Floyd said. "As the first faculty member of the University of Missouri to be named to the National Academy of Engineering, Dr. Day has added to an already stellar career and brought great credit to his university and the state of Missouri."
"It is a great pleasure to be elected to the National Academy of Engineering," Day says. "I'm proud of the recognition it brings to the dedicated faculty at the University of Missouri-Rolla in particular and to the University of Missouri in general. My career at UMR has been exciting and I look forward to having more UMR faculty elected to membership in NAE."
Election into NAE is among the highest professional distinctions in the field of engineering. The academy honors those who have made important contributions to engineering theory and practice, and the literature of engineering theory and practice. NAE members pioneer new fields of engineering and make major advancements in traditional engineering fields or innovative approaches to engineering education.
Other inductees include Gary K. Starkweather, architect for Microsoft Corp.; Dr. Charles O. Holliday Jr., chairman and CEO of DuPont; Lawrence E. Page, co-founder and president of products for Google Inc.; and Dr. Rajagopal S. Raghavan, retired senior staff associate for Phillips Petroleum Co.
Day, who graduated from UMR in 1958, is the eighth UMR graduate to be elected into the academy.
"In the more than two decades since beginning his work with glass beads to treat liver cancer, Delbert Day has become recognized internationally as a pioneer in the emerging field of biomaterials," says UMR Chancellor Gary Thomas. "His election into the National Academy of Engineering is a well-deserved recognition of one of our most eminent researchers and scholars."
"This recognition by the National Academy of Engineering is the capstone for an absolutely stellar career," says Dr. Richard Brow, chair of the materials science and engineering department at UMR. "It acknowledges Delbert's uncanny ability to turn interesting scientific observations into practical solutions for a wide range of engineering problems."
An expert in developing specialty glasses, Day is best known for co-inventing radioactive glass microspheres, now marketed under the brand name TheraSphere, which are used commercially in the United States to treat patients with liver cancer. The treatment consists of injecting five to 10 million of the tiny beads — each one about half the thickness of a human hair — into the artery supplying blood to the liver. The beads become lodged in the liver where they deliver a very short range and localized radiation to malignant cells without harming healthy tissue.
The glass beads are made from a special aluminosilicate glass — developed at UMR — that contains yttrium oxide, a rare-earth element. Once irradiated, the beads bombard malignant cells within the liver for three to four weeks.
Day and co-inventor Gary J. Ehrhardt of the University of Missouri-Columbia started their research on the glass beads in 1982 and received their first patent for the beads in 1988. TheraSphere was first approved by the U.S. Food and Drug Administration for use in the United States in February 2000.
Day continues his work with specialty glasses, discovering new uses for tiny glass spheres as vehicles for delivering medicines to the body. He has developed hollow spheres that can be filled with drugs and other medicines for combating infections in the body, radioactive glass beads for treating arthritic joints and special bioactive glasses used to repair damaged or diseased bones.
A member of the UMR faculty since 1961, Day's research expertise with glass extends beyond biomaterials and medicine. Earlier in his career he developed "glasphalt," a mixture of crushed glass and asphalt, as a means to recycle waste glass. Glasphalt has been used on roads, parking lots and airport runways throughout the United States for more than 35 years.
He also has developed special glasses to encapsulate nuclear waste, rendering it safe for burial, and in the 1980s conducted the first containerless glass-melting experiments in microgravity on the space shuttle. Day is currently working with NASA to conduct additional glass-melting experiments on the International Space Station.
Currently, he is working with Dr. Paul Worsey, a UMR professor of mining engineering, to tag explosives with glass beads to help law enforcement officials trace the materials.
After receiving his bachelor's degree in ceramic engineering from UMR in 1958, Day received a master's degree in 1960 and Ph.D. in ceramic technology in 1961 from Pennsylvania State University. He then returned to UMR to teach. In 1981 Day was named Curators' Professor of ceramic engineering.
Day is the author or co-author of more than 300 technical publications, the editor of three books, and a registered professional engineer in Missouri. He holds 44 U.S. and foreign patents dealing with glass microspheres, sealing glasses, ceramic dental materials, oxynitride glasses, refractories, and optically transparent composites. In 1971 he was named the Nation's Outstanding Young Ceramic Engineer by the National Institute of Ceramic Engineers, and in 1973 he was elected a Fellow of the American Ceramic Society.
Day received the Outstanding Educator Award from the Ceramic Educational Council of the American Ceramic Society in 1991, the Presidential Award for Research and Creativity from the University of Missouri in 1996, and the Arthur Frederick Greaves Walker Award from the National Institute of Ceramic Engineers in 2001. He was elected as a fellow of the National Institute of Ceramic Engineers and a Fellow of the Society of Glass Technology in Great Britain in 2004.
Day is co-founder of Mo-Sci Corp. in Rolla, Mo., which manufactures specialty glass products used in the transportation, electronics, sporting goods, aerospace and health care industries. He currently serves as chairman and chief executive officer.