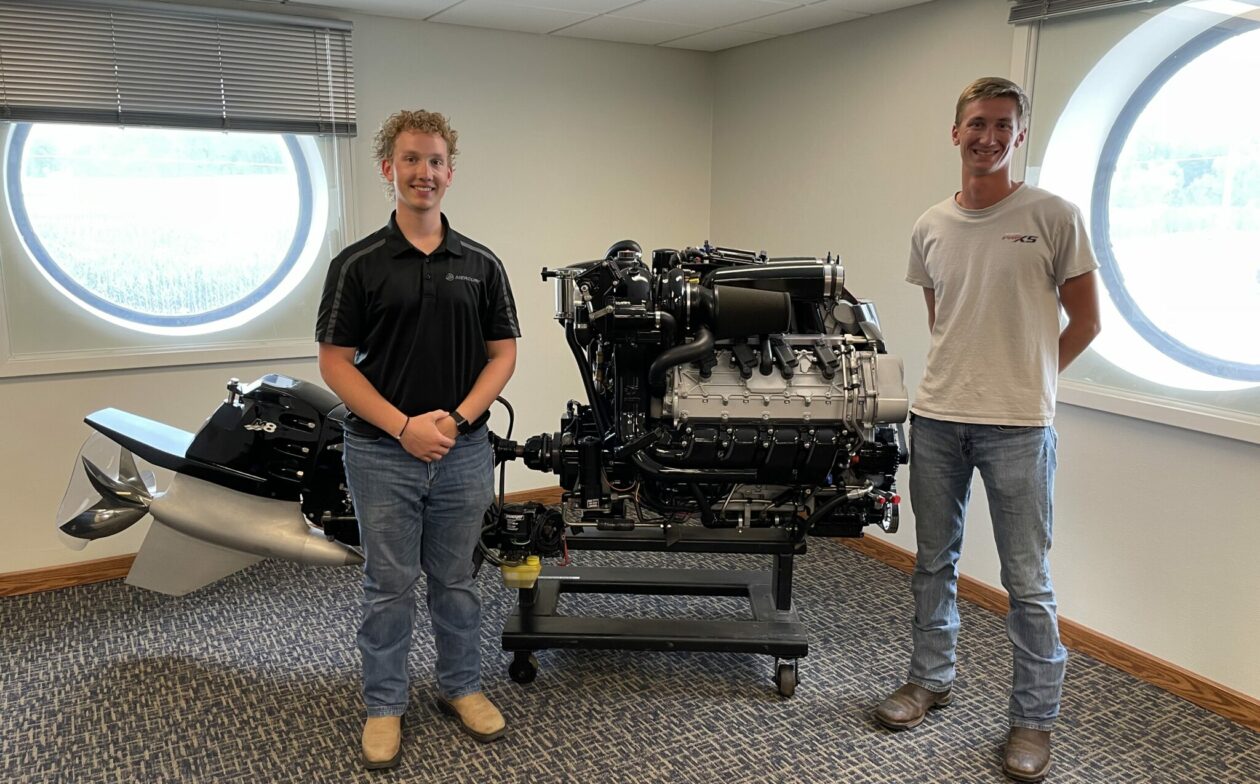 S&T students' co-op experience leads to potential patents
Luke Mirly and Brennen David may both currently be mechanical engineering students at Missouri S&T, but they are already making a difference in the boat motor industry – and may eventually have multiple patents to prove it. 

Mirly and David, both juniors at S&T, completed a cooperative education program (co-op) with Mercury Marine in Fond du Lac, Wisconsin, from January to July of this year. They are collaborating with the company to develop patents related to their work.

"Whenever I asked questions and had ideas that seemed possible, Mercury's leaders were supportive," says Mirly, of Jackson, Missouri. "They allowed me to develop some prototypes and do a pitch for their review committee for potential patents."

Mirly says the project he pitched to the committee focused on an adjustable midsection for an outboard motor. By having this adjustability, it will be easier for motors to function in different depths of water, he says.

David, of St. Peters, Missouri, assisted in this project, and he has some of his own projects in the works that may lead to future patents. His projects relate to wiring and wire management for outboard motors.

"The great thing about this internship was we were allowed to ask questions and work to develop our own solutions," he says. "We were just like the regular full-time members of the engineering team, and everyone was willing to listen to our ideas and give us guidance."

Although Mirly and David were new to their engineering positions at Mercury Marine, neither of them felt like fish out of water when beginning their positions.

David has worked with boats for years and has been part of his family's boat dealership. Mirly has been on the water for most of his life and has been successful buying, fixing and restoring jon boats for a profit.

These experiences led to the students' already having several ideas and opinions about Mercury's products before they arrived in Wisconsin, Mirly says.

Both students, who are Kummer Vanguard Scholars, say the co-op experience benefited their knowledge and abilities as engineers. David has taken more engineering courses than Mirly, and he says the co-op solidified many of the principles he has learned about in the classroom and S&T laboratories.

On the other hand, Mirly says he learned several principles in the field that he was then able to connect back to the classes he has taken since returning to campus.

"When students in class have asked, 'When will we need to know this?' I have been able to give real-world examples from my co-op," he says. "This type of experiential learning is such an important part of S&T students' education. I had the best experience at Mercury Marine that will help me hit the ground — or water — running once I graduate."

David agrees.

"As a student, leading the work on potential patents is an incredible opportunity," he says. "It is amazing to mention areas that could be improved and then have the support needed to make those changes happen."

For more information about S&T's mechanical engineering programs, visit mae.mst.edu.
About Missouri S&T
Missouri University of Science and Technology (Missouri S&T) is a STEM-focused research university of over 7,000 students located in Rolla, Missouri. Part of the four-campus University of Missouri System, Missouri S&T offers over 100 degrees in 40 areas of study and is among the nation's top public universities for salary impact, according to the Wall Street Journal. For more information about Missouri S&T, visit www.mst.edu.