Business student Lauren Moersch sets sights on a future driven by innovation
Lauren Moersch knew she wanted to be a business major in college and eventually pursue a career in real estate. But when she started looking at universities, Moersch, a senior in business and management systems at Missouri S&T, found that large programs at large schools simply did not offer ample opportunities to differentiate herself.
Though elusive, what she sought was fairly simple. She wanted the intersection of business and technology to serve as her classroom. She wanted to know her professors. She wanted the opportunity to develop new interests, and to not have to wait for graduation to apply what she learned about them.
Moersch grew up in Rolla, and had always been familiar with S&T, but she found herself intrigued when she looked at it from the perspective of a potential student.
Three years, two internships, lots of campus involvement and five minors later, she still is.
"I made the right decision," she says. "It feels good to know that, coming into my senior year at S&T."
"Business with an edge"
Moersch believes her major is "a big asset to the university." She also says business is a field that's rooted in helping people. As someone who considers herself outgoing by nature, it felt like a good fit. And as someone interested in the ways that technology affects every industry it touches, she says S&T's focus on STEM made the fit even better. The acronym STEM stands for science, technology, engineering and math.
"S&T's business program is STEM-focused, which is what's in demand," she says. "It's not business as usual. It's business with an edge."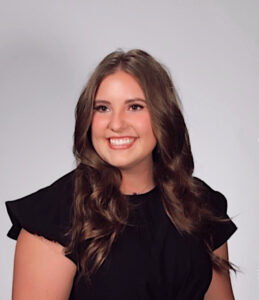 Part of that edge is her five minors: information science and technology (IST); management; entrepreneurship; electronic and social commerce; and marketing.
Another aspect of that edge is being part of the Kummer College of Innovation, Entrepreneurship, and Economic Development. S&T launched the college last year with engineering management and systems engineering and economics – along with her home department, business and information technology – as founding departments.
"Each of the departments in the college goes beyond its area of expertise and connects to innovation, entrepreneurship and economic development," she says. "That creates opportunities."
The opportunities that most interest Moersch revolve around innovation, which she defines as the process of taking what's already been done and making it better. Innovation is important to her from personal and academic perspectives. "I want to keep moving forward, discovering new things and taking new approaches," she says.
Many of her favorite S&T courses also happen to have revolved around the concept of innovation. She cites courses on technical marketing and communications, web design and social media as examples of how her department provides students with an informed perspective on up-and-coming business trends, putting technology at the forefront while still instilling business practices everyone will eventually need to understand in the workforce.
Getting involved, making connections
In addition to what she's learned in class, Moersch says one of the most important parts of being a student at S&T is the high level of involvement that's possible outside the classroom.
Following stints as its president and historian, she is currently director of membership enrichment for Zeta Tau Alpha. She's also a student ambassador for her department, a role she was nominated for by a professor. Her favorite part of that role involves answering questions about her department and the school from students considering S&T. She's a member of the Greek honor society Order of Omega. And she's involved with the Pinky Swear Pack, a group that raises funds and provides support for children with cancer.
While campus involvement has helped Moersch forge connections, she considers the opportunities S&T undergraduates have to land internships as a great way to connect with working professionals.
Her first internship was with Brewer Science, which develops and manufactures materials, processes and equipment for the fabrication of microdevices used in electronics such as tablet computers, smartphones, digital cameras, televisions and LED lighting. At Brewer, which is headquartered in Rolla, Moersch's work on the marketing team provided her with insight into how scientific products are marketed.
This summer she interned with Wallis Companies, headquartered in Cuba, Missouri, which encompasses retail, wholesale, commercial fuels, lubricants, car wash and transportation divisions. Switching gears from marketing skills to her interest in working with people, Moersch helped with staffing for more than 65 storefronts and recruiting for roles in business divisions. She interviewed candidates and in some cases extended job offers.
"Personal interactions are what I'm all about," she says. "The internship was hard work, but a great opportunity to be a part of a tight-knit group of people making things happen. It's a phenomenal company culture."
Moersch says both internships gave her a taste of the world beyond S&T.
"Internships really give students an opportunity to experience what's ahead," she says. "'Could I do this for the rest of my life? Could I do it for part of my life and really enjoy it?'"
She says her internships also gave her a greater awareness of herself.
"Both of my internships were challenging to me," she says. "They introduced me to new things. At the same time, they helped me realize what I'm capable of, to see what I already have and then build on the foundation. They both gave me greater confidence about being successful in my field."
A future driven by the spirit of innovation
Moersch's dream is to work in corporate real estate. She doesn't know exactly how she'll bring that dream to fruition, nor at this point does she feel required to. She would like to earn a graduate degree eventually, an MBA perhaps, or maybe a degree from a program that hasn't yet launched. She's intrigued by the brokerage side of real estate – she loves working with money – as well as design. On the residential side of the industry, investing and property management interest her.
Wherever she lands, she plans on bringing the spirit of innovation nurtured at S&T with her. She has several ideas for modernizing the real estate field, such as helping smaller firms use data more strategically to compete with larger agencies. Whether she's at a large or small company or on her own, she hopes to draw on what she's learned in STEM-related courses – which she refers to as "cross-referencing." Drawing from different disciplines is nothing new for her: It's been at the foundation of her S&T experience.
"I'm surrounded by engineers who are developing and creating with technology," she says. "I love that S&T ties that into business. Business needs that push from other fields to grow."
As fond of technology as she is, Moersch is equally fond of people, and she's a staunch believer that the two are compatible.
"How can we integrate the personal interactions that make business more personable?" she asks. "I'd rather have 10 customers I know very well than 500 email contacts."
Regardless of how exactly she brings her real estate dream to life, Moersch says she's confident that the opportunities she's had at S&T will serve her well. She considers herself the beneficiary of high-quality teaching, having learned from faculty who are more specialized in areas rich with innovation.
"The faculty have made a big difference for me," she says.
Being encouraged to explore has also been important.
"If I can figure out what I'm passionate about and love, I'll take it and run with it," she says. "I'm not afraid to try new things, and I feel like there's a lot of support for that at S&T. There are lots of different aspects of business, and S&T helps you experience as many of them as you're willing to."
About Missouri University of Science and Technology
Missouri University of Science and Technology (Missouri S&T) is a STEM-focused research university of over 7,000 students. Part of the four-campus University of Missouri System and located in Rolla, Missouri, Missouri S&T offers 101 degrees in 40 areas of study and is among the nation's top 10 universities for return on investment, according to Business Insider. For more information about Missouri S&T, visit www.mst.edu.