S&T's Renaissance Student Award goes to Kayla McBride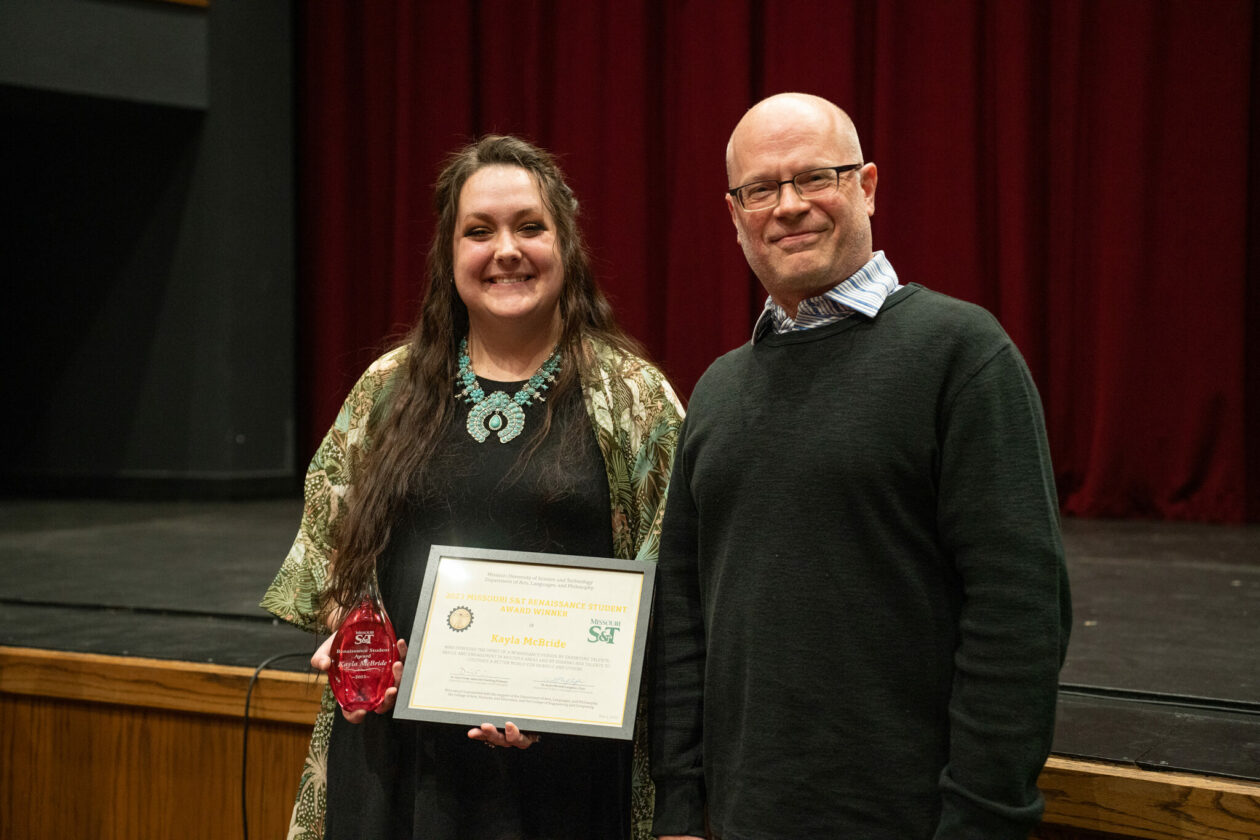 Kayla McBride, a senior in biology from Bakersfield, Missouri, has been named Missouri S&T's Renaissance Student for 2023. She received the award, which included a $1,000 prize, on Tuesday, May 2, at a ceremony hosted by the arts, languages and philosophy department.
This award is presented each year to a senior student who exhibits the qualities of a "Renaissance" person — someone who excels in multiple intellectual or artistic disciplines. The most famous example is Leonardo Da Vinci, who was a painter, sculptor, musician, mathematician, inventor and writer.
"Kayla McBride demonstrates success, initiative and desire in personal development by being actively engaged with other subjects outside her primary discipline – the Russian language and painting," says nominator Dr. Irina Ivliyeva, professor of Russian at S&T. "Kayla excelled in being able to creatively integrate the science, the language, and the appreciation of literary expression in an innovative manner, clearly demonstrated in her submissions, class discussions, and email exchanges. Her unique study habits and strong analytical skills allowed her to always succeed in the classroom."
McBride is a founding member of the Equestrian Club at Missouri S&T, and is a member of the Heart of the Ozarks Angus Association and Arts Rolla. She is minoring in both studio art and education. She has an art business that offers custom works through her Facebook page, named "Art by McBride" and a business as a seed stock producer, in which she sells bulls and beef.
"Kayla has a strong science foundation, she is incredibly focused on her career and she has the background of working diligently," says nominator Dr. Julie Semon, associate professor of biological sciences at S&T. "She has taken my BioDesign and Innovation class, where she designed a tent-like structure, which she called the "calming Curtain," to house cattle when doing certain procedures such as in vitro fertilization. Kayla presented her product before a board of experts and the feedback from everyone was overwhelmingly positive – she has decided to take her product outside of the classroom to start yet another business, as she already has investors and committed customers."
The runner-up Renaissance Student is Daniel Ripp, a senior in multidisciplinary studies and nuclear engineering from Rolla, Missouri. Ripp has been a member of Missouri S&T's American Nuclear Society, Tau Beta Pi, MSM Spelunkers and Tau Beta Sigma. He plays French horn and occasionally trumpet and piano – Ripp has been a part of S&T's Marching Band, Wind Symphony, Symphonic Band, Orchestra, Pep Band, Movie Music Ensemble, Video Game Music Ensemble and Brass Choir. He also sings baritone or bass as part of the Chamber Choir and Jazz Choir.
Nominator Dr. David Samson, assistant professor of music at S&T, says that Ripp "is a very bright and talented musician as well as an indispensable member of the band program." Samson goes on to say that he has known Daniel for four years and has seen him grow, not only as a musician, but as a leader and advocate for S&T's music programs.
"Daniel was that student in class that was always ready and always committed," says nominator Dr. M. Emilia Barbosa, assistant professor of Spanish at S&T. "He was also an inspiring and caring peer during the global pandemic; in the virtual setting, he led through an extraordinary presence and was, in my opinion, a vital catalyst to everyone else."
About Missouri University of Science and Technology
Missouri University of Science and Technology (Missouri S&T) is a STEM-focused research university of over 7,000 students. Part of the four-campus University of Missouri System and located in Rolla, Missouri, Missouri S&T offers 101 degrees in 40 areas of study and is among the nation's top 10 universities for return on investment, according to Business Insider. For more information about Missouri S&T, visit www.mst.edu.