Fourteen honored at Missouri S&T Staff Day awards ceremony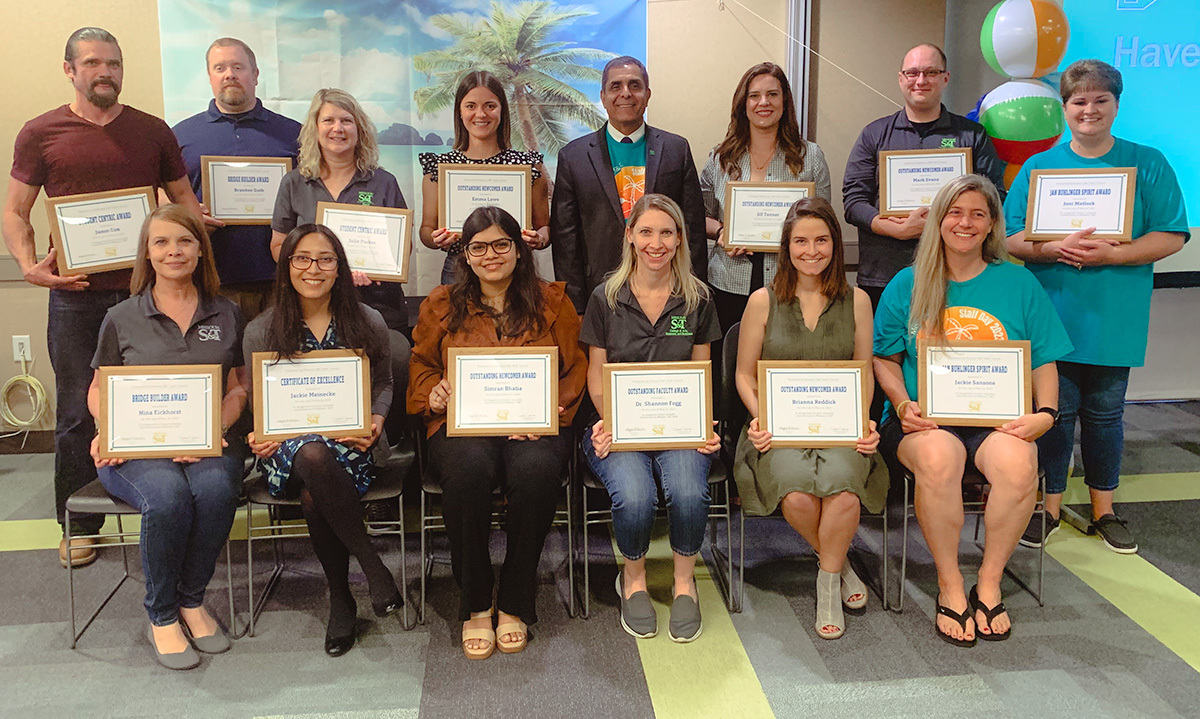 Fourteen Missouri University of Science and Technology employees were honored for their contributions to the campus during the university's Staff Appreciation Day celebration on Wednesday, May 24.
Candidates for the awards were nominated by faculty, staff and students. The winners were selected based on their job performance, relationships with associates and dedication to Missouri S&T.
Six staff members received Staff Excellence Awards. In addition to a plaque, each winner will also receive a gift from Legends Bank and a monetary award of $1,000 provided by the chancellor's office. The winners are:
Jason Cox, senior research specialist in the Center for Infrastructure Engineering
Nina Eickhorst, business support specialist II for the registrar's office
James Gunn, custodian I in facilities services
Brandon Guth, sergeant for the University Police
Jacqueline Meinecke, assistant director of Kummer Student Programs
Julie Parker, assistant registrar for the registrar's office.
Five staff members received Outstanding Newcomer Awards, given to staff members who have made a positive impact in their first two years at Missouri S&T. The winners are:
Simran Bhatia, student service coordinator for student well-being
Mark Evans, business support specialist II in student involvement
Emma Lowe, associate director of doctoral recruitment in admissions
Brianna Reddick, data analyst II for the vice chancellor of finance and operations
Jill Tanner, director of digital marketing in marketing and communications.
The Outstanding Faculty Award recognizes a faculty member who is actively engaged in supporting staff across campus. The 2023 award went to Dr. Shannon Fogg, professor of history and political science and interim associate dean of academic affairs for the College of Arts, Sciences, and Education.
In addition to the staff and faculty excellence awards, Staff Council presented the Jan Buhlinger Spirit Award to Joni Matlock, finance and accounting specialist for the College of Engineering and Computing, and Jacquelyn Sansone, fiscal manager for the College of Arts, Sciences, and Education. The award is named for the late Jan Buhlinger, a former Missouri S&T staff member and member of Staff Council. Recipients are selected by Staff Council based on their Missouri S&T spirit.
About Missouri University of Science and Technology
Missouri University of Science and Technology (Missouri S&T) is a STEM-focused research university of over 7,000 students. Part of the four-campus University of Missouri System and located in Rolla, Missouri, Missouri S&T offers 101 degrees in 40 areas of study and is among the nation's top 10 universities for return on investment, according to Business Insider. For more information about Missouri S&T, visit www.mst.edu.