Registration open for this year's summer camps at Missouri S&T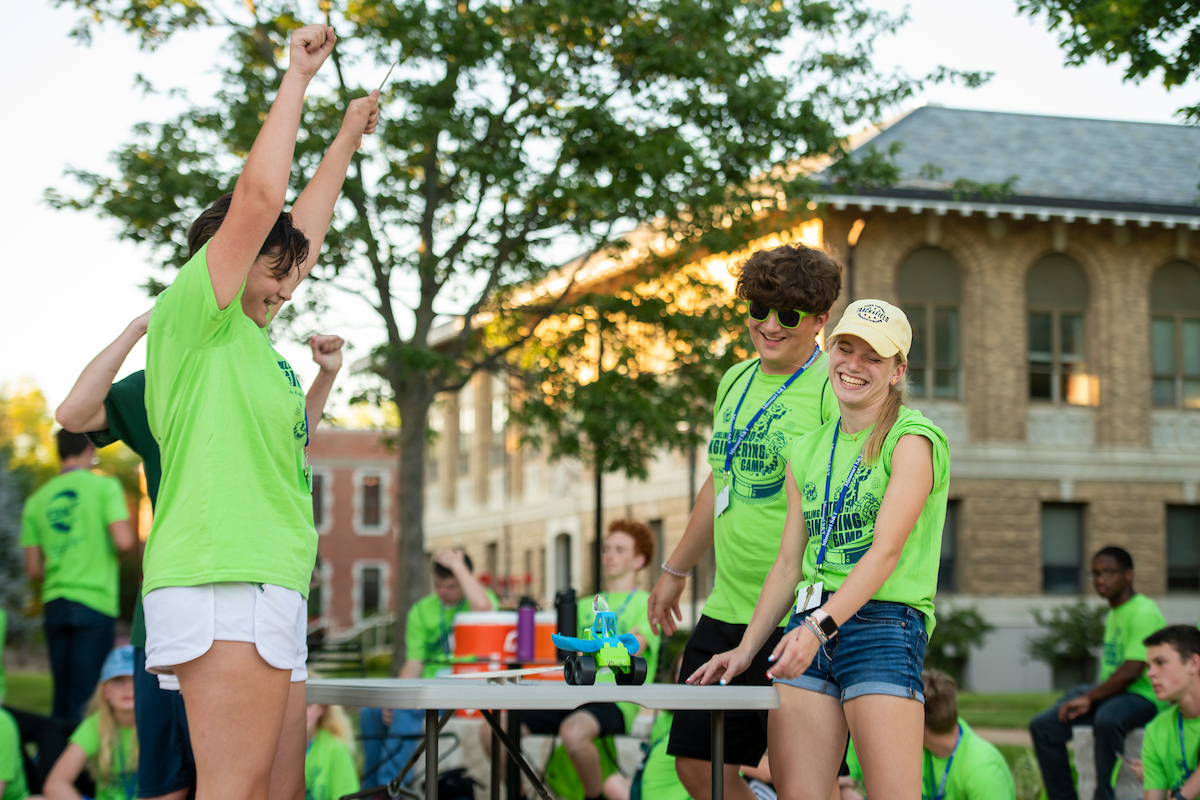 With the opening of registration for Missouri S&T's summer camps, the 2023 camp season is officially underway in Rolla with more opportunities to meet growing demand from elementary, middle school and high school students. Details and registration information can be found at summer.mst.edu.
Building on last year's record-breaking attendance, S&T has added several new camps this season. It has also launched a campaign to raise $1 million for the school's Kummer Center for STEM Education, giving donors the option to earmark their contribution for camp scholarships. The acronym STEM stands for science, technology, engineering and math.
"Our camps are all about giving kids an up-close look at a career in exciting, world-changing fields like science, business, communication, math, technology and engineering," says Courtney Jones, director of S&T's STEM Center. "While they're here, they'll have the opportunity to learn about explosives, tour a nuclear reactor, take a deep dive into a diverse range of engineering careers, create art, serve as environmentalists and travel to the edge of space. By the time the camp ends, we want campers to be able to see themselves as future STEM leaders."
Camps run from June 4-July 28 and are open to students in grades 4-12. Twenty-one camp sessions covering a minimum of 24 STEM-related topic areas are currently scheduled. Twenty camps are residential, with a minimum two-night stay at the S&T campus in Rolla; the camps for students at the older end of the age range will include a five-night stay. Registration costs, application requirements and dates vary by camp; visit summer.mst.edu for important information about each camp.
In addition to perennial favorites like robotics and explosives, S&T offers two new camps specifically for girls, and one developed to introduce STEM to students from groups traditionally underrepresented in STEM fields. Other new camps this season include one focused on "containing contagions," which will put participants in charge of investigating a mysterious disease; a camp that will demonstrate how scientific processes inform our understanding of the world, called "Is it Alive?"; and a camp devoted to the design of amusement parks. Rounding out the menu of new offerings is a camp that will prepare juniors and seniors to become leaders who advocate for the common good of their schools and communities.
In addition to leading the reintroduction of in-person camps last year after a two-year hiatus due to the COVID-19 pandemic, Jones prioritized raising funds for camp scholarships to help make these summer programs available to more students.
Last year, full scholarships were awarded to all who applied; this year, she hopes the matching program announced by the Kummer Institute Foundation Board will help even more students experiencing financial hardships attend a camp at S&T. With the goal of raising $1 million for S&T's Kummer Center for STEM Education, every gift of $25,000 or more will be matched until the $500,000 the board has provided is allocated. To learn more about the program, contact Kristen Gallagher, executive director of development and strategic engagement, at 573-341-6050 or gallagherkr@mst.edu.
About Missouri University of Science and Technology
Missouri University of Science and Technology (Missouri S&T) is a STEM-focused research university of over 7,000 students. Part of the four-campus University of Missouri System and located in Rolla, Missouri, Missouri S&T offers 101 degrees in 40 areas of study and is among the nation's top 10 universities for return on investment, according to Business Insider. S&T also is home to the Kummer Institute, made possible by a $300 million gift from Fred and June Kummer. For more information about Missouri S&T, visit www.mst.edu.