FIRST Tech Challenge returns to S&T March 4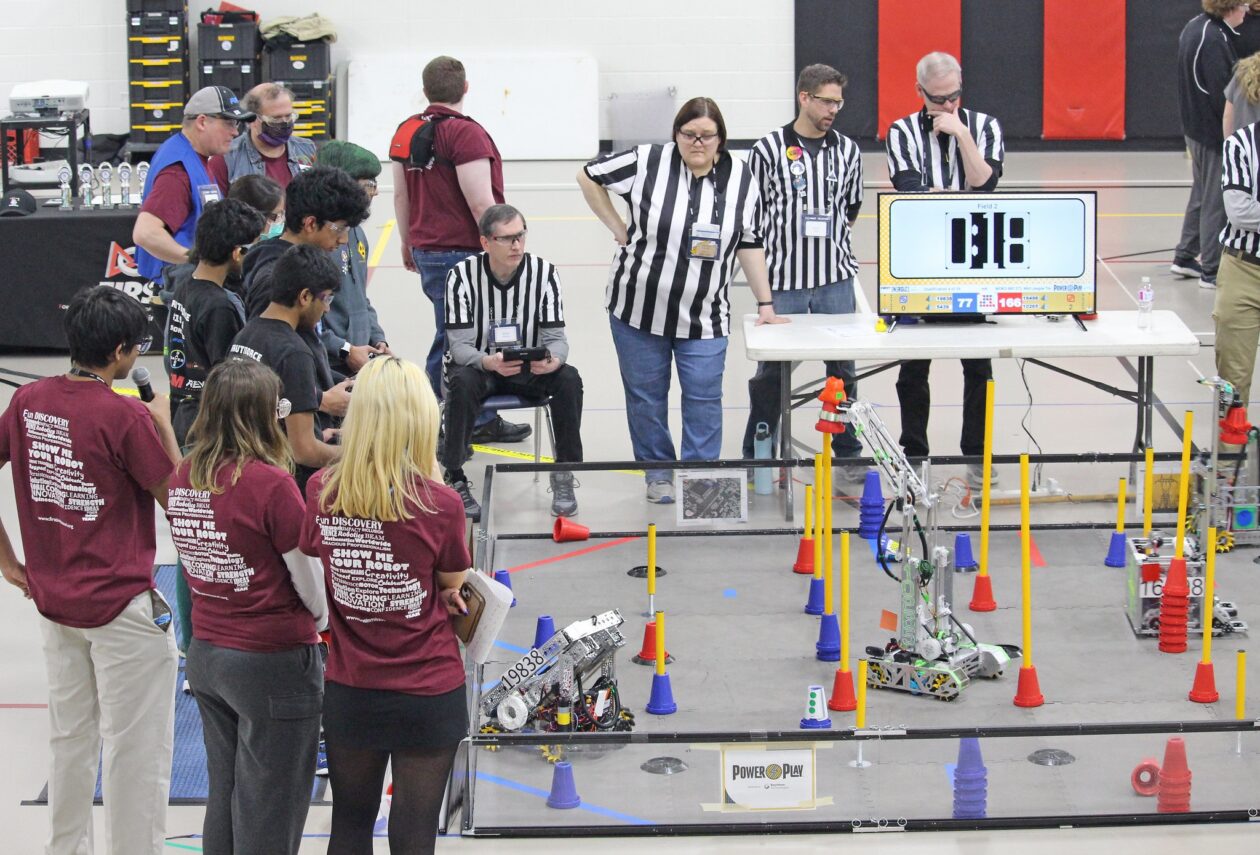 Learning takes center stage – or the gymnasium floor, in this case – starting at 11:50 a.m. Saturday, March 4, when FIRST Tech Challenge returns to Missouri University of Science and Technology for its Missouri/Kansas regional championship. FIRST Tech Challenge is an international robotics program for grades 7-12, offered by FIRST in Missouri both inside and outside the classroom.
Hundreds of tech-savvy students will show off their skills and their robots in the varsity gymnasium at Missouri S&T's Gale Bullman Building, located at 10th Street and Bishop Avenue. Four teams will advance to the FIRST Championship in Houston, April 19-22. Judges will also name four individual students as Dean's List finalists advancing for further recognition.
Powerplay is the theme of this year's competition, presented by Raytheon Technologies. Teams will be judged on their robot's ability to make the right energy decisions and find ways to unlock their robot's full potential as they race to build and complete circuits — testing the limits of power, performance, energy and endurance.
FIRST Tech Challenge is designed for students who want to compete head-to-head following a sports model. Teams will compete on a 12′ X 12′ field, in an alliance format, with robots they have designed, built and programmed. Robots are built from a reusable platform, powered by Android technology and programmed with Java-based programming languages. Teams, including students, coaches, and mentors, are required to develop strategy and build robots based on sound engineering principles, such as rapid prototyping. Awards are earned for the competition, as well as community outreach, robot design and other accomplishments.
This year's competition will include 36 teams with over 300 students from Missouri and Kansas that advanced to the championship through one of several regional league tournaments. The teams will play on the game field to determine the top robots, and panelists will interview competitors for awards.
"The Kummer Center for STEM Education is excited to continue our K-12 collaboration with FIRST Tech Challenge as it returns to campus," says Courtney Jones, director of the Kummer Center for STEM Education at Missouri S&T. The acronym STEM stands for science, technology, engineering and math. "We have a strong robotics summer camp program, in addition to several other robotics-focused activities throughout the school year, which feed into robotics teams statewide. In fact, many students competing will become S&T students and go on to become STEM professionals, with a problem-solving skill set that is directly related to this event."
The competition is free and open to spectators. The action will be livestreamed for those who are unable to attend in person. Live scoring will also be available online.
About Missouri University of Science and Technology
Missouri University of Science and Technology (Missouri S&T) is a STEM-focused research university of over 7,000 students. Part of the four-campus University of Missouri System and located in Rolla, Missouri, Missouri S&T offers 101 degrees in 40 areas of study and is among the nation's top 10 universities for return on investment, according to Business Insider. For more information about Missouri S&T, visit www.mst.edu.