Speakers announced for TEDx event at Missouri S&T Oct. 27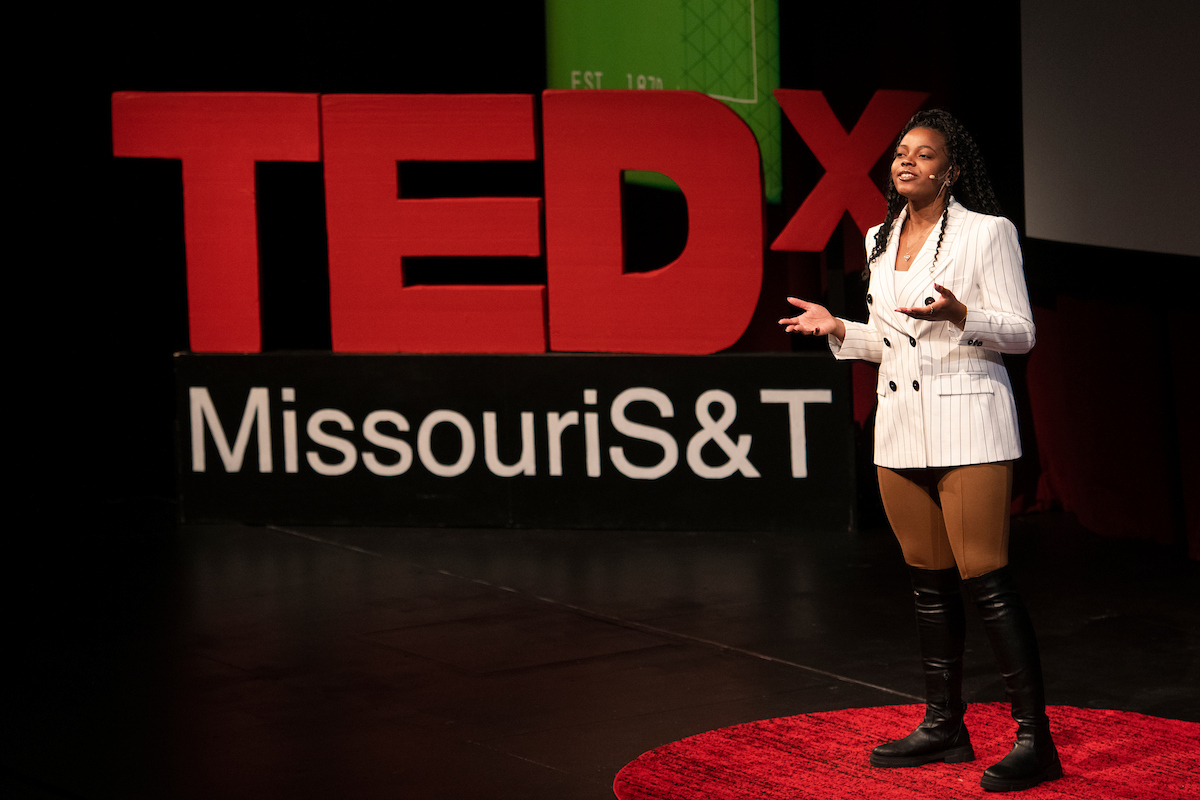 Seven speakers will present their perspectives on ways innovation connects with others to evolve, develop and grow in ever-continuing chain reactions at a TEDx event on Oct. 27 at Leach Theatre. The theme of this year's event is "Chain Reaction."
The speakers will discuss how they connect their work across barriers and horizons and share innovative ideas that inspire others to discover ways to launch their own inventions.
The event will begin with a reception at 4:30 p.m. in Leach Theatre of Castleman Hall, located at 400 W. 10th St. in Rolla. Complimentary refreshments will be provided by Los Arcos and Just Delicious, and a cash bar will feature beer and wine from Public House Brewing Co. and St. James Winery. Theater doors will open at 5:30 p.m., and the talks begin at 6 p.m.
Tickets are $15 for the general public and $10 for Missouri S&T students. Tickets are available online at tedxmst.com, by phone at 573-341-4219 or at the Leach Theatre box office in Castleman Hall Monday through Friday from 10 a.m. to 4 p.m.
The 2022 TEDx Missouri S&T speakers include:
— Dr. Devin Burns will present "Our Brains Can Lead Us Astray, but We Can Do Better." Burns is a Missouri S&T associate professor of cognitive psychology who studies decision making, augmented perception and human-robot interaction.
— Carmel Dare will present "The Chain Reactions of Food Insecurity." Dare is a culinary instructor at Rolla Technical Institute who is passionate about recognizing and alleviating food insecurity.
— Dr. Garry "Smitty" Grubbs will present "Eliciting a Reaction: Some Fun and Exciting Chemistry Demos." Grubbs is an associate professor of chemistry at Missouri S&T.
— Dr. Evan Johnson will present "How to Become the Medicine." Johnson will speak about the power of healing genetic trauma and how an individual's unique experience is their unique medicine. Johnson holds a bachelor's degree in psychology and a doctorate in chiropractic medicine.
— Chanita Jones-Howard will present "Our Education System Does More Harm Than Good, An Invitation for Change." With over 15 years of service in schools, Jones-Howard envisions a model for education that replaces standardization with a "universal standard of individualization."
— Dr. Rachel Kohman will present "Leadership Shouldn't Be a Position." Kohman, who is director of Kummer Student Programs at Missouri S&T, says she loves helping people find new ways to think about leadership outside authority roles.
— Dr. Michelle Schwartze will present "Where Have All the Teachers Gone?" Schwartze is an assistant teaching professor in teacher education and certification at Missouri S&T. Her talk will cover ways that education has dealt with current events and how COVID-19 is impacting education today.
TEDx is a program of local, self-organized events that bring people together to share a TED-like experience. TED is a nonprofit organization devoted to "Ideas Worth Spreading" that shares media and supports educational initiatives. All presentations are recorded and shared though TEDx media.
For more information about the event, and videos of past TEDx events, please visit tedxmst.com.
About Missouri University of Science and Technology
Missouri University of Science and Technology (Missouri S&T) is a STEM-focused research university of over 7,000 students. Part of the four-campus University of Missouri System and located in Rolla, Missouri, Missouri S&T offers 101 degrees in 40 areas of study and is among the nation's top 10 universities for return on investment, according to Business Insider. S&T also is home to the Kummer Institute, made possible by a $300 million gift from Fred and June Kummer. For more information about Missouri S&T, visit www.mst.edu.