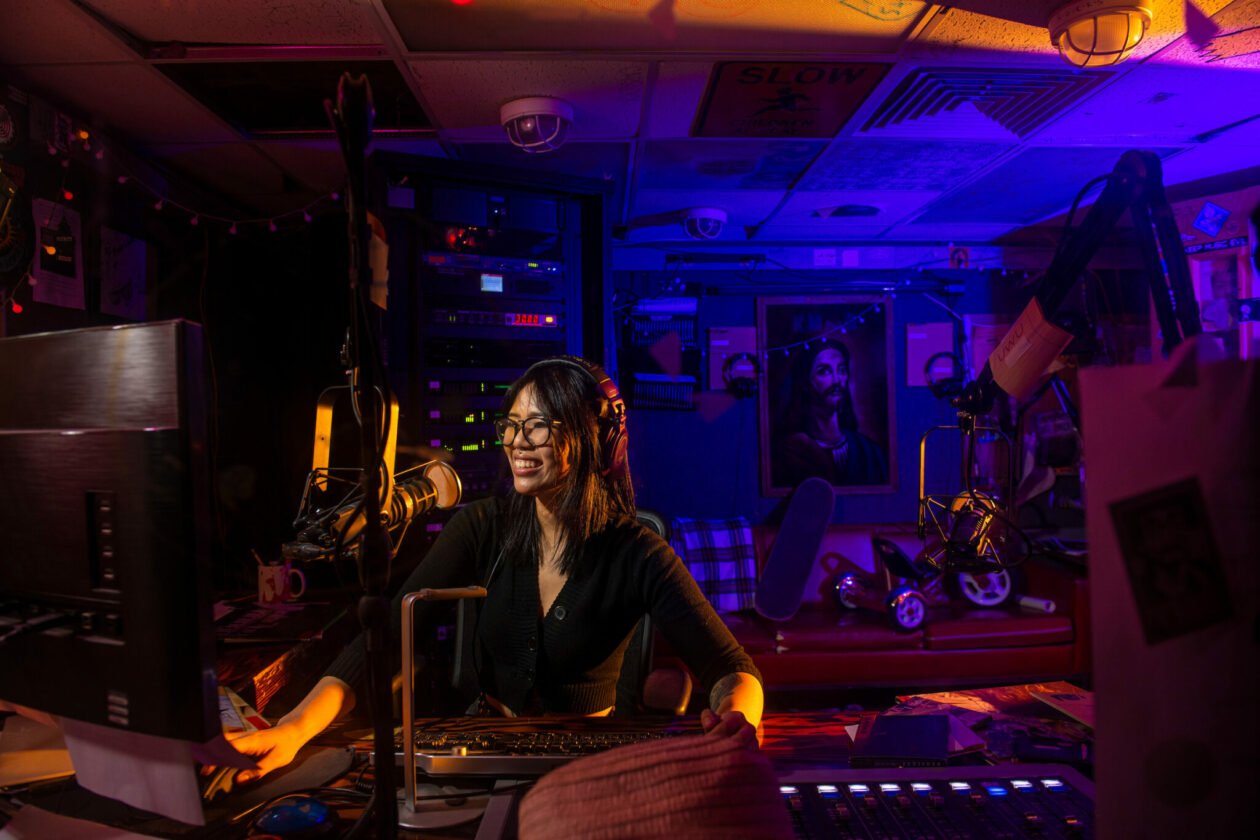 Finding balance in life is difficult, whether it is work-life balance, balancing finances or, in Missouri S&T student Grace Duong's case, balancing a radio station's music-to-voiceover volume.
"When I first started out, getting the balance of volume right was tough sometimes," says Duong, a KMNR 89.7 FM deejay. "I started at KMNR in the middle of the pandemic, so I was coming into the studio and playing music but not really knowing what I was doing."
Two years is a long time in radio though. Duong – who claims she used to be uncomfortable talking to others – is now the station's PR manager. She hosts three different radio shows, mentors two trainees and organizes the "Freaker's Ball" Halloween concert for the station.
"I had no idea I'd be into radio and now love talking to people," says Duong, a junior in environmental engineering from St. Louis. "I really found a fit with the station after I talked to the mobile deejay booth outside the Havener Center one day as a first-year student. To anyone else who thinks they are unable to talk with people, I say embrace it and don't be afraid to be uncomfortable. Most of my friends and even my roommate are now related to KMNR in some way."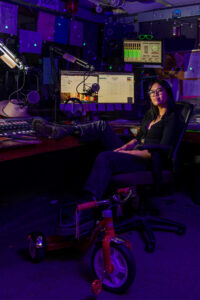 A new campus theme
Duong says she loves putting together themed shows for her time slots. One day, she realized an "Emo" show she played featured no female artists, so she set out to highlight women in a weekly show she hosts.
"When I realized I hadn't featured any female artists, I knew that I wanted to highlight them in some way, and what better way than with a whole show?" says Duong. "It's fun to showcase female talent, especially on a campus that is so male dominated population-wise."
Hands-on chemistry
When Duong isn't in class or hanging out at the radio station, you may spot her in environmental engineering's remediation laboratory where she works on her Opportunities for Undergraduate Research Experiences (OURE) project. She has found an interest in water chemistry – in particular, sewage.
"I really loved my environmental sciences courses in high school and knew I wanted to pursue that in college," says Duong. "It sounds a little strange, but I developed an interest in sewage and water pollution and how these environmental concerns impact the air, water and soil. Now I research with bio-chemical markers in the lab and am gaining first-hand research experience."
The view from the top
First-hand experience seems to drive Duong. She recently joined the S&T Climbing Club and says she loves the mindfulness of the sport.
"While you are climbing, you have to know exactly where your body is at and where it has to go next," Duong says. "You become really aware of your hands and feet, and how to plan ahead. The mindfulness is great, but the best part of course is getting to the top of a climb and turning around to look out at the view."