S&T professor wins American Prize in Composition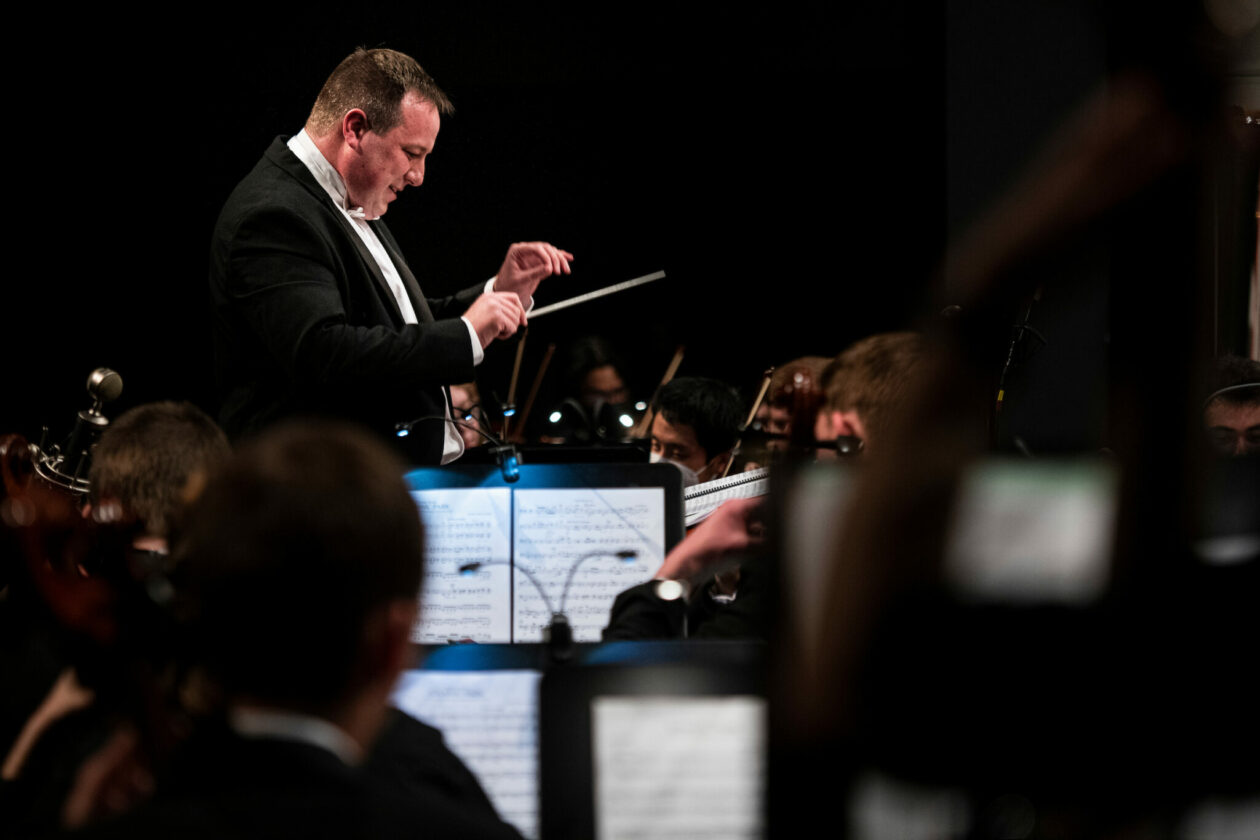 Dr. Kyle Wernke, assistant professor of music at Missouri S&T, has won the American Prize in Composition, 2022, in Orchestral Music (Professional Division) from the American Prize National Nonprofit Competitions in the Performing Arts.
The competition is a series of contests in the performing arts that recognizes the best performing artists, directors, ensembles and composers in the United States, from professional levels to local community efforts. Awards are based on recordings of live performances. This is the 12th year the prizes have been awarded.
Wernke's 2021 work "Da Vinci at the River: Cantata for Bass, Chorus, and Orchestra," created in part to celebrate Missouri S&T's 150th anniversary, was nominated for the 2022 Pulitzer Prize in Music.
"Every time a composer hears that their work is being performed, I think the first thought is to be grateful," says Wernke. "Grateful that the work is being performed, that there are those who are enjoying the piece and feel it's worth sharing, and for the players who are going to put practice time and effort into the piece."
Wernke's 2017 work "Burst" has been recorded by the Brno Philharmonic for Ablaze Records' album "Orchestral Masters, Vol. 6." The work had subsequent performances by the Tampa Bay Symphony and the Musique en Seine Orchestre in Paris.
"'Burst' was written in response to a call-for-scores from the Missouri Composers Project run by the Columbia Civic Orchestra each year," says Wernke. "At the time my wife, Lauren Perala, was a violist with the orchestra and she encouraged me to write a new piece for the submission."
Wernke's score was not accepted by that project, but he then submitted it to a call-for-scores from Ablaze Records.
"'Burst' is really about the creative process in its own way," says Wernke. "Unlike many pieces, I composed 'Burst' in a literal burst of creativity going from the opening pages to the end of the piece in less than a month. As I discovered more about the piece, I realized that 'Burst' was renewal of creative energy after a year of very little creative output for my standards."
Wernke says his creative process differs for each piece he creates, but it tends to circle around discovering an initial idea that would be worth devoting time and energy to create.
"In almost every situation, finding that initial spark of creativity is the hardest part of the process," says Wernke. "Sometimes an initial burst of creativity is followed by weeks of hard work trying to find out 'what comes next' or just figuring out the form of the piece I'm working on. The last part of any piece is making small adjustments. It's very infrequent that I write the beginning first or the ending last."
About Missouri University of Science and Technology
Missouri University of Science and Technology (Missouri S&T) is a STEM-focused research university of approximately 7,000 students. Part of the four-campus University of Missouri System and located in Rolla, Missouri, Missouri S&T offers 101 degrees in 40 areas of study and is among the nation's top 10 universities for return on investment, according to Business Insider. S&T also is home to the Kummer Institute, made possible by a $300 million gift from Fred and June Kummer. For more information about Missouri S&T, visit www.mst.edu.