Roadway projects signal progress on Missouri S&T's future entrance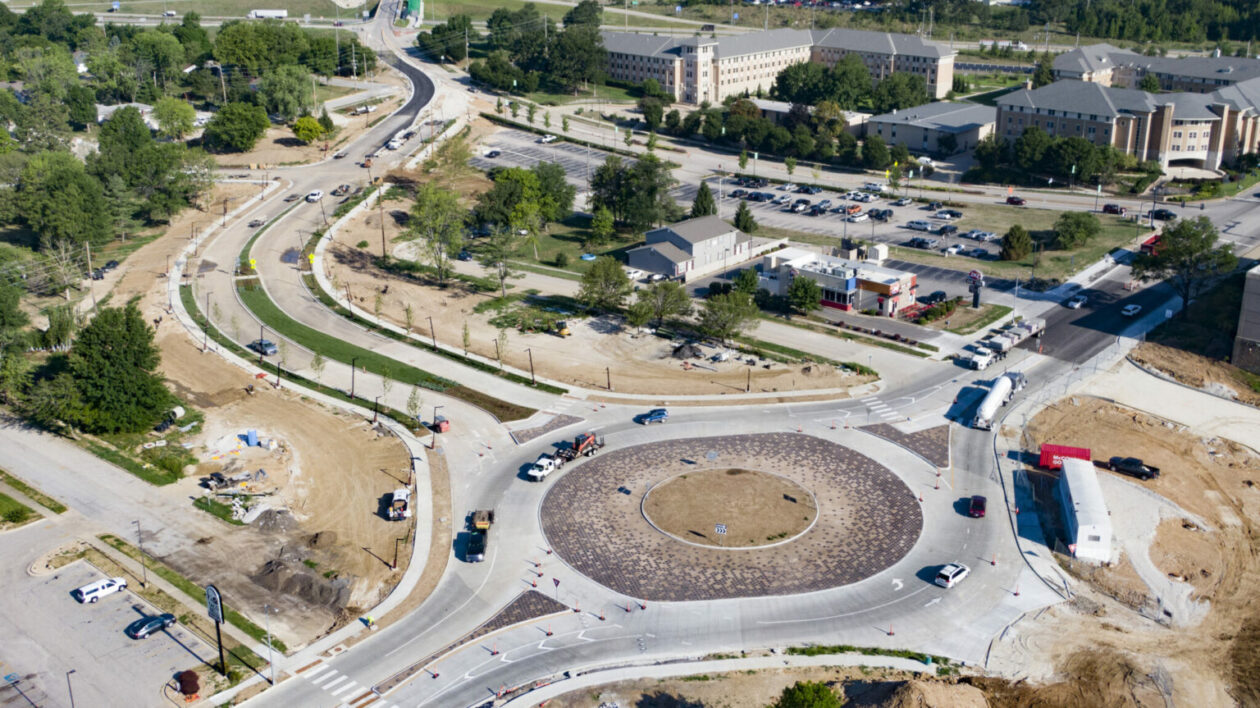 Motorists in Rolla will soon be able to drive on a new street, named Tim Bradley Way, from Interstate 44 to the roundabout on Bishop Avenue with a clearer view of Missouri S&T's campus.
Portions of Tim Bradley Way will first open to drivers on Wednesday, Aug. 24. The street is expected to be completely open Wednesday, Sept. 7. It replaces University Drive, which closes Aug. 24, as the main connector from Exit 185 on I-44 to Rolla and Missouri S&T.
The new street marks a milestone in developing Missouri S&T's Arrival District. The district is part of S&T's 2020 Campus Master Plan and the Move Rolla Transportation Development District (TDD), a partnership between the city of Rolla, Phelps County, Phelps Health and Missouri S&T. The project will connect the university's entry point off I-44 to campus through a series of landscape and building projects that also will improve access along Bishop Avenue and direct visitors through a grand entrance plaza into a campus commons area featuring gardens, walkways and an expansive lawn. New buildings will include the Innovation Lab for S&T students and the Welcome Center for prospective students and other visitors. Visitors will park in a subsurface parking garage and then walk to the Welcome Center to start their visit.
Tim Bradley, a 1977 S&T graduate, and his wife, Kay, contributed $5 million to Missouri S&T in support of the district and reconfiguring University Drive.
"We are deeply grateful to Tim and Kay for this vote of confidence in Missouri S&T and our future," says S&T Chancellor Mo Dehghani. "The Bradleys stepped forward as the first donors to the Arrival District, which will give our university, the Rolla community and visitors to our campus a true front door to S&T. We will have an entrance that better matches our reputation for academic excellence, career preparation and alumni success."
Missouri S&T's progress and plans for new and ongoing construction include:
The Innovation Lab, scheduled to open in October 2023. Missouri S&T broke ground for the three-level, 49,000-gross-square-foot facility in April. The building, to be located south of the Havener Center, will house labs, maker spaces and other facilities to foster student creativity and innovation, as well as support services for students. Crews are currently rerouting utilities.
A subsurface parking structure, scheduled to open in August 2023 beneath green space at the Arrival District. The parking garage will feature 114 spaces for visitors.
A new General Services Building, scheduled to open in June 2023, north of campus across I-44. The facility will feature over 35,000 gross square feet and house offices and space for the university's facilities staff. Construction is underway.
The Missouri Protoplex, scheduled to open in September 2025. The Protoplex will provide high-bay, lab, office and meeting space for S&T's advanced manufacturing initiative.
A Welcome Center, scheduled to open in December 2024. The 30,500-gross-square-foot building will be located adjacent to the Innovation Lab, where the decommissioned power plant now stands. It will be the first stop for visitors to campus and will feature interactive displays and exhibits, meeting space, and services for prospective students.
Funding for the projects primarily comes from private donations, including support from the Kummer Institute Foundation, federal funds and university funds.
About Missouri University of Science and Technology
Missouri University of Science and Technology (Missouri S&T) is a STEM-focused research university of approximately 7,000 students. Part of the four-campus University of Missouri System and located in Rolla, Missouri, Missouri S&T offers 101 degrees in 40 areas of study and is among the nation's top 10 universities for return on investment, according to Business Insider. S&T also is home to the Kummer Institute, made possible by a $300 million gift from Fred and June Kummer. For more information about Missouri S&T, visit www.mst.edu.