Blunt, Short honor graduates at Missouri S&T commencement ceremonies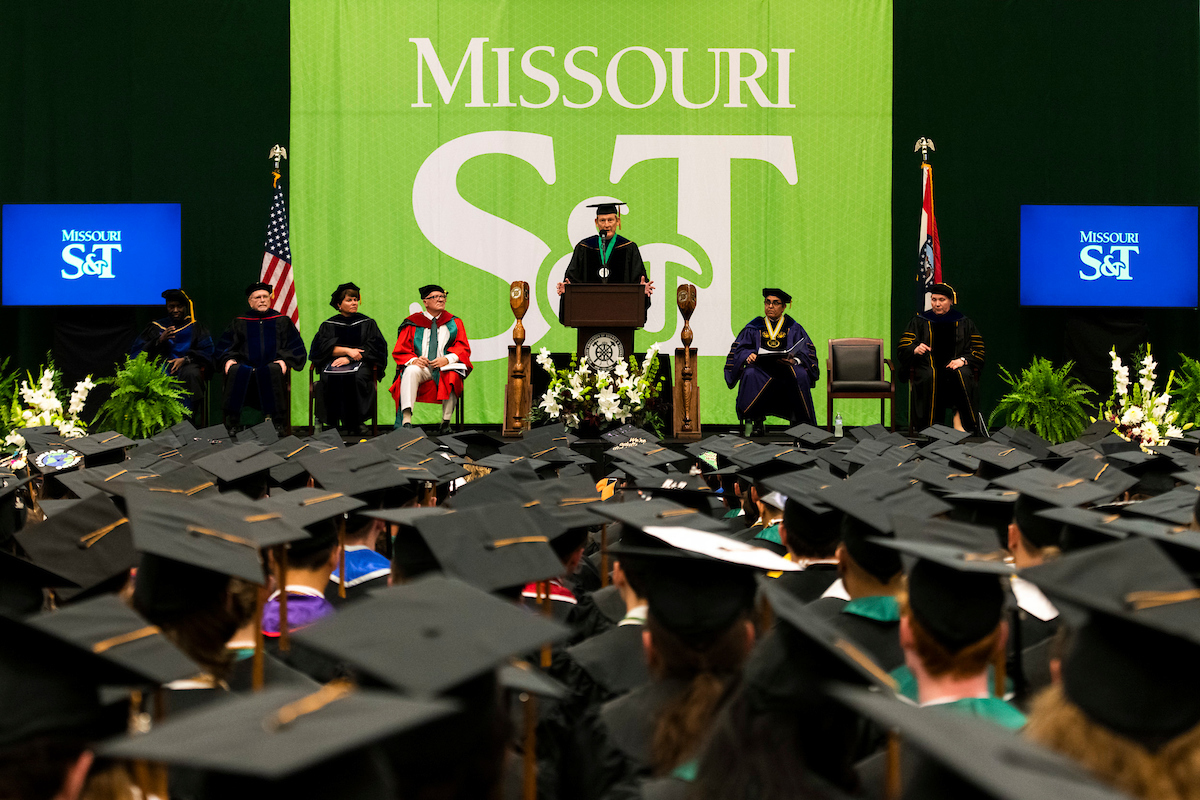 U.S. Sen. Roy Blunt, who has served Missouri in the Senate since 2010, and Ellis Short IV, a Missouri University of Science and Technology graduate and founder of Kildare Partners, delivered commencement addresses during three Missouri S&T graduation ceremonies last weekend.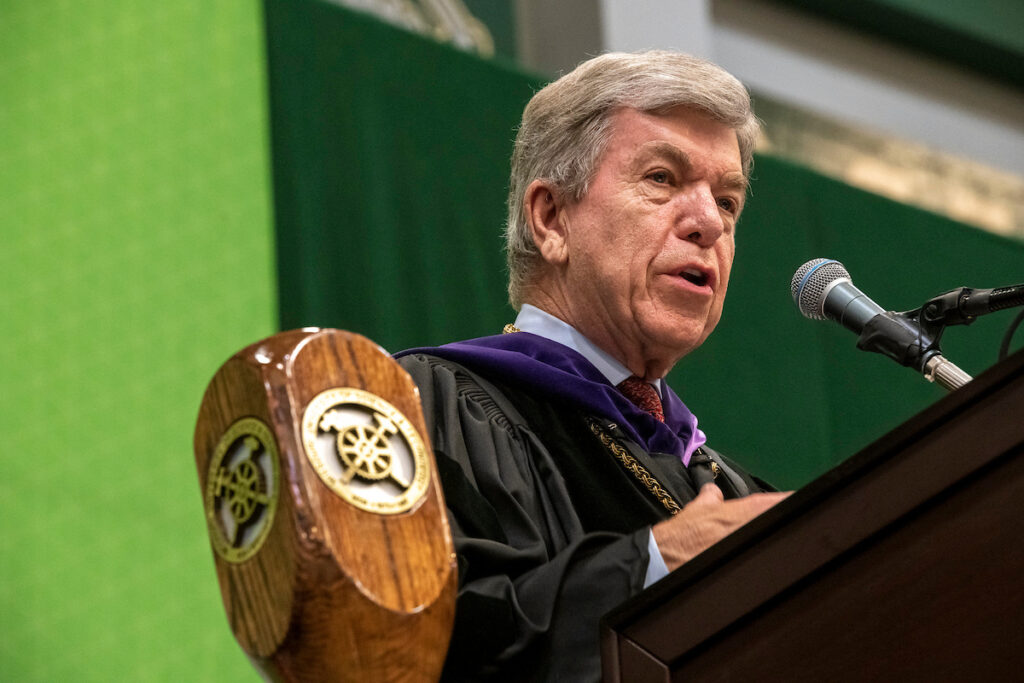 Blunt spoke during Missouri S&T commencement ceremonies held at 6 p.m. Friday, May 13, and 10 a.m. Saturday, May 14, in the Gale Bullman Building on campus. He told graduates that while this is a challenging time, opportunities outweigh those challenges. He added that graduates had two things to celebrate.
"One is the end of one task you've set for yourself, and your family has been there with you and worked with you. And the other is starting something new," Blunt said.
"The average graduate of this university has four job offers in a normal time, and you couldn't be graduating at a better time to enter the workforce," Blunt said. "There has never been a workforce more eager for people. And there's never been a workforce more eager for the kinds of degrees that you are all earning."
Ellis Short IV, chief investment officer for Kildare Partners, spoke during Missouri S&T's 3:30 p.m. commencement ceremony. He told graduates that business leaders view S&T graduates as smart, well-educated and practical with a strong work ethic.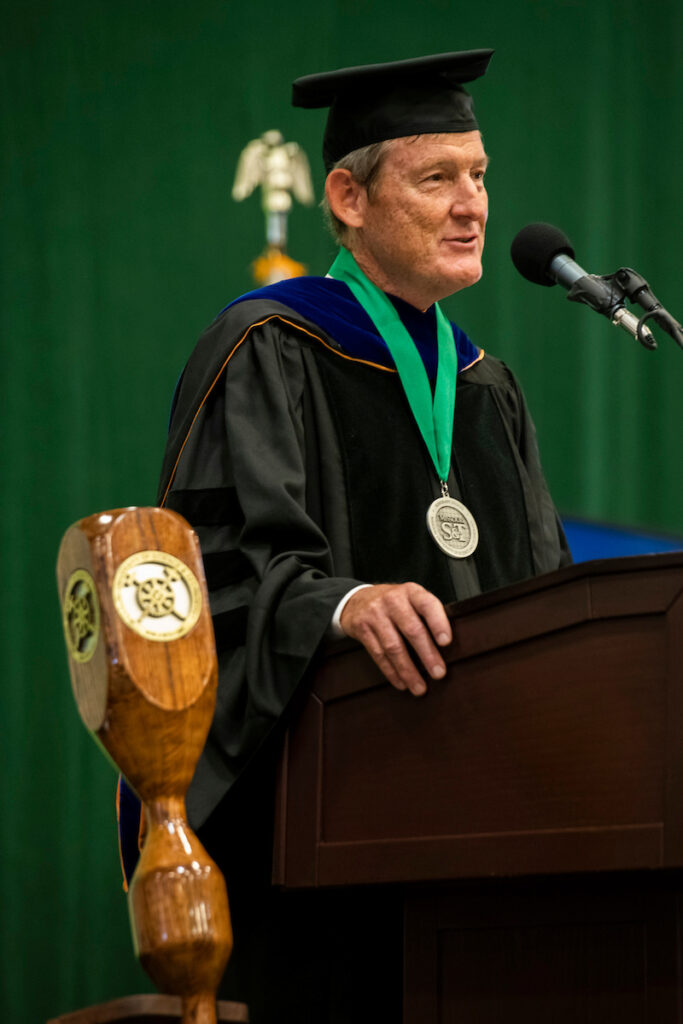 "In the decades I've been out in the business world, I've come to know that an S&T diploma is very well respected," said Short, who earned a bachelor's degree in mechanical engineering from S&T in 1983.
"I can assure you with direct experience that you are as or better prepared than anybody out there," he said. "The education that I got here put me in a great position to succeed, and you'll all have that same advantage.
"Congratulations," Short said. "You've just reached one of the most important milestones of your life. Enjoy the moment. Soon enough you'll be out chasing your next goal, whether that's continuing education or your professional career."
During the 10 a.m. ceremony, Missouri S&T Chancellor Mo Dehghani presented Short with the doctor of engineering, honoris causa.
Originally from Independence, Missouri, Short attended Missouri S&T from 1979 to 1983 as a National Merit Scholar and was a member of Sigma Nu fraternity, which he represented on the Interfraternity Council. He participated in the university's co-op program and earned a bachelor's degree in mechanical engineering from Missouri S&T in 1983. Short's career began at General Electric, where he spent 10 years in various positions in the company's manufacturing management program, corporate audit staff, pension fund and real estate divisions. From 1994 to 2007, he worked for Lone Star Funds, serving as the company's president and a member of its investment committee.
In 1997, he relocated to Japan where he served as the head of Lone Star's Asia operations until 2007. He was responsible for investing more than $10 billion in equity capital in over 100 transactions in Japan, South Korea, Indonesia and Taiwan. Short has owned the Carnegie Club at Skibo Castle in Scotland since 2003 and owned the Sunderland Football Club in England from 2008 to 2018.
In 2013, Short founded Kildare Partners, a private equity fund focusing on opportunistic real estate investments. He serves as the fund's chief investment officer. Kildare has invested approximately $4 billion of equity capital in 30 transactions in Europe and the U.S.
Short and his wife, Eve, have one son, also named Ellis.
Blunt grew up on a Niangua, Missouri, dairy farm and was elected to the U.S. Senate in 2010. He chairs the Senate Republican Policy Committee and is the ranking member of the Senate Rules Committee. He also serves on the Senate Appropriations Committee; the Senate Commerce, Science, and Transportation Committee; and the Senate Select Committee on Intelligence, and he is the ranking member of the Appropriations Subcommittee on Labor, Health and Human Services, and Education. Prior to his election to the Senate, he served seven terms in the U.S. House of Representatives.
Before serving in Congress, Blunt was a history teacher, a county official, and in 1984 became the first Republican elected as Missouri's Secretary of State in more than 50 years. He also served four years as the president of Southwest Baptist University, his alma mater, in Bolivar, Missouri.
Blunt earned a master's degree in history from Missouri State University. He and his wife, Abigail, have four children and six grandchildren.