Melody Lo named Steinmeyer Memorial Endowed Chair of Economics for the Kummer College at S&T
Dr. Melody Lo, a professor of economics at Arkansas State University, has been named the inaugural John and Ruth Steinmeyer Memorial Endowed Chair of Economics for the Kummer College at Missouri University of Science and Technology. She will assume the role of chair in the fall 2022 semester. Lo succeeds Dr. Michael Davis, who has served as interim chair of economics since 2019. Davis will return to his faculty role.
Lo's appointment coincides with the establishment of S&T's Kummer College of Innovation, Entrepreneurship, and Economic Development. The new college is the academic arm of the Kummer Institute, made possible by the transformational $300 million gift from June and the late Fred Kummer, who graduated from Missouri S&T in 1955 with a bachelor of science degree in civil engineering. The economics department will join business and information technology as well as engineering management and systems engineering as founding departments in the fall 2022 semester.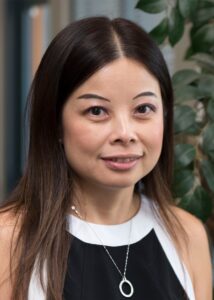 Lo is currently a senior advisor to the chancellor and a professor of economics in the Neil Griffin College of Business at Arkansas State University in Jonesboro. In her advisory role, Lo works closely with the chancellor to advance significant university initiatives including strategic planning and building and developing corporate partnerships for economic development opportunities. From 2020-2021, Lo served as the Neil Griffin Endowed Dean, leading the college's Association to Advance Collegiate Schools of Business (AACSB) reaccreditation efforts. During her tenure at Arkansas State University, she has also provided leadership for program development, cultivated and strengthened external relationships that forged community growth, and sharpened the school's focus on students' career success.
"I am so pleased to welcome Dr. Melody Lo to Missouri S&T," says Dr. Kate Drowne, interim vice provost and dean of the College of Arts, Sciences, and Business at S&T. "In addition to her dedication to excellence in both teaching and research, Dr. Lo is a talented and respected leader. She is uniquely qualified to continue building the reputation for excellence our remarkable economics department has already earned."
Lo earned her Ph.D. in economics from Purdue University in 2001. Since graduating she has held teaching and research positions at Arkansas State University, the University of Texas at San Antonio, the University of Houston and the University of Southern Mississippi.
"Dr. Lo's expertise and her extensive body of work are exactly what we demand of a department leader at a major research university," says Dr. Colin Potts, provost and executive vice chancellor for academic affairs at Missouri S&T. "Our economics department is gaining an accomplished leader with firm management skills. She is absolutely the right leader for a department that is foundational to the new Kummer College."
Lo co-authored a book on theoretical models in political science. She has co-authored numerous refereed journal articles, book chapters and conference proceedings and has presented at conferences throughout the world. She has won several honors and awards for teaching and research, including the Krannert School of Management Dissertation Fellowship at Purdue University for her thesis analyzing government interventions in a foreign exchange market.
The position was established by Anthony Steinmeyer, who was born in 1942 and moved to Rolla with his family in 1946, when his father began teaching at the Missouri School of Mines and Metallurgy (now Missouri S&T). As a student in Rolla public schools, Steinmeyer participated in student government and the newly formed debate team, played football and basketball, ran for the track team, and played sousaphone in the high school band. After graduating from Harvard Law School, he was an attorney in the Civil Division of the U.S. Department of Justice from 1970 until his retirement in 2015. He endowed the chair to honor his parents, John and Ruth Steinmeyer, and to show his appreciation for the positive impact the university has had on the people of Rolla.
About Missouri University of Science and Technology
Missouri University of Science and Technology (Missouri S&T) is a STEM-focused research university of over 7,200 students. Part of the four-campus University of Missouri System and located in Rolla, Missouri, Missouri S&T offers 101 degrees in 40 areas of study and is among the nation's top 10 universities for return on investment, according to Business Insider. S&T also is home to the Kummer Institute, made possible by a $300 million gift from Fred and June Kummer. For more information about Missouri S&T, visit www.mst.edu.