Missouri S&T returns to in-person summer camps for students in grades 2-12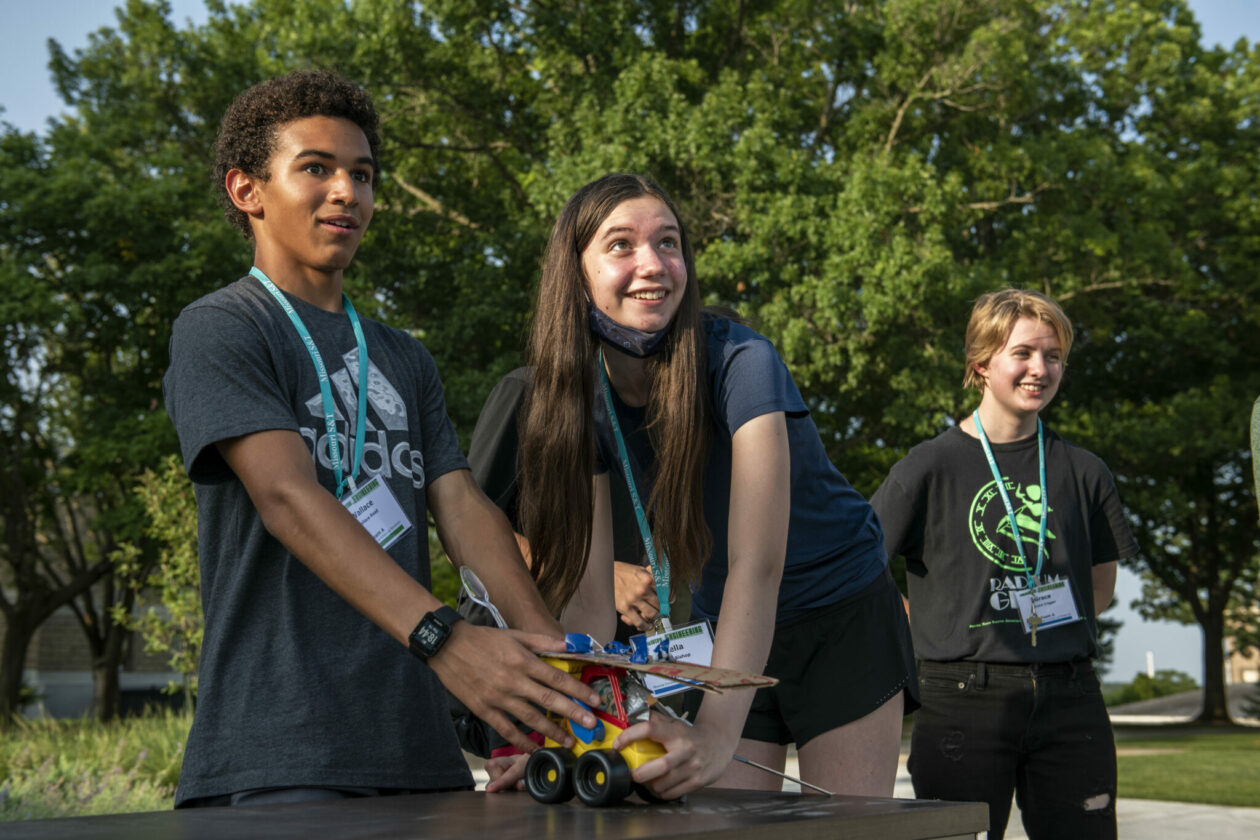 After two years of virtual and hybrid youth camps, Missouri S&T's in-person summer camps are back. From June 5-July 28, students in grades 5-12 will be able to immerse themselves in STEM-related subjects ranging from physics, computing and robotics to aerospace and explosives. Sixteen camp sessions covering 11 STEM-related topic areas are currently scheduled. Fifteen camps are residential, with a minimum two-night stay at the S&T campus in Rolla; the camps for students at the older end of the age range will include a five-night stay. One camp (Camp Invention) is a weeklong day camp for students entering grades two through six.
"We want the campers, particularly those who are older, to have a campus experience," says Courtney Jones, founding director of S&T's Kummer Center for STEM Education. She joined the university last year and is leading the return to in-person camps as well as an effort to raise funds to defray costs based on financial need.
Jones believes the residential aspect of the camps is almost as important as the content.
"We want young students to have the opportunity to talk to our faculty and students and check out our labs," she says. "We want the camps to provide a slice of what the college experience is, but on a much smaller scale, so that when the time comes for them to apply for colleges it will be more a familiar environment."
With a resume that includes serving as a teacher and a high school principal, one of Jones' goals is to help teachers help their students connect their interests to future academic pursuits and, ultimately, career choices.
"I know from experience that rural schools are challenged in terms of funding," Jones says. "There are great teachers, but in smaller, rural districts they simply don't have the budgets for the equipment and other resources often required to teach STEM-related topics."
Jones says a primary goal of the camps is to deliver an experience through which students become aware of new possibilities once they're on campus. The camps are a collaboration, she says, between world-class faculty and young minds eager to learn, explore and discover.
"When students come here for summer camp, we will show them there are academic and career opportunities in areas they perhaps haven't even heard of, and they will start to see that there are many ways they can succeed," she says. "It's a small step, but it's one that can lead to exciting outcomes and new possibilities."
Camp costs are another area on which Jones is focusing. Because food and accommodations are included, and because equipment and supplies for many of the camps are expensive, fees range from $435 to $1,450. Jones knows from personal and professional experience that for many those costs are simply prohibitive. That reality has prompted her and her team to raise funds to provide students an opportunity to engage with STEM regardless of their economic circumstances.
"We're in a perfect environment to help kids experience a whole new world without having to go too far from home," she says. "I know from my own childhood that I would have never asked my mom for extra money to attend a summer camp because I understood that every dime we had needed to go to putting food on the table. I was one of those kids."
For more information, email stemcenter@mst.edu or call 573-341-6204.
About Missouri University of Science and Technology
Missouri University of Science and Technology (Missouri S&T) is a STEM-focused research university of over 7,200 students. Part of the four-campus University of Missouri System and located in Rolla, Missouri, Missouri S&T offers 101 degrees in 40 areas of study and is among the nation's top 10 universities for return on investment, according to Business Insider. S&T also is home to the Kummer Institute, made possible by a $300 million gift from Fred and June Kummer. For more information about Missouri S&T, visit www.mst.edu.