FIRST Tech Challenge championship comes to S&T March 5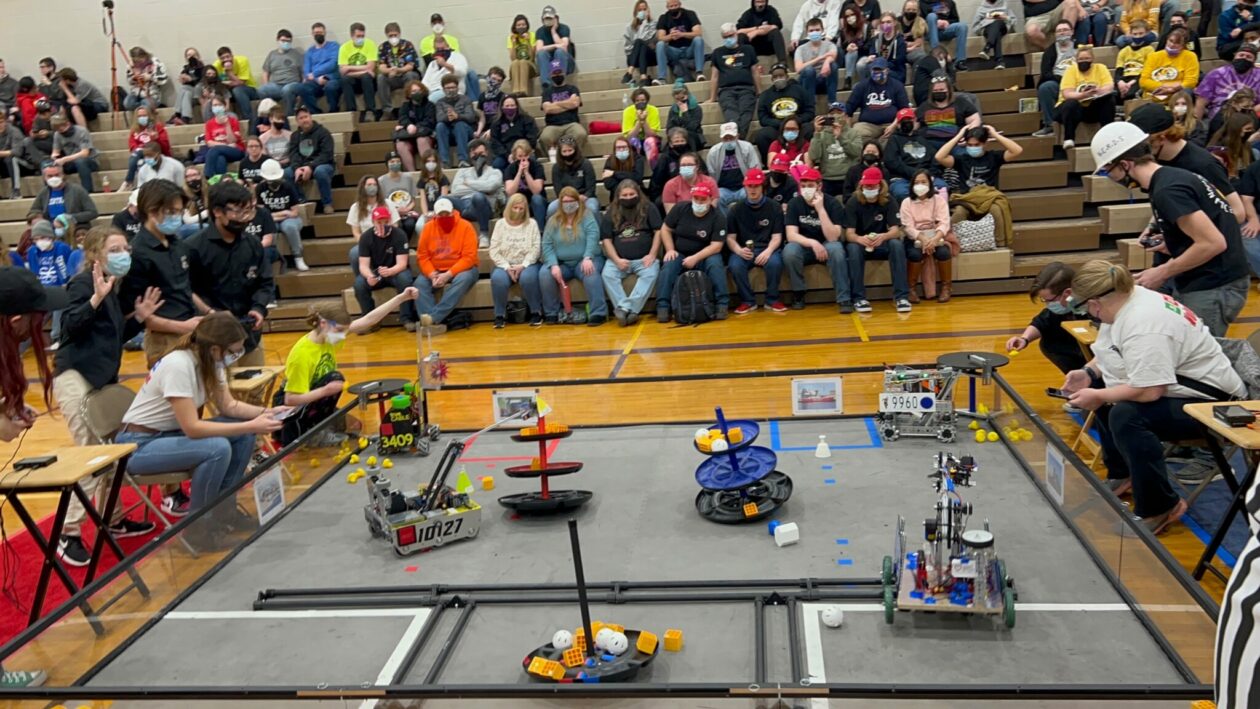 Excitement will run high as hands-on learning takes center stage – or the gymnasium floor in this case – on Saturday, March 5, when FIRST Tech Challenge comes to Missouri University of Science and Technology for a regional championship. Hundreds of tech-savvy students will show off their skills and their robots in the varsity gymnasium at Missouri S&T's Gale Bullman Building, located at 10th Street and Bishop Avenue (U.S. Highway 63).
FIRST Tech Challenge is an international robotics program for grades 7-12, administered both inside and outside the classroom by FIRST in Missouri. Students join teams to design, build, code and operate complex robots to play a themed floor game. This year's theme is "Freight Frenzy," and teams will show off robots that can overcome obstacles in a complex transportation system and race against the clock to load and deliver items to specified points. You can watch an animated simulation here.
This year's competition will feature 36 teams with over 300 students from Missouri and Kansas. Teams earned advancement to the championship through one of several regional league tournaments. The teams will continue to play on the game field to determine the top robots, and professional panels will interview competitors for judged awards. Three teams will advance to the FIRST Championship in Houston, April 20-23. Judges will also name four individual students as Dean's List finalists advancing for further recognition.
"The Kummer Center for STEM Education is looking forward to supporting the FIRST Tech Challenge as it returns to campus," says Courtney Jones, director of the Kummer Center for STEM Education at Missouri S&T. "The competition provides a great opportunity to engage K-12 students in real world, hands-on STEM experiences. Many students competing will become S&T students and go on to become STEM professionals, with a problem-solving skillset that is directly related to this event."
The competition is open to spectators. Face masks are recommended for participants and spectators. The action will be livestreamed for those who are unable to attend in person. Live scoring will also be available online.
About Missouri University of Science and Technology
Missouri University of Science and Technology (Missouri S&T) is a STEM-focused research university of over 7,200 students. Part of the four-campus University of Missouri System and located in Rolla, Missouri, Missouri S&T offers 101 degrees in 40 areas of study and is among the nation's top 10 universities for return on investment, according to Business Insider. S&T also is home to the Kummer Institute, made possible by a $300 million gift from Fred and June Kummer. For more information about Missouri S&T, visit www.mst.edu/.
Need to get in touch with our media relations team? For non-urgent requests, please email news@mst.edu or call 573-341-4328. Or contact one of the staff members below during or after office hours.