More than 280 employers expected at Missouri S&T's spring career fair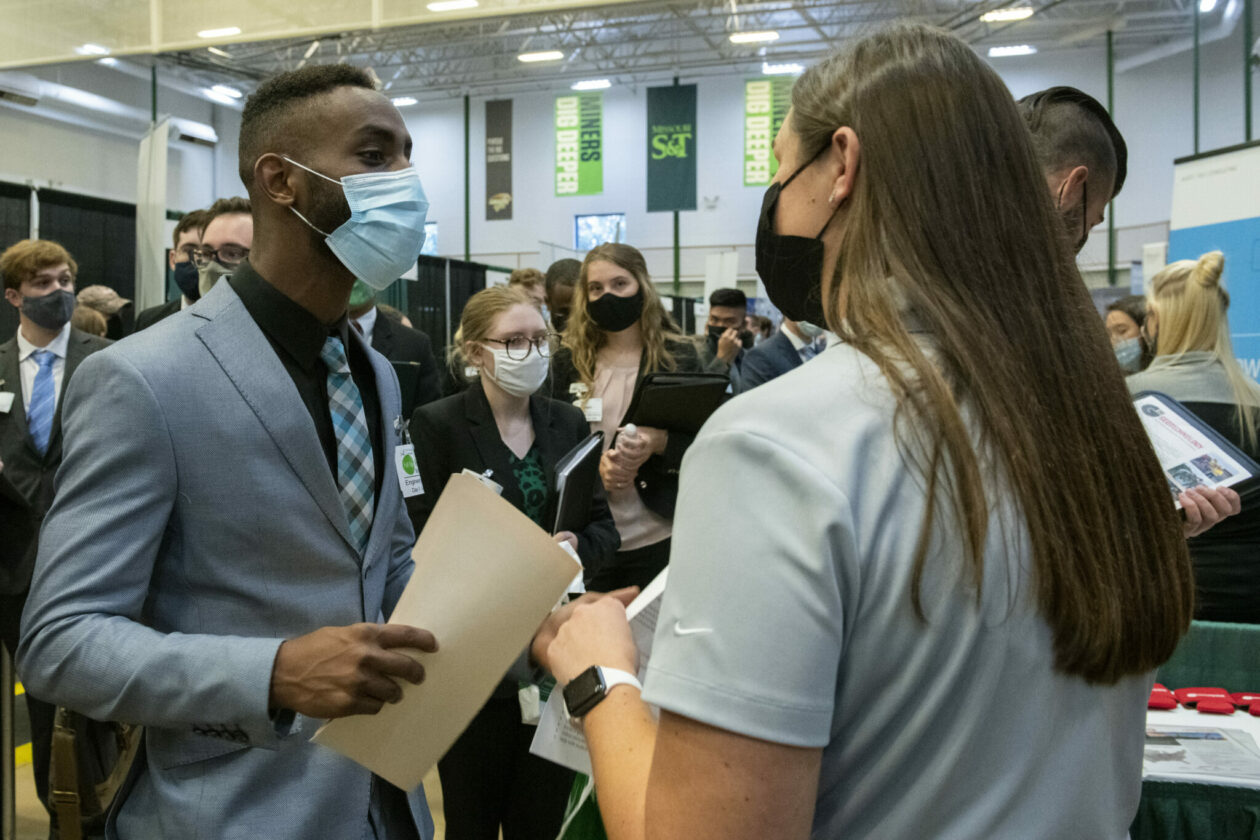 Incorporating feedback from the past several semesters, Missouri S&T's career opportunities and employer relations (COER) team will host the university's spring 2022 career hybrid fair virtually 9 a.m.-3 p.m. Tuesday, Feb. 15, and in-person 9 a.m.-3 p.m. Wednesday, Feb. 16, at the Gale Bullman Building, located at 10th Street and Bishop Avenue in Rolla.
During the in-person fair, employers will be stationed throughout both gymnasiums and separated by curtains. The first hour of the in-person fair will be reserved for juniors and above. The fair will open to all students at 10 a.m.
One way COER is minimizing the impact of the pandemic on an event as pivotal as the career fair is by introducing an opportunity to bypass the line at the in-person fair by registering in advance. From 11 a.m.-1 p.m. on Wednesday, Feb. 9, Thursday, Feb. 10 and Friday, Feb. 11, at registration stations in the atrium of Havener Center, students will be able to check in and print badges for immediate access to the in-person fair.
Prior to the fair, students can also download the Career Fair Plus app to browse the more than 280 companies that will attend. Beginning at 6 p.m. Tuesday, Feb. 8, the app can be used to book meetings with employers.
"Both the volume and the quality of the employers participating in this spring's career fair are a testament to the demand for S&T students and graduates as they enter the job market," says Dr. Will Zwikelmaier, director of COER. "Missouri S&T is fully committed to supporting our students as they launch their careers, and we'll continue to refine and enhance our fairs based on what we learn from participants."
While at the in-person fair, a large majority of companies have requested that students and others affiliated with Missouri S&T wear masks in accordance with their preference and corporate mandates. COER discourages handshaking and asks that students who are immunocompromised, sick or otherwise feel uncomfortable attending an in-person event contact career@mst.edu to learn about alternate means of connecting with participating companies.
The average salary for Missouri S&T graduates in the first five years of their careers is $73,600 according to payscale.com.
For more information, contact career opportunities and employer relations at 573-341-4343 or visit career.mst.edu/careerfair.
About Missouri University of Science and Technology
Missouri University of Science and Technology (Missouri S&T) is a STEM-focused research university of over 7,200 students. Part of the four-campus University of Missouri System and located in Rolla, Missouri, Missouri S&T offers 101 degrees in 40 areas of study and is among the nation's top 10 universities for return on investment, according to Business Insider. S&T also is home to the Kummer Institute, made possible by a $300 million gift from Fred and June Kummer. For more information about Missouri S&T, visit www.mst.edu.