S&T researcher highlights the first Black newspaperman in America
A Missouri S&T history professor has recently made new discoveries about the life and work of America's first Black newspaperman.
Peter Fleet, a slave, was the typesetter for an early Boston newspaper. In an article featured in the journal Slavery and Abolition, Dr. Justin Pope, assistant professor of history and political science at Missouri S&T, examines Fleet's life through the wording of his will and the newspaper the enslaved man helped to print.
"Fleet was one of the first Black newspapermen in early America," says Pope. "But few people have ever heard of him."
While searching for rumors of slave unrest in colonial newspapers, Pope noticed the Boston Evening-Post printed more stories of slave rebellion than any other in New England. Pope says he was surprised to discover that a slave set the type for those stories.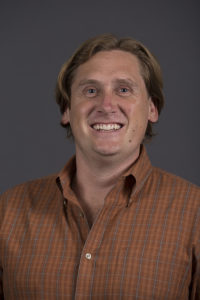 As the enslaved typesetter of the Boston Evening-Post, Fleet composed more stories of slave unrest than any newspaper in New England during his time at the press, Pope says. And Fleet's labor in the print shop placed him at the center of communication regarding rumors of rebellion and freedom in the early British Atlantic.
"Fleet provides a fascinating connection between printed news and the Black communities of New England," says Pope. "There are very few references to Black men and women reading newspapers in the first half of the 18th century. Historians cannot be sure that Black Britons had any knowledge of published reports of resistance, uprisings or stories of freedom that appeared in British newspapers. Fleet's place at the print shop represents just such knowledge of the public prints."
Newspapers did not have reporters in the 18th century – printers and their apprentices were mostly confined to their shops. At the Evening-Post, Fleet performed the work of a printer's apprentice, setting the type and carving the woodcuts or illustrations.
"The paper published stories about Black people that did not appear in other newspapers, such as a rare report of a Black family in Rhode Island that purchased their way out of slavery and bought transport back to West Africa in 1734," says Pope.
Pope says he was also surprised to learn that Fleet had dictated a will before his death.
"Fleet's may be the earliest known will created by a Black slave in the English-speaking world," Pope argues. "Fleet used his will to try and leave something for his son and his master's children. It shows an enslaved man fighting to own some part of his labor."
Historians have known about Fleet's will since 1924 because it was transcribed from a private collection, but scholars rediscovered the original copy at the Massachusetts Society only a few years ago.
"Having access to the original document has offered surprising insights into Fleet's life and work in the print shop," Pope says. "Examining the manuscript, I could tell that Fleet dictated his will rather than wrote it himself because Fleet's signature did not match the script. Fleet's friend, a young white Bostonian, wrote the document and witnessed it."
Pope says Fleet left a legacy for the history of printing.
"Fleet helped train a young, enslaved man named Pompey in the art of printing," explains Pope. "During the Revolution, Pompey ran away to British lines and eventually joined an expedition to Sierra Leone in Africa. They brought the first printing press to Sub-Saharan Africa, and that journey began with the lessons in printing from Peter Fleet."
About Missouri University of Science and Technology
Missouri University of Science and Technology (Missouri S&T) is a STEM-focused research university of over 7,200 students and is part of the four-campus University of Missouri System. Located in Rolla, Missouri, Missouri S&T offers 101 different degree programs in 40 areas of study and is ranked by CollegeFactual as the best public university to study engineering. For more information about Missouri S&T, visit www.mst.edu.