New frontiers in research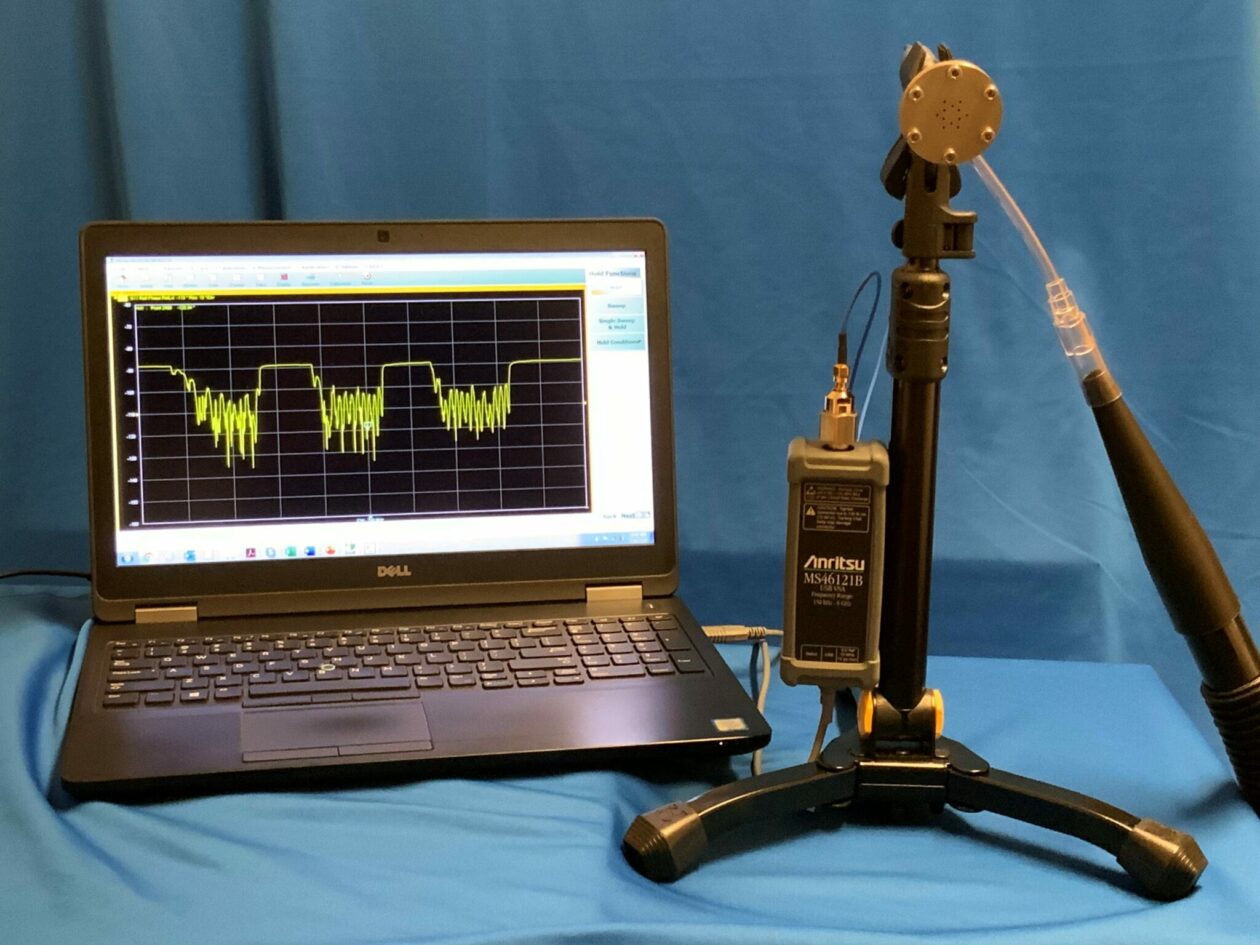 Prompted by the rapid spread of COVID-19, researchers around the world began work to quickly develop tests for the virus. A group of researchers in Missouri S&T's Lightwave Technology Laboratory joined the search and are developing a non-invasive test that produces results in less than 60 seconds.
Unlike tests that rely on a nasal swab, saliva, finger stick or blood draw, the S&T researchers are working on a portable sensor array that can detect volatile organic compounds (VOCs) from the breath of individuals infected with the virus. In another contrast to widely used testing where results can take from several minutes to a few days, the results from the sensor are obtained within a minute.
Assistant professor Jie Huang, research professor Rex E. Gerald II, their lead graduate student Chen Zhu, and professor Donald Wunsch, who has expertise in artificial intelligence, envision their device being used in doctors' offices, community health clinics, schools, businesses and even at airport TSA checkpoints to screen passengers.
"The mission of this lab is to invent sensors that have ultra-high sensitivity," Huang says. "We are advancing new frontiers in research."
To trigger the airborne-biohazard system, individuals would exhale into a sensor that Huang's team is developing to detect VOCs in the breath. If the sensor indicates a specific panel of VOCs that are associated with COVID-19 disease, then the individual would undergo further testing using the gold-standard rRT-PCR method. The researchers say the entire process would take less than a minute and could eventually differentiate between a cold, flu or coronavirus.
Huang's approach can be expanded to sense new diseases using metal organic frameworks with unprecedented chemical and structural tunability for sensing expanded panels of VOCs. The approach is based only on the adsorption/desorption of neutral molecules (VOCs) as opposed to the well-established E-nose technology, which is based on reactive charged species from VOCs caused by electron transfer reactions in electrochemical processes. Reactive charged species may produce reaction byproducts that interfere with the active sensor sites and cause false positives and negatives.
The research has attracted funding from the National Institutes of Health (NIH). The researchers received a $711,054 NIH grant for their project titled "MOF-SCENT: Metal Organic Frameworks for Screening COVID-19 by Electronic-Nose Technology to Improve Selectivity and Time Response."
Screening for COVID and other respiratory diseases may be only the beginning for MOF-SCENT technology, the researchers say.
"The technology can be further developed to detect many other diseases, such as lung cancer," says Huang.