Mathematics major first S&T graduate to commission into US Space Force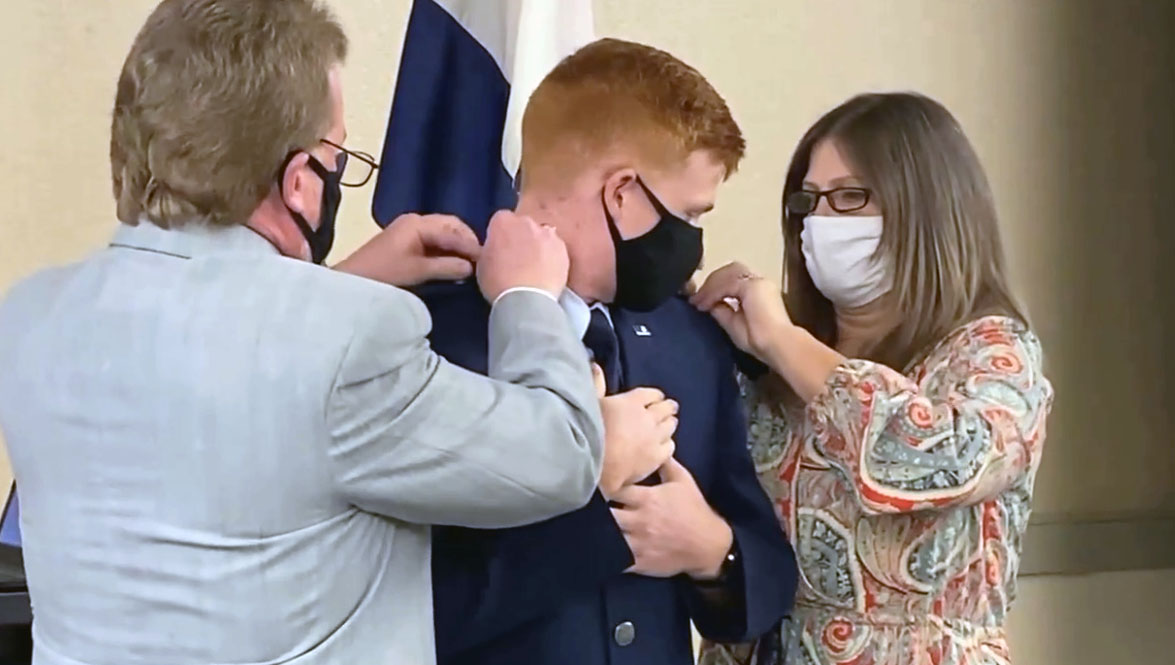 Cory Chafin has become the first graduate of Missouri S&T to commission into the United States Space Force, the sixth branch of the U.S. armed forces that was established in December 2019.

Chafin, from Willow Springs, Missouri, commissioned into the Space Force on Dec. 19, 2020, as second lieutenant and one of fewer than 100 cadets entering the new military branch as an officer during its first year. Chafin was a member of S&T's Air Force ROTC Detachment 442 Cadre and graduated in December 2020 with a bachelor of science degree in applied mathematics and a minor in communication studies.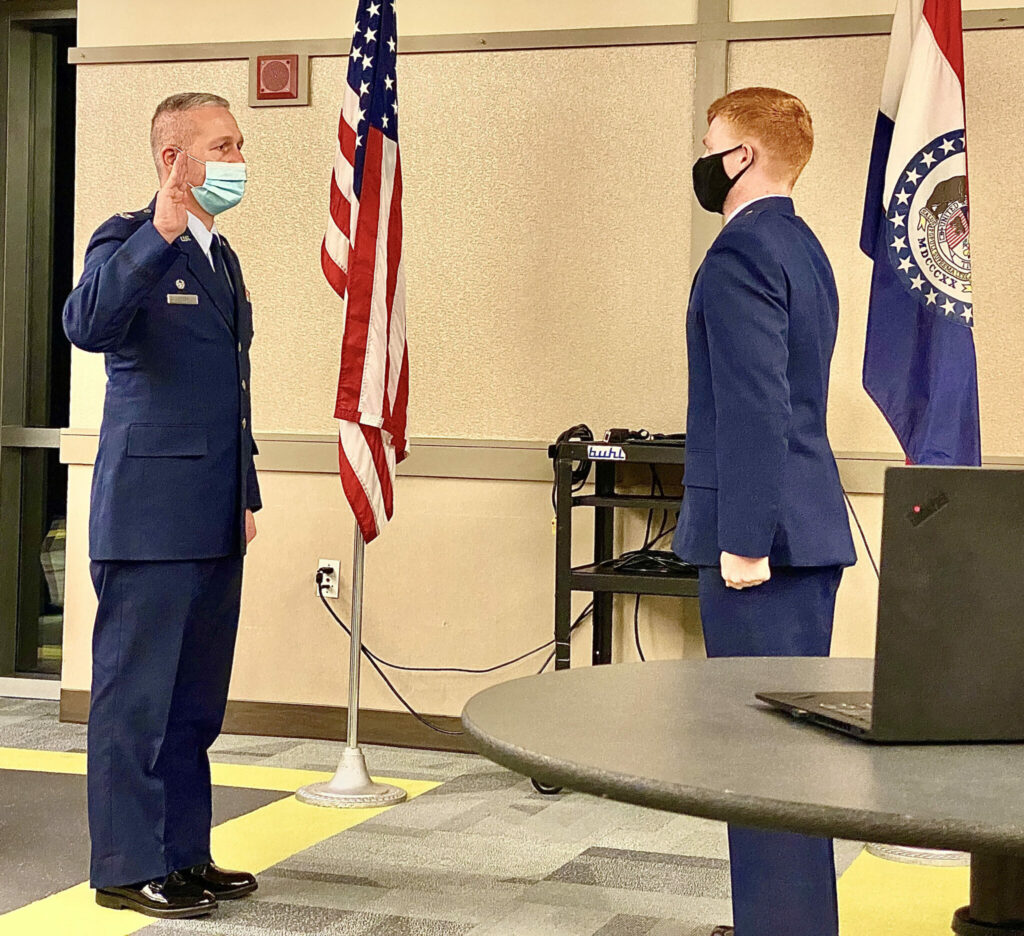 In Detachment 442 under the previous command of Col. Brent Unger, Chafin was able to tour or train at various U.S. Air Force bases including Maxwell, Buckley, Schriever, Patrick, and the Cape Canaveral Space Force Station. But it was his Air Force Space Command summer internship at Peterson Air Force Base in Colorado Springs — now the provisional location for the U.S. Space Command Headquarters — where he clarified his ambition to work with the military communication satellites that are essential for the defense operations of orbital warfare. That realization led him to volunteer for the Space Force when his cadre was approached with the opportunity.
"I feel blessed and honored to have been selected from a very competitive application process," says Chafin. "My four-and-a-half years of hard work at S&T paid off. I think back to all the people who helped me get here and want them to know that they deserve my deepest gratitude. This achievement isn't mine alone to share — I want to give back to my family for their confidence in me, and to Missouri S&T."

Chafin credits his cadre with many opportunities for field and leadership training that helped prepare him for the Space Force, along with academic support and encouragement from his fellow cadets.

He attributes his solid STEM learning to the superior teaching abilities of many of his S&T professors.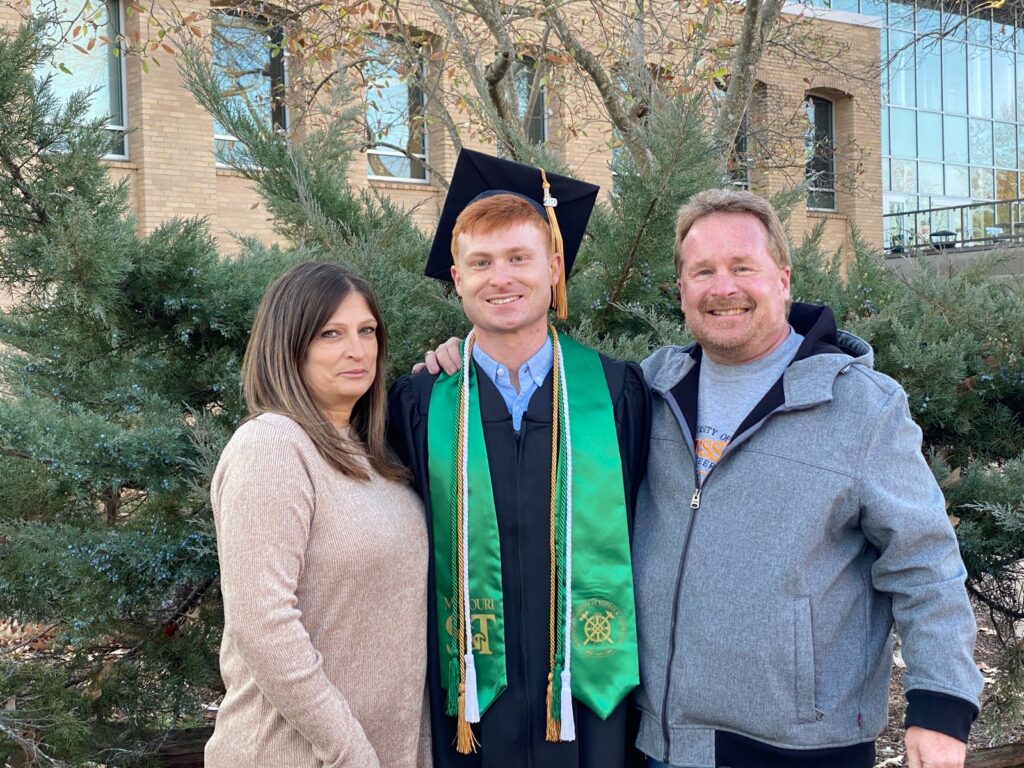 "Math is in everything S&T does," says Chafin. "If you can make it through Calculus I, II and III, you can make it through this school. Coming from a rural high school that didn't offer many college prep courses, starting out here in lower math set me up for success. And as one professor said, 'Math is like a foreign language — you just have to learn it.'"
Among those Chafin credits as contributors to his academic ability to commission into the Space Force are Drs. Elvan Akin and Vy Khoi Le, professors of mathematics and statistics; Dr. Matt Insall, associate professsor of mathematics and statistics; Paul Runnion, associate teaching professor of mathematics and statistics; and Clayton Price, associate teaching professor of computer science. Chafin is also thankful for the communication skills he learned from Dr. Terry Robertson, recently retired associate teaching professor of arts, languages, and philosophy, who taught him how to give speeches and the importance of breaking through cultural barriers in communications.

The Department of Defense classifies Space Force as a separate service under the Department of the Air Force, and like the Marine Corps to the Navy, it will look to the Air Force for support. The entire Space Force will be about the same size as a Marine Corps division, and the unit aims to be be agile and flexible, eliminating layers of command, notes Chief Master Sgt. Roger A. Towberman, the new service's first senior enlisted advisor.
"Most people don't realize that for the next several years, the path to becoming an officer in the Space Force will be through Air Force ROTC," says Lt. Col. Daniel Willis, commander of Missouri S&T's Detachment 442.