Teaching in the time of coronavirus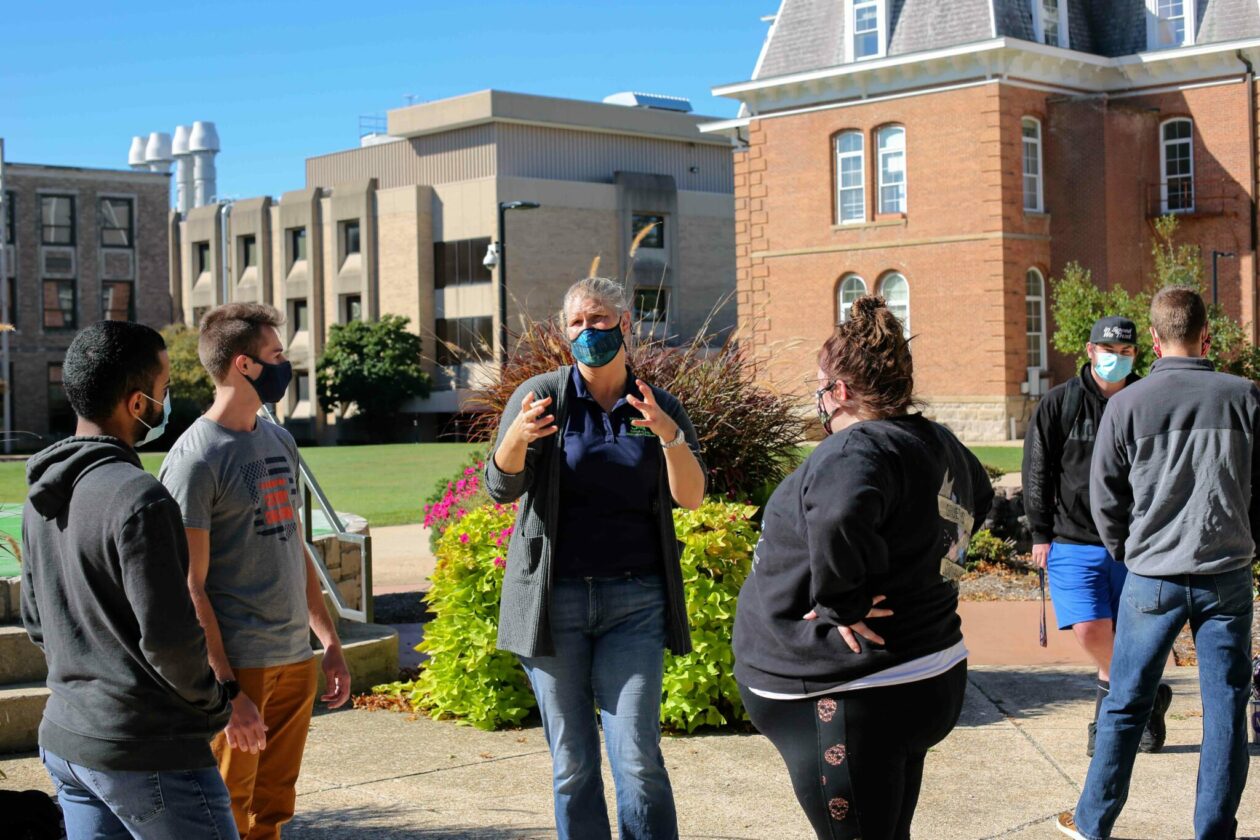 This article is part of a series about Missouri S&T's response to the COVID-19 pandemic.
Teaching looks wholly different this year at universities across the nation as higher education grapples with COVID-19. At Missouri S&T, some faculty are employing their creativity and flexibility to ensure students are learning safely.
Learning creatively
As Dr. Kathryn Dolan, associate professor of English and technical communication at S&T, started planning her fall classes, she knew she needed to get creative to reduce the spread of the coronavirus among her students. She decided to split her early American literature class into three groups and rotate their online and in-person class time.
"It's very different this year because it's mostly online," says Dolan. "I enjoy being in front of students, telling jokes and getting that instant feedback from students. But my class being hybrid, we still get some of that."
Dolan has offered several ways for students to participate in her courses in-person and online. Students in the three smaller groups rotate to attend classes in-person and participate in discussions with their peers, and they chat in the Zoom chat box while courses meet online. Dolan offers an open Google document allowing students to write comments there. She even moved instruction time outside while the weather cooperated.
"Students really wanted some in-person element to class, and it's so much safer to go outside," says Dolan. "They do seem more engaged. They can't fall asleep because they're standing and moving around by rotating discussions with their classmates."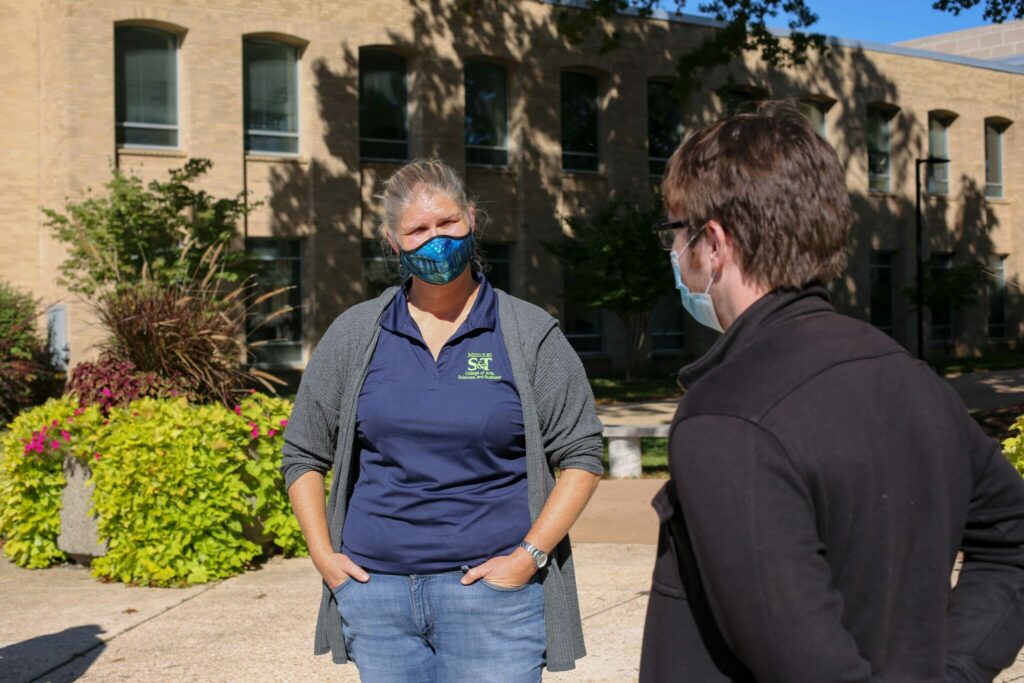 Dolan has taught at Missouri S&T for eight years. She says she taught online many years ago, but this semester has helped her to hone her online teaching skills. She says it has been helpful for students who need to quarantine. They can just move to the all-online group during that time.
For the students who don't attend in person one week, Dolan records a shortened version of her lecture to allow them to watch and take a quiz on the content.
Dolan is also teaching a course on the zombie apocalypse where discussion often includes the coronavirus pandemic.
"It gives students an outlet to talk about these scary times," says Dolan. "They have that chance to say what they're feeling, and they can make it about the book or the world we live in right now."
Learning flexibility
Dr. Jill Schmidt, an assistant teaching professor in mechanical and aerospace engineering, also split up and rotated groups of students in her mechanical and aerospace engineering courses for safety this semester. She has one class that is fully online except for exams and a mechanical engineering lab that is a hybrid of online and in-person teaching. She agrees with Dolan that teaching online this semester is definitely different.
"With 60 students in that class, I usually get that visual feedback in person," says Schmidt. "When you're teaching a large class online, it's hard to get that; even if people have their cameras on it's hard to see everyone's faces or nodding."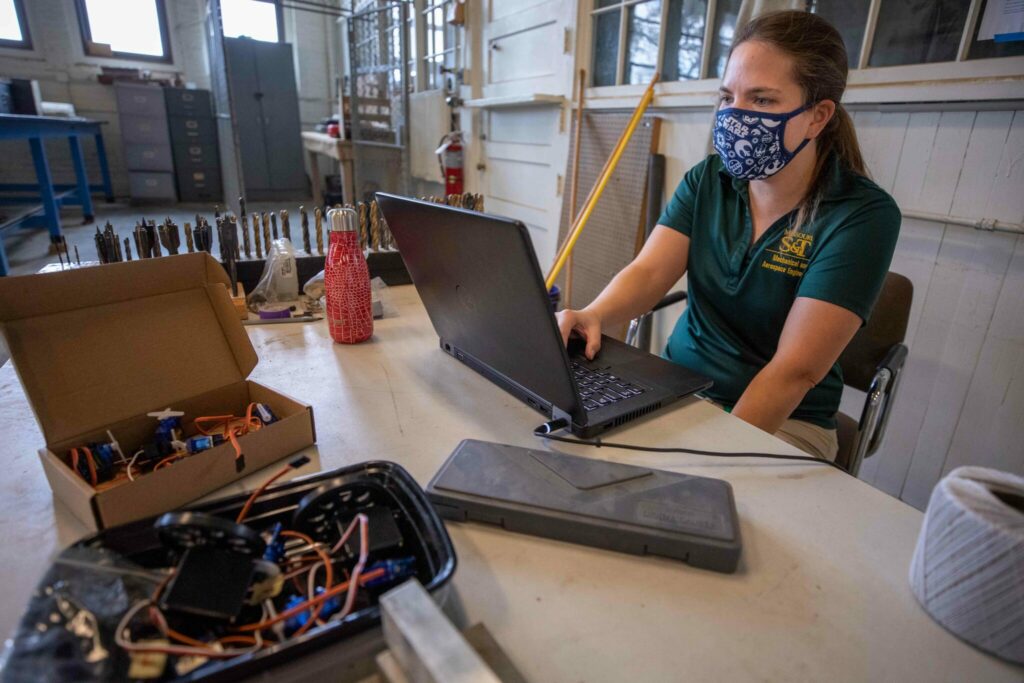 Schmidt says she does see students in person in her lab course more often, but even that reduced-contact environment has changed. One lesson Schmidt has learned this semester is to provide more flexibility for students.
"I have had to be a little bit more flexible than usual in terms of attendance and accommodating students who would prefer to work online and don't want to group up in-person for a project," says Schmidt. "And I do have some project groups that self-selected to meet on Zoom to work instead of the shop for lab."
Schmidt says that out of the students in the labs, about three quarters chose to attend in person, and the others wanted to be in groups fully online.
Jeremy Flieg, a junior in mechanical engineering from Ste. Genevieve, Missouri, says he prefers to come to Schmidt's labs in person.
"I think it's a better experience to come and ask professors questions on the spot," says Flieg.
He says he's adapted to the new standard of online classes, but he likes the option to be able to come and talk to his professors. Flieg also says having fewer social distractions has helped his learning this semester.
"I can really focus on studies now, so that's a good thing," says Flieg.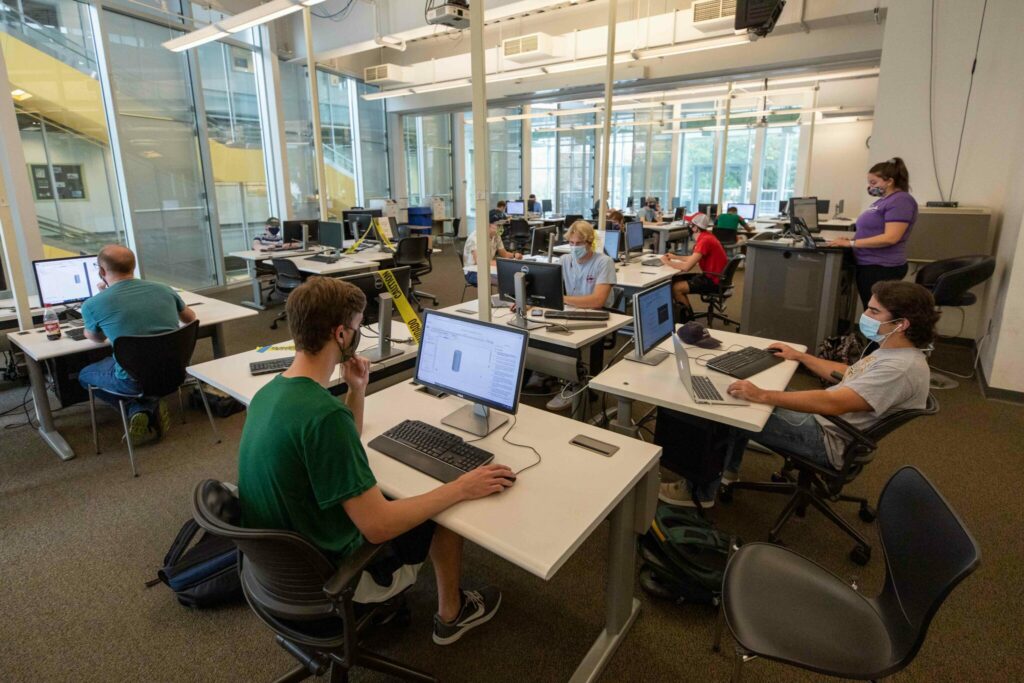 Schmidt says she has been more flexible this semester about students' meeting locations, software, tools and the types of projects students choose to create. But the hands-on learning – the hallmark of an S&T education – is still there.
"My top priority in this class is that they will all build something," says Schmidt. "We're building little robots. I want everyone to have something that they built that works. Whether they can get in the shop and use power tools or whether they just have a glue gun and craft supplies at home, I'm just trying to be a lot more flexible than usual."
Schmidt says she has seen S&T students from freshman to seniors get excited about designing and building, and this semester, students are getting more creative with their projects.
"I've had students want to design systems to solve problems in their lives, such as watering their plants or feeding their fish," says Schmidt. "It's fun to see people get excited and to integrate the design/build project into their life."