New program to draw attention to the achievements of women in business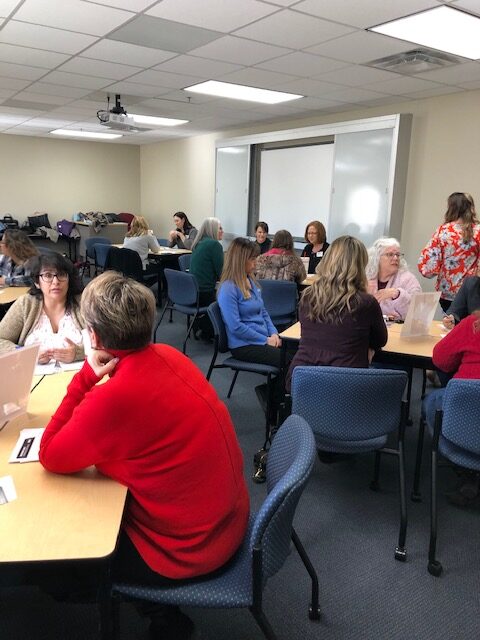 The Women in Business group is celebrating businesswomen's successes by showcasing accomplishments and milestones through the launch of a new program. The program, Women in Business SPOTLIGHT, recognizes those women and their successes through a self-nomination process.
Whether it's reaching a sales goal, receiving an award, speaking at a conference or achieving a goal, women can share business and professional news about their own or another's accomplishment by filling out a nomination form online at bit.ly/spotlightforwomen. The Women in Business Group may celebrate that milestone by sharing it on Facebook, LinkedIn, through the Women in Business group email or through other outlets in the regional community.
"We want to give recognition to women across central Missouri who are doing incredible work in their respective fields," says Paige Marsolais-Heitman, a Women in Business group steering committee member. "They don't always take the time to acknowledge their success or share it with others. We want to celebrate their accomplishments and show our appreciation for all that they do."
To see upcoming Women in Business group activities and events, sign up online at bit.ly/Women-mailinglist or join the Women in Business – Missouri LinkedIn group.
Hosted by the Small Business Development Center (SBDC) at Missouri University of Science and Technology and the Missouri Chamber of Commerce and Industry, the Women in Business group provides women access to learning, networking and professional growth opportunities. The Women in Business group steering committee members are Alyson Cowan, Kelly Dyer, Casey Gideon-Saladin, Paige Marsolais-Heitman, Karen Leatherman (chair), Amy Madonna, Keri Anne Smialek and Katherine Stanislawski.
Missouri S&T's SBDC provides business counseling and assistance to aspiring entrepreneurs and small businesses in the areas of management, new business creation, business acquisition, business sales, marketing, financial analysis, human resources, operations management, succession planning and technology commercialization. Most services are provided at no cost.
SBDC is a University of Missouri Extension partner and part of the Missouri SBDC statewide network, which is funded in part through a cooperative agreement with the U.S. Small Business Administration. For more information about workshops, resources and programs offered by Missouri S&T's SBDC, visit ecodevo.mst.edu.
For more information, email the Women in Business Group at Women.in.Business.Missouri@gmail.com or Karen Leatherman, business development specialist for the Missouri S&T SBDC, at leathermank@mst.edu, or call 573-341-4551.
About Missouri University of Science and Technology
Founded in 1870 as the University of Missouri School of Mines and Metallurgy, Missouri University of Science and Technology (Missouri S&T) is a STEM-focused research university of over 7,600 students and part of the four-campus University of Missouri System. Located in Rolla, Missouri, Missouri S&T offers 99 different degree programs in 40 areas of study, including engineering, education, the sciences, business and information technology, the humanities, and the liberal arts. Missouri S&T is known globally and is highly ranked for providing a high return on tuition investment, exceptional career opportunities for graduates, and an emphasis on applied, hands-on learning through student design teams and cooperative education and internship opportunities. For more information about Missouri S&T, visit www.mst.edu.