Sivadasan named S&T vice provost of enrollment management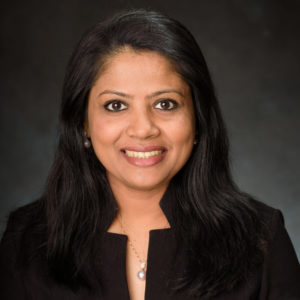 Shobi Sivadasan, senior associate vice president for graduate and international admissions at the University of New Haven in West Haven, Connecticut, has been named vice provost of enrollment management at Missouri S&T. Her appointment begins Oct. 1. 
Sivadasan will take over for Brooke Durbin, who was appointed acting vice provost in June.
"I am grateful for Brooke's willingness to step into this acting role during the transition," says Dr. Stephen Roberts, interim provost at Missouri S&T. "I thank her for her effective service."
At the University of New Haven, Sivadasan streamlined graduate admissions by establishing a single graduate admissions office that was responsible for both domestic and international admissions. In less than two years, graduate enrollment increased by 10.3%.
Based on international market trends, Sivadasan identified a need to create STEM programs in New Haven's College of Business and collaborated with the dean to build STEM programs in finance and the MBA program. As a result, the university saw a 28% increase in MBA applications, bucking a national trend in declining MBA applications.
"Shobi Sivadasan's expertise in enrollment marketing, as well as her international and domestic recruitment experience, make her an ideal candidate to lead our enrollment management division," Roberts says. "Her track record of enrollment growth is impressive, and I'm certain she will demonstrate continued success here. I am pleased to welcome her to Missouri S&T."
"I am truly honored to join Missouri S&T as the vice provost for enrollment management," says Sivadasan. "I look forward to working closely with the students, faculty, staff and community partners to learn what matters most to them and how, together, we will take S&T to the next level of success."
Prior to joining the University of New Haven, Sivadasan served as dean of graduate admissions and enrollment management for Stevens Institute of Technology. Prior to that role, she served as associate dean, director of graduate academic operations in the School of Systems and Enterprises, and a lecturer in engineering management.
During her time at Stevens Institute of Technology, Sivadasan developed and led the strategy to grow graduate enrollment to meet the university's strategic plan goals. Within four years, the university saw a 117% increase in applications, a 115% increase in new international graduate students, a 114% increase in new Ph.D. enrollment and a 75% increase in full-time graduate students. These increases led to a 42% growth in graduate revenue.
Sivadasan earned a bachelor's degree in applied electronics and instrumentation from the University of Calicut in India and a master's degree in engineering management with a graduate certificate in project management from Stevens Institute of Technology.
She has held positions in software engineering, software quality assurance, project management, IT tools, business development and classroom instruction at UST Global in India; Siemens Shared Services, USA; and Institut Technologi Midas in Malaysia.