Three ways students are saving money on textbooks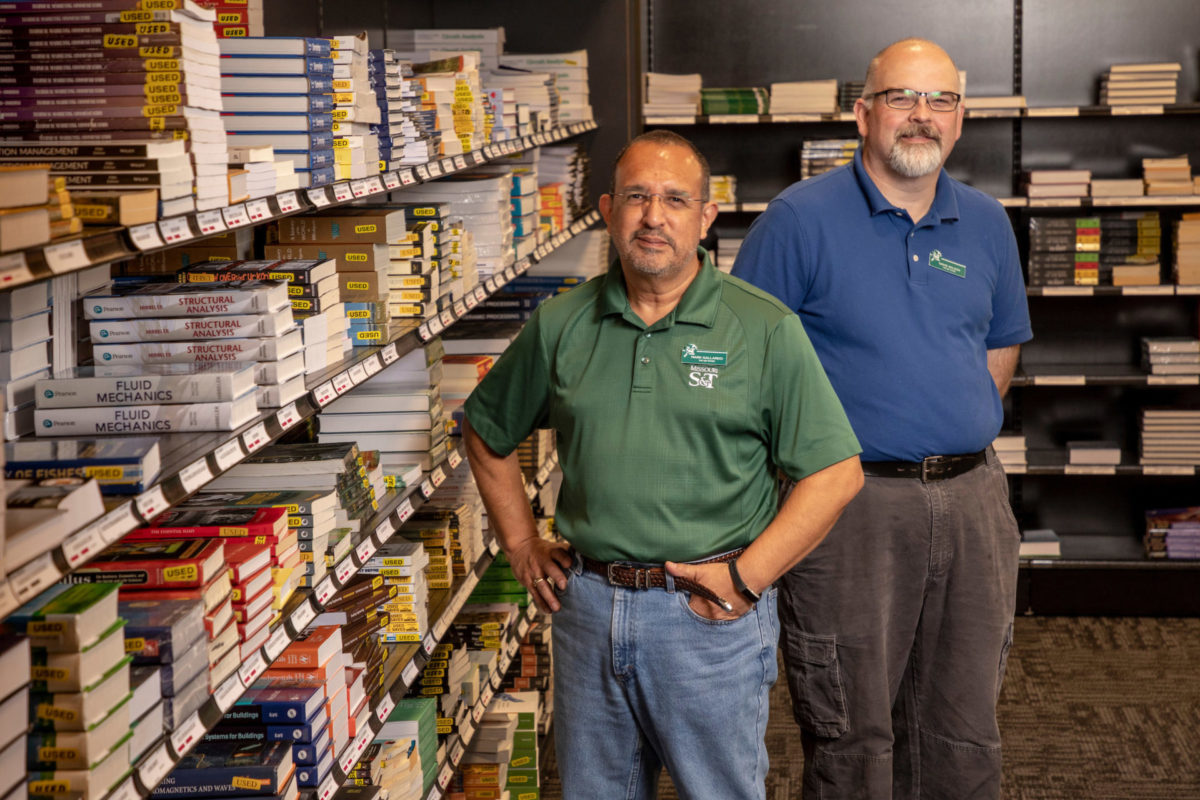 Missouri S&T is providing three options for students to save money on the purchase of textbooks as part of the University of Missouri System's Affordable and Open Education Resources (AOER) initiative. The program began in 2017 as a way to help students save money when buying books.
At Missouri S&T, each course instructor chooses course materials for students, and many professors are finding ways to access these materials at a greatly reduced price or for free. Instructors of more than 130 courses have reduced the prices on their materials with more being added every semester.
Mark Gallardo, manager of The S&T Store, says the changes are helping students save money.
"For example, the chemistry book used to be $330 and weighed about 10 pounds," says Gallardo. "Now it's an AutoAccess book. They get the e-book and the course material to do their online homework in Canvas (the university's digital learning management system). They get it now for $93."
Missouri S&T students can now access books at lower prices through three methods:
AutoAccess, a program that allows students to use course material in a digital format at a reduced price compared to printed course material. The materials are available in Canvas. Gallardo says that the AutoAccess format has saved S&T students almost $2 million in the last five years, and each student enrolled in the program has saved an average of $100 per textbook.
Cengage Unlimited, a subscription service students can purchase through AutoAccess, is a publisher's program that allows students to access thousands of textbooks and other course material for $49.95 a semester. Gallardo calls the service "Netflix for books" and says books in biology, history, math and more are available. Professors simply choose a textbook through Cengage, students pay the fee and the book is available on Canvas on the first day of class. The more courses with materials that are on Cengage, the more students save. For example, more than 100 students had two courses or more through Cengage last semester, and they still only paid the flat fee of $49.95.
Open educational resources (OER). Faculty choose content available as either a free download online, through the university library or as an inexpensive print version. About 30 courses have moved to open-resourced materials with links to the sources in Canvas.
Dr. Patrick Taylor, assistant teaching professor in computer science, says his switch to open educational resources saved students money and helped keep classroom materials fresh.
"The book we used for Data Structures in the past was $200-plus, and now it is free," says Taylor. "At 280 students, that's almost $56,000 worth of book savings per semester for the students. I think that OER materials help the content itself evolve more rapidly, and be adapted to each iteration of a course. One can add or remove a chapter easily, fix errors, respond to student feedback, and make the book available on accessible platforms."
With each of these options, there's no ordering a physical book, waiting for it to arrive and then picking it up at the bookstore.
"The whole dynamics of bookstores have changed," says Gallardo. "There used to be a time when we would have tons of textbooks in here. Students would show up, and then we'd run out and we'd have to make special orders, send emails to students that their books had showed up."
In fact, Gallardo says the changes to the textbook delivery system have spurred the current remodel of The S&T Store. The staff have removed four large textbook shelving units and are shifting their priorities.
"We are going to focus more on retail items – clothing, gifts, school supplies, technology," he says. "We don't even call it a bookstore anymore. It's The S&T Store."
Gallardo says that during recent Preview, Registration and Orientation days, he met students that didn't need any physical books for courses this fall. He says he's finally seeing the shift from printed books to e-books as this generation of students and faculty grow more comfortable with digital materials. And he expects the trend to continue.
"The mission of the bookstore is to try to save students money on course material," Gallardo says, "and that's what we're doing."