Project Lead The Way selects Missouri S&T to provide teacher training in Midwest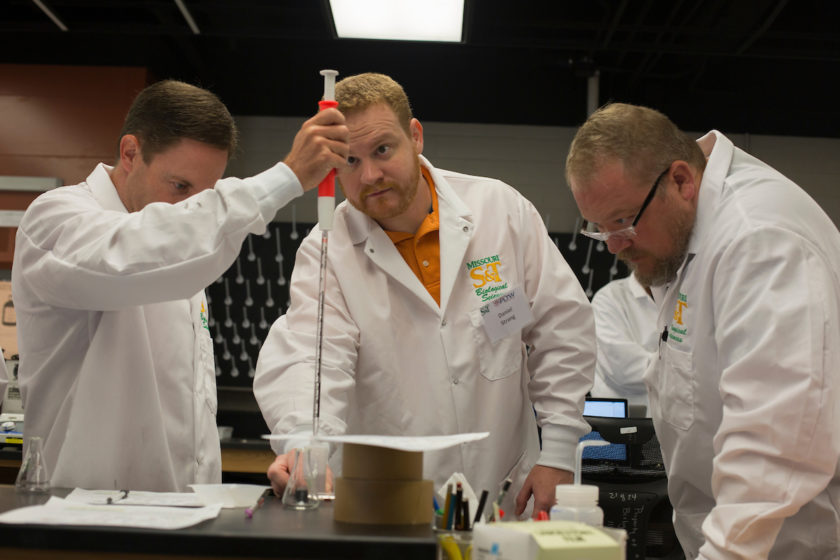 Project Lead The Way (PLTW), a national program designed to encourage interest in engineering and science among pre-college students, has selected Missouri S&T as one of only 17 training partners across the nation to provide PLTW professional development for preschool through high school teachers. Registration for the summer training sessions begins on March 5, 2019.
This year, PLTW moved away from professional development on university campuses and reduced its number of training partners nationally from 57 to 17. The partners will now provide services in training hubs – locations selected based on ease of travel, convenient access to amenities and opportunities such as embedded industry experiences to enrich the training experience. For the next three years, Missouri S&T, based in Rolla, Missouri, will provide PLTW training in Lee's Summit, Missouri, a suburb southeast of Kansas City.
PLTW is a nonprofit organization that provides hands-on science, technology, engineering and mathematics (STEM) curriculum for students pre-kindergarten through high school through career pathways in computer science, engineering and biomedical science. Missouri S&T has been the statewide PLTW affiliate for Missouri since the national program began in 1997, having trained thousands of teachers through the program over the past 20-plus years.
Teachers can earn undergraduate and graduate credit for PLTW courses through Missouri S&T.
"Missouri S&T's model of learning through doing is very similar to the PLTW model of successfully engaging students in relevant ways," says David Hosick, senior program director for PLTW at S&T. "We are excited to partner with PLTW to provide teachers with an exceptional learning experience."
PLTW professional development is a prerequisite for teachers who instruct PLTW courses. There are more than 860 PLTW programs in 602 Missouri schools, and 52 Missouri school districts offer PLTW courses in every grade.
"Project-based learning is a vital component in developing critical and creative thinking," says Dr. Margie Vandeven, commissioner of the Missouri Department of Elementary and Secondary Education for PreK-12 schools. "Professional development offered through PLTW and Missouri S&T will not only help teachers across our state build their own skills, but will also translate well into classroom instruction to help students succeed in school and in life."
While at PLTW professional development sessions, teachers will learn from trained PLTW Master Teachers and gain the content knowledge and pedagogy to lead their students through PLTW's activity-, project- and problem-based curriculum. They will also connect with other teachers from across the U.S. to gain business and industry experiences to take back to their classrooms.
"We are proud to partner with Missouri S&T to empower teachers to lead students in real-world career learning," says PLTW president and chief executive officer Dr. Vince Bertram. "Together, we're helping teachers make connections between their classroom and careers so they can share that understanding with students as they build transportable skills that will prepare them to thrive in our evolving world."
Approximately 11,500 elementary, middle, and high schools in all 50 states and the District of Columbia offer PLTW programs. For more information on Project Lead The Way, visit pltw.org.
For more information on PLTW professional development, visit Missouri S&T's website at pltw.mst.edu/ or PLTW at pltw.org/our-programs/professional-development.