Missouri S&T to host PickHacks competition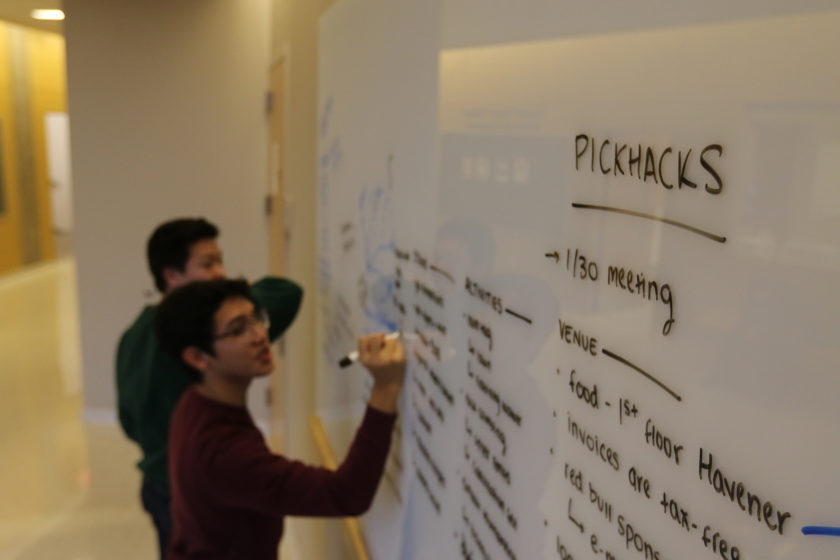 Imagine a hacker. What may come to mind is a criminal using computers to break into companies or government agencies to steal sensitive information or plant malware. But the hackers headed to Missouri S&T's PickHacks next month are coming to brainstorm new ideas to solve real-world challenges, not to infest your computer network.
What's a hackathon?
A hackathon is an event in which a large number of people come together to participate in collaborative project building, usually over several days. Hundreds of college and high school students will descend upon Missouri S&T's Havener Center March 1-3, for what one organizer calls a 36-hour "invention marathon."
Missouri S&T students Christopher Gu and Luis Ocampo are organizing the event. Started a year ago, the event has grown to include corporate sponsors and attract students from five countries and 50 universities.
The organizers encourage anyone who is interested to join in – whether they've participated in 100 hackathons or are just starting out with PickHacks as their first experience.
"A hackathon is not just for computer science or other technical majors," says Ocampo, a sophomore in information science and technology (IST) from Chesterfield, Missouri. "When you are making any product, you need people with programming skills, but you also need artists, entrepreneurs, marketers and anyone else who can contribute to the build."
How hackathons work
Gu, a junior in computer science at S&T from Chesterfield, Missouri, likens a hackathon to an "invention marathon" in which participants create a product or service through a series of brainstorming sessions and ideations. The goal is for each team to identify a problem and work within a team of up to four members to solve that problem.
This year's PickHacks theme is athletics. Teams will form at the event and then use their own technology and skills to brainstorm new approaches to an existing issue or to explore a new idea.
"This year's theme is unique and universal," says Ocampo. "There are so many options for the teams hacking athletics: are they finding a way for fans to engage more, finding a different way to analyze sports data? The possibilities are endless."
PickHacks even offers activities like yoga, a rock wall, a video game tournament and laser tag to keep participants' energy up and to connect people.
A FREE event
The 36-hour hackathon is free to all registrants, thanks to a number of major sponsors. Gu works on finances, sponsorships and logistics, and he's arranged to cover the costs of each participant's registration, prizes and all meals through corporate sponsorships. Many sponsors even attend the hackathon and are available as a resource for teams who need assistance with a particular part of the hack.
"Sponsors are involved on many levels," says Gu. "Let's say a team is stuck on a part of a mobile app; a sponsor might have that experience already and can help. If a team wanted mentorship or guidance in real-time from a sponsor, they can just hop on that specific sponsor's Slack channel and ask for help. Everything is very collaborative."
Connect students and industry
Organizers say they want to use their event to bring big-name companies to campus and prepare students for future careers. Gu says he wants Missouri S&T to become even more of a destination for organizations to find talented workers and to raise awareness of S&T as a top science and technology school.
Gu and Ocampo credit their enthusiasm for the hacking community for helping them advance professionally while still in school. Both have their summers already planned. Gu has an internship with Microsoft as a program manager intern, and Ocampo will join Accenture as a consulting analyst.
"One of the reasons companies are so drawn to hackathons in the first place is you have these students who are willing to take an entire weekend to build projects," says Ocampo. "They have the motivation and the incentive to innovate new things that they could do for a company as well."
Eyes on the prize
At the conclusion of the hackathon, teams compete for prizes by demonstrating their projects to judges, which include industry professionals, sponsors and S&T Miner Athletics staff.
Some prizes are industry specific, such as Best Health Hack and Best Data Hack, while others reward different types of hackers, such as Best Hack by a Female Team and Best Hack by a High School Team. One team will even win paid internships with Panera.
To learn more about PickHacks, or to apply to attend, visit pickhacks.io/.