Missouri S&T powers high-tech, living laboratory homes with new microgrids to research advanced lead battery technologies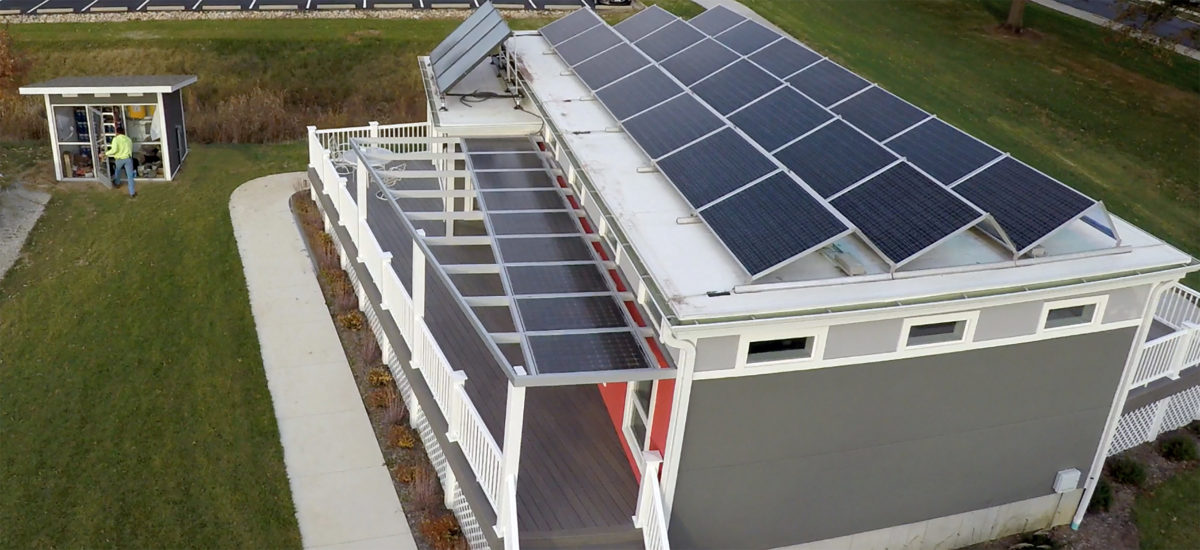 Missouri S&T has installed two new advanced lead battery microgrid systems at the campus's EcoVillage, a "living laboratory" that is home to solar-powered houses designed and built by Missouri S&T students.
Members of Missouri S&T's Microgrid Industrial Consortium want to use the microgrids to test advancements in lead battery energy storage for their potential use as a renewable energy source in communities of the future. Two homes occupied by students will be individually supplied with stored electricity from the systems, which run off charging algorithms from a 24-hour, cloud-based control system.
To celebrate the installation, Missouri S&T will hold a ribbon-cutting ceremony for the microgrids at 10 a.m. Friday, Nov. 9. The ceremony will begin with refreshments and short speeches in the lobby on the east side of the Technology Development Center at 900 Innovation Drive on the Rolla campus, then move to the EcoVillage for the ribbon cutting and tours of the homes. The public is invited.
The Missouri S&T Microgrid Industrial Consortium is a collaborative research alliance that includes the Advanced Lead Acid Battery Consortium (ALABC), a research group and program of the International Lead Association (ILA); The Doe Run Co., a Missouri lead mining and battery recycling company; Ameren, Missouri's largest energy utility provider; the Missouri Public Utility Alliance (MPUA); the Missouri Department of Economic Development Division of Energy (MO DED); and Missouri S&T's Center for Research in Energy and Environment (CREE).
ALABC members NorthStar Battery and EnerSys, both global battery manufacturers, and The Doe Run Co. donated the equipment and funding to construct the new microgrids.
Leading with lead
Lead batteries are typically known as a tried-and-true rechargeable energy source. According to the ILA, up to 90 percent of modern lead usage is in the production of batteries. The ILA further states that more lead is produced by recycling than is mined, making it ideal for a circular economy. According to the 2017 National Recycling Rate Study commissioned by Battery Council International (BCI), lead batteries are the most recycled consumer product in the U.S. with a 99.3 percent recycling rate.
"With lead as a Missouri natural resource, this project provides opportunities to better serve our state's economy and environment through energy research," says Dr. Christopher G. Maples, interim chancellor. "This project perfectly aligns with S&T's mission to integrate education, research and application to serve the state and solve the world's great challenges."
Missouri-based microgrid consortium partner Doe Run manages nearly the full lifecycle of lead. "From mining underground deposits, to supplying Missouri battery manufacturers with lead and lead alloys, to reclaiming and recycling lead from spent batteries, Doe Run provides more than a $1 billion a year in economic value to Missouri," says Chris Neaville, the company's asset development director and a 1987 geological engineering graduate of Missouri S&T.
Microgrids offer viable, renewable energy
Dr. Mehdi Ferdowsi, director of Missouri S&T's Microgrid Industrial Consortium and a professor of electrical engineering and computing, emphasizes that the new microgrid systems will allow researchers to explore the application of advanced lead batteries in stationary grid-tied applications, as most similar research to date has been with lithium batteries. "We'll also be able to conduct research on potential peer-to-peer energy transactions that could result from this use — that is, the energy trading between consumers and 'prosumers,' those who both produce and consume the energy," Ferdowsi says.
"Missouri S&T is at the forefront of microgrid research as an emerging technology solution to the infrastructure challenges facing aging electrical grids," says Stephane Menand, director of S&T's renewable energy, Solar Villages and microgrids research, operations and outreach. "Our living laboratories on campus offer full research and demonstration opportunities in this field."
The EcoVillage homes were designed by S&T students who competed in the U.S. Department of Energy's Solar Decathlon, and they draw about 1,000 visitors a year. The two homes powered by the advanced lead microgrids will run alongside four other solar homes exploring alternative technologies. The EcoVillage is the second grouping of student-designed solar homes. Missouri S&T's first four entries in the Solar Decathlon constitute the Solar Village, located on 10th Street and Poole Avenue, across from the Gale Bullman Building.
"All of us involved in Missouri S&T's Microgrid Industrial Consortium are tapping the potential of advanced lead batteries to create and convey the knowledge of how they will help meet the world's need for renewable energy storage," says Menand.
Other Missouri S&T Microgrid Industrial Consortium partners offer their thoughts on the project:
"Ameren is excited to see how this emerging technology, which relies on resources produced here in Missouri, will help customers in a real, living environment," says George Mues, the company's technology transfer manager, who earned a bachelor of science degree in chemical engineering in 1979 and a master of science degree in engineering management in 1986, both from Missouri S&T. "Microgrids are a growing part of the transformation that's occurring in the electric utilities industry. Participating in this initiative will provide an opportunity for Ameren to better understand how this new technology could benefit our customers in the future."
"NorthStar Battery's main objective in the project is to demonstrate the performance capability and long-term durability of advanced lead batteries as a critical component in the adaptation of renewable energy sources, such as wind and solar," says Dr. Frank Fleming, co-founder of the company. "Lead, because of its proven track record, extensive U.S. manufacturing base and more than 99 percent recycling infrastructure, is a stable, environmentally sound battery technology perfectly suited for energy storage solutions such as in microgrid applications."
"EnerSys is pleased to be supporting ALABC and the Missouri S&T microgrid project with a battery energy storage system for enhanced educational and research capabilities," says Grant Grunewald, the company's engineering support manager who earned a master of science degree in 2016 in engineering management from Missouri S&T. "The batteries used in this storage system were proudly manufactured locally at the EnerSys plant in Warrensburg, Missouri. This project will enrich the learning experiences of S&T students while also deepening the knowledge of many stakeholders with the real world application of a grid-tied residential system with solar power generation and energy storage."
Alistair Davidson, director of US-based ALABC, says: "There is growing demand for efficient and effective energy storage using batteries, and this project will potentially unlock the ability to supply secure, reliable and environmentally sustainable energy to homes across the U.S. using the microgrid model. We are able to monitor the progress of the experiment in real time through the Missouri S&T EcoVillage homes, so that scientists can interpret the data and gather valuable insights to support the further development and rollout of this type of grid."
The project has a three-year timeline for research and study, and should be completed by 2021.