Missouri S&T researchers win multimillion dollar grant to build fast-charging stations for electric cars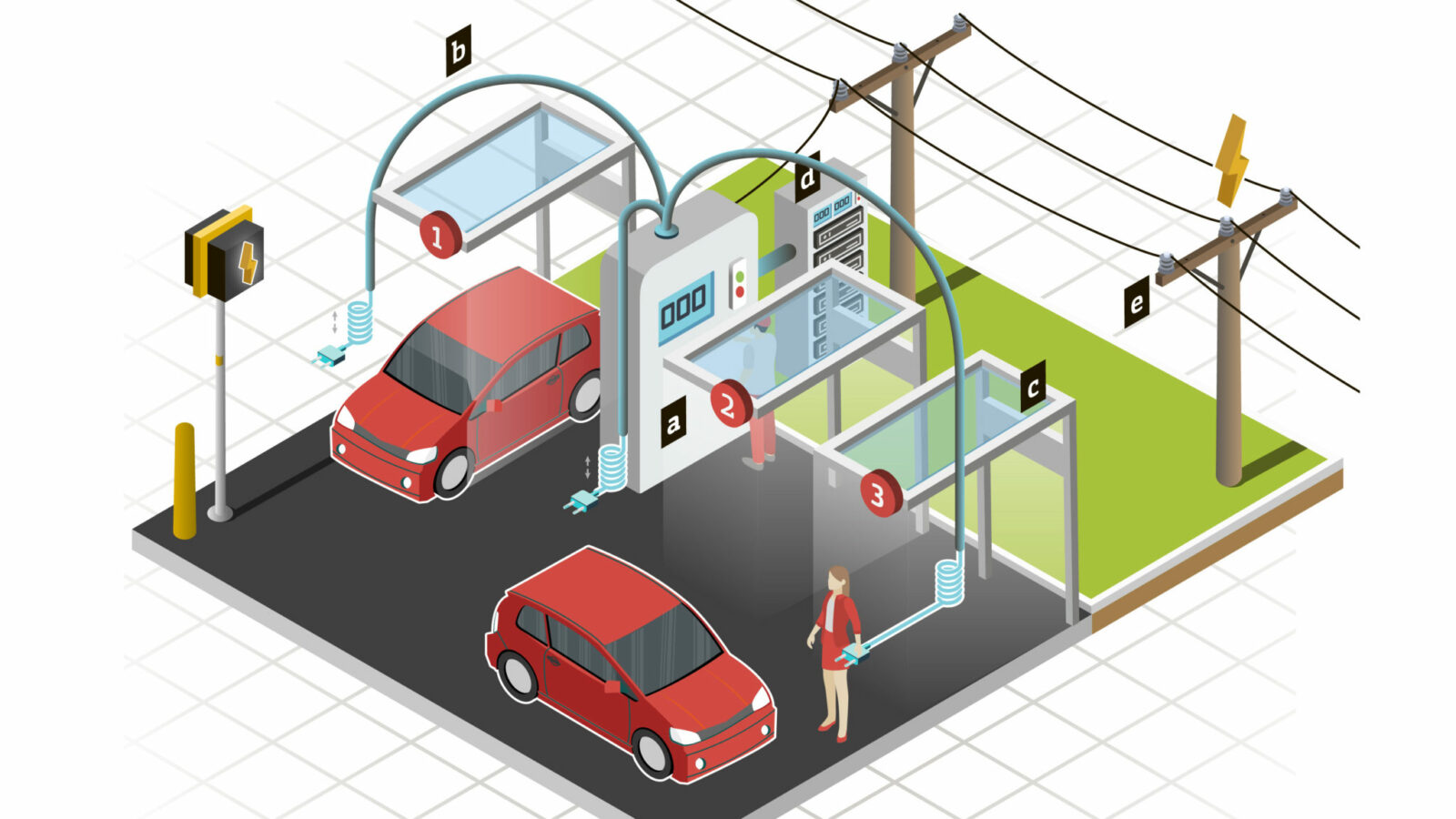 Researchers from Missouri S&T and three private companies will combine their expertise to create charging stations for electric vehicles that could charge a car in less than 10 minutes – matching the time it takes to fill up a conventional vehicle with gasoline.
"The big problem with electric vehicles is range, and it's not so much range as range anxiety. People are nervous about not being able to get where they're going," says Dr. Jonathan Kimball, Missouri S&T professor of electrical and computer engineering. "With a conventional vehicle, you pull up, get gas, and in 10 minutes you're back on the road."
Kimball is leading a team that received a $2.9 million grant from the U.S. Department of Energy (DOE) to develop an extreme fast-charging system for electric cars over the next three years. Each organization involved will provide matching funds equal to what they receive from the DOE. Missouri S&T will receive $1.8 million and provide another $1.8 million in cost-sharing. Three corporate partners will receive $1.1 million and provide another $1.1 million in cost sharing.
The project partners include Ameren, Missouri's largest electric power provider; LG Chem Michigan, a global manufacturer of lithium ion batteries; and Bitrode, a St. Louis-based maker of laboratory-grade battery testing equipment.
Kimball says the group hopes to make electric cars more user-friendly by significantly reducing charging time. Most electric car chargers on the market today require anywhere from a few hours to overnight to fully charge a vehicle. Even Tesla's Supercharger stations take up to an hour to fully charge a car.
Better batteries
Kimball says there will be challenges to building these fast charging stations. The first challenge is whether or not the batteries can withstand such speedy charges. Overcharging a lithium battery could lead to overheating and fire, he says, and even if that scenario is avoided, the battery could still be damaged and wear out faster.
Dr. Jonghyun Park, a Missouri S&T assistant professor of mechanical engineering, joined the team to help minimize the degradation to the lithium ion batteries.
"At extreme fast charging rates, lithium-ion batteries can be damaged severely due to the limited energy transfer properties of the battery materials," he says. "This not only degrades battery performance, but also causes a short circuit that can lead to a safety issue."
To address these challenges, the team will develop a model-based protocol for monitoring what researchers call the battery's "state of charge" and "state of health."
Joining this part of the project is LG Chem Michigan, a global supplier of lithium-ion batteries, from cells to packs, for both stationary and vehicle applications, and Bitrode, which develops and markets battery formation and laboratory test equipment.
Powerful pull on power grids
Quickly pulling large amounts of electricity from the power grid is another challenge for researchers, says Kimball. He estimates that charging a lithium ion car battery in 10 minutes will take about 300 to 400 kilowatts, and adding several cars charging simultaneously could add up to more than one megawatt in needed power. In the Midwest, one megawatt hour of energy can power hundreds of homes for an hour.
Dr. Rui Bo, S&T assistant professor of electrical and computer engineering, says the sudden high current needed for fast charging would affect the power quality from the utility provider. That means it could affect other customers that also need power.
Bo and Kimball hope to bypass that instant pull on the electric grid by first connecting to a charged battery and then ramping up to connecting directly to the 12-kilovolt distribution network.
In partnership with Ameren, Bo's role is to analyze the power grid and use software simulations to model the stations, their behavior and their interaction with the power grid. The stations address two challenges – the static and transient requirements.
"Combining the station with the energy storage system will allow us to mitigate the impact of the fast-charging stations on the grid," he says. "The high transient can cause damage to other devices, and one thing we can do to mitigate that is to use the storage system to provide a buffer."
That's where Ameren comes in. The electricity provider will help demonstrate the charging stations' pull on the grid through its Ameren Technology Application Center testing site in Champaign, Illinois.
The final challenge in a successful charging station will be to connect directly to the medium-voltage distribution network and feed energy to the cars. Kimball says a medium-voltage connection can significantly reduce size and cost while increasing efficiency.
Team strength
Kimball says he believes the project will be successful because of the strength of the team. The project leverages Bitrode's power conversion expertise (particularly focused on battery charging and management), LG Chem's advanced battery technology and Ameren's distribution network analysis to create a system that will benefit the electric vehicle industry.
"We have strong people on every aspect on this project, from power conversion to grid analysis – both faculty and the partners with the three companies," says Kimball. "That's what really makes this work more than any single idea. It's the combination of all these things together that will make this project successful."
In addition to Kimball, Bo and Park, the Missouri S&T team includes Dr. Mehdi Ferdowsi, professor of electrical and computer engineering, who provides broad expertise in electric-drive vehicles and their interactions with the power grid; Dr. Pourya Shamsi, assistant professor of electrical and computer engineering, who is experienced in high-power and medium-voltage converter design; and Dr. Robert Landers, Curators' Distinguished Professor of mechanical and aerospace engineering, whose expertise is in mechatronics and battery control systems.