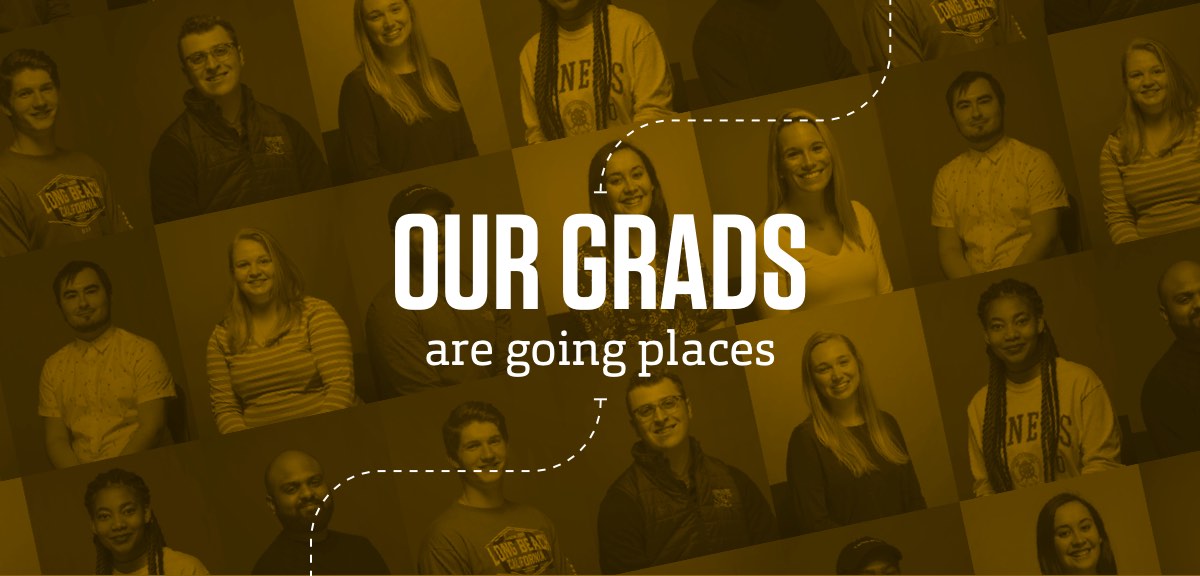 Missouri S&T is known as a university that prepares students for success after college – whether that involves getting that great first job, furthering their education in graduate school or equipping them to pursue their passions as entrepreneurs. Miners are resourceful and inventive, and they leave S&T armed with an education that will prepare them for whatever lies ahead.
On May 12, nearly 1,300 new graduates in fields as diverse as business, the humanities, engineering and science will head out into the world. Below are 10 examples. Read on to meet these soon-to-be Miner alumni and see where their degrees are taking them.
Hear from a few of our graduates in their own words in this video.
Paul Black: Learning to fly
As a child, Paul Black dreamed of becoming an astronaut.
"As I got older, I shifted my gaze toward aircraft, which enabled humanity to become free and connect us on a faster and more global society," says the St. Joseph, Missouri, native who will earn degrees in both aerospace engineering and mechanical engineering. "Not only did I want to learn how to become a pilot, I wanted to understand the magic behind flying."
Joining Miner Aviation Design Team was a natural fit.
"As an aerospace engineer, the dream is to be able to design a product whether it's a spacecraft, rocket, or in my case an aircraft," Black says. "This team made that possible and over the past five years I have helped to design and manufacture over 10 aircraft. I have had the opportunity to go to competition three times and see our collective effort be put to the test. This has provided many learning opportunities from both success and failure.
"Even after five years on campus, I am still learning new things about myself."
Samantha Greaney: a passion for research and teaching
After earning her degree in biological sciences, Wildwood, Missouri, native Samantha Greaney is heading to the University of California, Davis to start the Ph.D. program in biochemistry, cellular, molecular and developmental biology. Her ultimate goal? To pursue research through the Centers for Disease Control and Prevention or the National Institutes of Health.
She says her S&T degree prepared her well for the path that lies ahead.
"My minors in chemistry and biomedical engineering made me stand out among applicants, as my recruiters saw my BME minor as an indication that I can problem-solve and that my interests are interdisciplinary, which is something that people are always looking for," Greaney says.
When she's not in class or in the lab, Greaney is passionate about helping kids learn about science.
"I take up every volunteer opportunity I can when it comes to teaching children," she says. "I have taught genetic engineering to middle schoolers here on campus as well as cell culturing and other lab techniques to high school girls. Last semester, with a group of friends, I taught a class on science experiments at a local homeschool co-op to help inspire children to pursue science."
Austin Hall: Better living through biology
Austin Hall says Missouri S&T's iGEM team is what drew him to S&T. iGEM, or International Genetically Engineered Machine, is a design competition of sorts that uses synthetic biology to solve real-world problems.
"My freshman year, I was elected public relations officer for iGEM, which traditionally was given to upperclassmen," says Hall, who came to S&T from Fordland, Missouri. "This opportunity jump-started my love of biology and provided new opportunities for research, such as designing a chimera protein that bacteria could use to sense changes in water pressure."
Hall hopes to pursue a Ph.D. in toxicology after earning his bachelor's degree in biological sciences.
"I have fostered a love of discovering how biological processes can be incorporated in a way that can better mankind, such as using bacteria to produce insulin, thanks to the atmosphere at S&T."
Jordan Jacobs: Problem solver
Jordan Jacobs of Eureka, Missouri, has always had a knack for problem-solving. That's why she chose to pursue a degree in chemical engineering. She chose Missouri S&T because of the quality of education and the return on investment.
"During my time on campus, I was constantly pushed past my comfort zone and challenged on a daily basis," Jacobs says. "By doing this, S&T has prepared me for the day-to-day life of engineering in industry. I have learned that there are multiple right answers and approaches to the many challenges engineers face in the real world, and I have learned to remain optimistic and persevere through any situation."
After graduation, Jacobs will start work as a manufacturing engineering associate with General Mills in Hannibal, Mo. She says her degree and her three years working as a student ambassador have prepared her for whatever challenges lie ahead.
"I am much more outgoing than when I arrived on campus as a freshman," she says. "It has helped boost my self-confidence."
Sheshan Wijeratna Mahavidanalage: Helping others 
Sheshan Wijeratna Mahavidanalage, a native of Sri Lanka, joined the International Students Club to help mentor other students who are new to the U.S. He started as a volunteer, then served as publicity coordinator. He ended his S&T student experience serving as vice president of the 150-member organization. He says moving to the U.S. was a transformational experience.
"I moved to Rolla in fall 2014," says Mahavidanalage, who majored in information science and technology. "Since then, I have learned lots of things about life by facing all the problems by myself. However, I worked hard and pushed myself to do better."
Today, you're likely to find him behind the lens of a camera.
"I took up photography in the U.S.," he says. "I bought a camera and became a photographer for the Missouri Miner student newspaper, then went to work for the yearbook."
The yearbook advisor, S&T campus photographer Sam O'Keefe, liked his work and offered him an internship in marketing and communications. His work has appeared on the S&T website and in Missouri S&T Magazine.
Botlhe Masedi: The mind of an engineer
Before Botlhe Masedi crosses the stage to collect bachelor's degrees in both mining engineering and economics, she'll head to the podium to address her fellow graduates as one of two student speakers chosen to represent S&T's College of Engineering and Computing.
"I am a social, bubbly person who loves going after what I want and never lets an opportunity pass me by," says Masedi, a native of Botswana. "College has taught me a lot of endurance and how confidence in what you do can change your path."
After graduation, Masedi will join Kiewit as a mining engineer in the underground tunneling division. She says S&T prepared her well for this next step.
"During my stay here, I have learned so many concepts that are very applicable to the line of work I wish to pursue," she says. "I have learned to ask the relevant questions and think with the mind of an engineer."
Cody Mayse: A future in steel
Cody Mayse spent a week touring colleges and came to Rolla last. An open house presentation about materials science and engineering sold him on S&T, but the minute he stepped into the steel foundry, he knew he was in the right place.
"My cousin was killed in a drunk driving accident," Mayse says. "Through metallurgical engineering, I can develop materials that are safer. I eventually want to bring my materials knowledge to build concept cars."
Mayse says his grandmother inspired him to become an engineer.
"Grandma was always focused on helping people and solving problems," Mayse says. "She could find solutions to problems you didn't even realize you had. This is the same thing engineers do, and that's why I wanted to be an engineer."
This summer, Mayse moves from his Creve Coeur, Missouri, hometown to Jewett, Texas, to start a job with Nucor Steel.
"My S&T degree gave me the tools and knowledge to be successful in the industry that I love."
Alyssa McCarthy: People person
There were 27 people in Alyssa McCarthy's Valmeyer, Illinois, graduating class. When she came to Missouri S&T, she was too shy to order pizza over the phone. But her design team experience drew her out of her shell.
"The most important experience I've had at Missouri S&T has been joining the Mars Rover Design Team," McCarthy says. "The team was where I found my confidence, my desire to lead and my closest friends."
McCarthy worked her way up to team CEO. Her freshman year, the team had just returned from a last-place finish. Last year, the team returned as world champions.
In June, McCarthy will put her leadership skills to work with her degree in business and management systems as an IT consultant for RSM in Denver, where she'll help companies implement their enterprise resource planning systems. She hopes to find a way to bring customer service together with technology.
"My S&T degree has given me the technical skills needed to excel in this position," McCarthy says. "Our business department provides extensive experience with ERP systems which will be incredibly helpful when I go into the workforce."
Melton Parham: Nuclear healing 
When Melton Parham enters the Ph.D. program in medical physics at the University of Oklahoma Health and Science Center, he may have a leg up on his fellow grad students.
Parham, a native of Midwest City, Oklahoma, says his degree in nuclear engineering won't lead directly into the medical physics field, but it has given him a firm knowledge of the way atoms work and how they relate to radiation.
Parham wants to work on the clinical side of medical physics – using analytical and applied scientific techniques to assist healthcare workers in the safe diagnosis and treatment of patients.
"The main job is to help others," he says. "We collaborate with a variety of experts in clinics, mainly in radiation and oncology, using a variety of analytical, computer-aided bioengineering techniques. Our work includes radiotherapy, X-ray imaging, ultrasound, tomography, radiology, nuclear magnetic resonance imaging and lasers."
Parham says one of the most valuable lessons he's learned is how to handle failure.
"I work hard with anything I perform now," Parham says. "I've learned every action I do deserves my best effort with an even better attitude. I no longer think failing is a bad thing. I know now that with every failure, success is to follow."
Kelly Stevens: Powering the future
Two internships in the nuclear power industry and two student leadership positions prepared Kelly Stevens of Conway, Missouri, for her career as a nuclear engineer.
Stevens was president of both Panhellenic Council and the Society of Women Engineers her junior year, and she says the experiences were both challenging in different ways and helped shape her leadership skills.
"I learned how to negotiate, communicate effectively with companies and mediate conflicts between sororities," she says.
Stevens wants to make power plants more efficient and environmentally friendly, and she'll be on her way in June when she moves to Georgia with her Siberian husky Chloe to start work in the safety analysis group at Enercon's corporate headquarters.
"I know my position would not be possible without the knowledge I've gained from my coursework at Missouri S&T," Stevens says. "Enercon was impressed by the technical electives I had taken, and I believe my degree helped me stand out from the other candidates."