Apollo scientist stresses value of S&T degree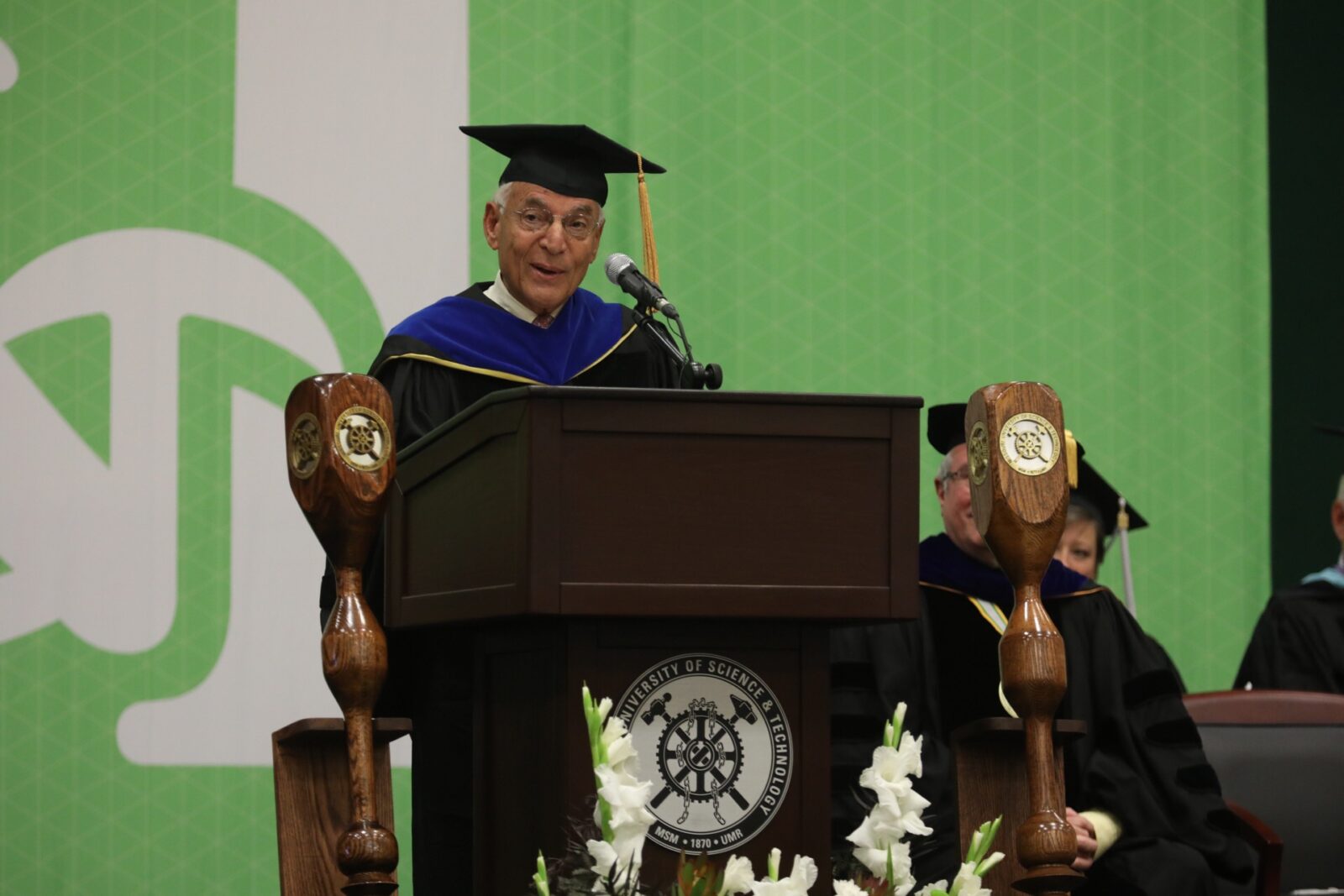 Dr. Farouk El-Baz, a geologist who played a leading role during NASA's Apollo space program in the 1960s, assured graduates that their degrees from Missouri S&T have prepared them for whatever they will encounter in their professional lives.
El-Baz, director of the Center for Remote Sensing and research professor at Boston University, spoke during commencement ceremonies at Missouri S&T on Saturday, May 12. El-Baz earned master of science and Ph.D. degrees in geology and geophysics from Missouri S&T.
"I am happy to say that every single course I took had an effect on my career," El-Baz said. As an example, he cited a project in a graduate-level tectonics course in geology that required him to study a photo of the moon and write a report about its tectonics. He got an A on the paper but learned after joining NASA's Apollo program that his interpretations were wrong.
"However, Professor (Paul) Proctor had taught me how to gain information from a single photograph," El-Baz said. "That experience helped me to become secretary of the lunar landing site selection committee and trainer of all Apollo astronauts in visual observations and photography.
"The lesson here is that the education you received at S&T has prepared you for whatever you encounter in your future professional life," El-Baz said. "I can assure you that, from my experiences, the S&T education is second to none."
El-Baz compared his studies at S&T with time spent at Massachusetts Institute of Technology. At MIT, he took a full course load, dated his future wife, was heavily involved in student organizations and hosted a weekly Arabic radio variety show – but still earned mostly A's, something that El-Baz said rarely happened at S&T.
"Be conscious of the great education you received here," he said. "You should realize that the degree you acquire today basically means only one thing, and that is: until today you required someone to take you by the hand and teach you. But from this day forward, you can begin to teach yourself."
El-Baz, who also holds a bachelor's degree from Ain Shams University, conducted graduate research at Asyut University in Egypt. He later taught at Germany's Heidelberg University, then participated in oil exploration in the Gulf of Suez.
In 1967, El-Baz was appointed by NASA as secretary of lunar landing site selection and chairman of astronaut training in orbital observations and photography. His role was chronicled by Tom Hanks in the TV series From the Earth to the Moon, in a segment titled: "The Brain of Farouk El-Baz." In addition, the name El-Baz was immortalized on a shuttlecraft in the TV series Star Trek: The Next Generation.
After the Apollo Program ended, he joined the Smithsonian Institution to establish and direct the Center for Earth and Planetary Studies, and to plan exhibits of the National Air and Space Museum. He then joined Itek Optical Systems as vice president for science and technology.
In 1986, he joined Boston University to establish and direct the Center for Remote Sensing. He developed methodologies for applying space-born data to scientific research efforts in geology, geography and archaeology. His work resulted in the location of groundwater resources in the Western Desert of Egypt, the Rajasthan of India, in Darfur of northwestern Sudan, the Sultanate of Oman, the Northern United Arab Emirates and Republic of Chad.
A member of the National Academy of Engineering (NAE), El-Baz serves on the editorial boards of several international professional journals. He is a Fellow of the Geological Society of America, the American Association for the Advancement of Science, the Royal Astronomical Society in London and the Explorers Club in New York.