Missouri S&T's economic impact to state: $404 million, 5,549 jobs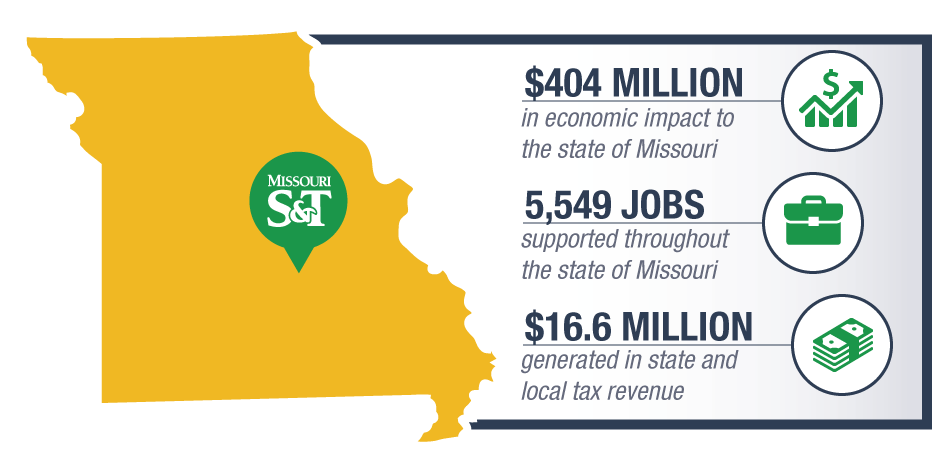 Missouri S&T contributed more than $404 million to the state's economy during the fiscal year that ended last June, according to a new report released today (Tuesday, April 17) by the University of Missouri System.
Missouri S&T also supports 5,549 jobs in the state. This includes 3,419 full-time and part-time jobs directly supported by S&T.
These findings are included in a new report on the UM System's economic impact. UM System President Mun Choi and other university leaders released the report today during an event in the House Lounge of the Missouri State Capitol in Jefferson City.
In all, the UM System generated more than $5.4 billion in economic activity throughout Missouri during fiscal year 2017 (July 1, 2016-June 30, 2017), according to the report, which was prepared by the consulting firm Tripp Umbach. That total includes $2.1 billion in direct spending in the state and $3.3 billion in indirect spending that occurs as a result of the university's presence in the state.
The study outlines the UM System's influence on the state economy in terms of expenditures, employment, spending by employees and students in the local economy, and spending by visitors to the university and its campuses.
"Missouri S&T and our fellow campuses within the University of Missouri System bring tremendous value to our state," says Dr. Christopher G. Maples, interim chancellor of Missouri S&T. "Our contributions to the state economy extend beyond the raw numbers of jobs and dollars, and include new businesses, innovations and inventions that benefit Missourians."
Maples cites the success of Rolla-based glass technology manufacturer MO-SCI Corp. as an example of how Missouri S&T has directly contributed to the local, state and national economy. MO-SCI was founded in 1985 by Dr. Delbert Day, Curators' Distinguished Professor emeritus of ceramic engineering at Missouri S&T. The company's most well-known product, marketed under the name TheraSphere, consists of microscopic glass spheres that are used to treat liver cancer. One of the company's latest products, a glass-based wound-healing matrix called Mirragen, began as research in Missouri S&T's labs.
"MO-SCI is an international success story that beautifully showcases how a public research university like Missouri S&T can create knowledge that ultimately benefits our state and nation in many ways – from developing new technology to creating jobs that strengthen our local economy to building our local and state tax base," Maples says.
"The state of Missouri benefits greatly from the presence of the University of Missouri System and its campuses," Maples says.
"We are dedicated to the welfare and success of the citizens of Missouri," adds UM President Mun Choi. "Our original mission was to educate the future leaders of the state and provide new knowledge that would open new opportunities and significantly alter the economic prosperity of the state for the better. This study proves that the University of Missouri System, its four campuses, MU Extension and MU Health Care continue to be a powerful driving force for the future of the state."