S&T student design teams are ready for competition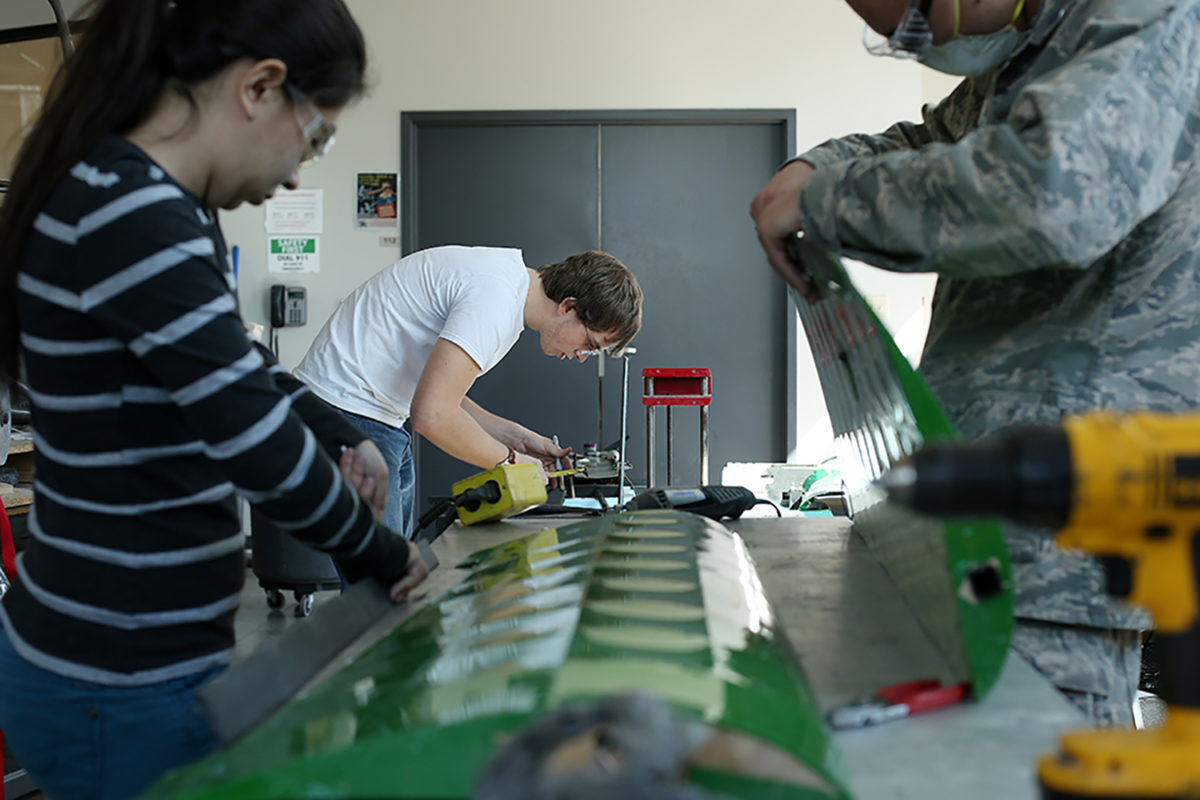 Spring is student design season at Missouri S&T. At any given time during the semester you can see students constructing rockets, driving Formula-style cars around campus parking lots or floating concrete canoes on a local lake.
Design teams mirror small start-up companies that plan large-scale projects, organize into departments, raise funds, communicate their ideas and solve open-ended design challenges. Most teams compete annually against other collegiate teams from around the country and the world.
The 18 interdisciplinary design teams are:
• Baja SAE – This team will create and race a prototype off-road all-terrain vehicle through various difficult environments. The team will travel to Baja SAE Kansas May 17-20.
• Chem-E-Car Team – The team creates a self-driving miniature vehicle that's speed, stopping and travel distance are all controlled by on-board chemical reactions. The team will travel to the American Institute of Chemical Engineers' Mid-America Regional event April 20 in Stillwater, Oklahoma.
• Concrete Canoe Design Team – By working with the right aggregate materials, this team builds a fully functioning canoe out of concrete and then races it head-to-head against other university teams. It will compete April 19-21 at the ASCE Mid-Continent Student Competition in Carbondale, Illinois.
• Drillbotics Design Team – Drillbotics participants design and build a small-scale drilling rig that can autonomously drill through a rock sample. The team will host judges on campus in May to review its project.
• Engineers Without Borders – EWB works with rural communities in Bolivia, Guatemala and Honduras to improve quality of life by sourcing clean water for drinking and sanitation. Team members travel throughout the year to site locations.
• Formula Electric SAE – This team uses electricity to power a Formula one-style racecar that it races against other student teams. The team will compete June 20-23 at the Formula SAE Electric Competition in Lincoln, Nebraska.
• Formula SAE – Powered by combustion as opposed to its sister team above, this Formula team builds a traditional Formula one car and races it. The team will compete twice, May 9-12 at Formula SAE Michigan and June 20-23 at Formula SAE Lincoln.
• Human-Powered Vehicle Team – This team designs and builds a recumbent bicycle or tricycle covered in an aerodynamic shell that can be pedaled at high speeds for a long period of time. The team will compete twice, March 23-25 at ASME HPCV West in Pomona, California, and April 13-15 at ASME HPCV East in State College, Pennsylvania.
• International Genetically Engineered Machines – Known as iGEM, this team tweaks bacteria's DNA to work against biological threats in the environment and adds the knowledge to a shared database. Students will present their findings Oct. 25-28 at the iGEM Giant Jamboree in Boston.
• Mars Rover Design Team – The current reigning world champion, this team designs a prototype Mars rover that can traverse difficult terrain and provide astronauts assistance in space. The team will compete May 31-June 2 at the University Rover Challenge in Hanksville, Utah.
• Miner Aviation Design Team – This team builds radio-controlled aircraft that can deliver a weighted payload to a designated target while flying. Students will compete April 6-8 at SAE AERO West in Van Nuys, California.
• Multirotor Robotics Design Team – This team builds fully autonomous flying robots that can perform various aerial tasks. The team will compete at an aerial robotics competition later this year.
• Nuclear Science Design Team –This team develops a new concept related to the nuclear field and submits formal documentation to a nationwide competition. The team will be included in the American Nuclear Society's student design competition on Nov. 1.
• Rocket Design Team – This team builds a rocket capable of flying tens of thousands of feet into the air while carrying scientific instruments to measure the atmosphere and conduct mid-flight experiments. The team will compete June 19-23 at the Spaceport America Cup in Las Cruces, New Mexico.
• Solar Car Design Team – Without having to stop and refuel, this team races its solar-powered vehicle across whole countries at highway travel speeds. The team will next compete July 6-22 at the American Solar Challenge.
• Solar House Design Team – This team builds a solar-powered house that is judged on 10 different categories, ranging from creature comforts, such as appliances and hot water, to architecture and marketability. Competitions for the team are every two years, and the team plans to participate in the 2019 event.
• Steel Bridge Design Team – Traveling with the Concrete Canoe team, the Steel Bridge team builds a scale model of a weight-bearing bridge in a matter of minutes. Students will compete April 19-21 at ASCE Mid-Continent Student Competition in Carbondale, Illinois.
• Underwater Robotics Design Team – The Underwater Robotics team develops remotely operated vehicles to navigate sea floors while completing various retrieval, sampling and monitoring tasks. The team will attend the Marine Advanced Technology Education competition June 21-23 in Federal Way, Washington.
Missouri S&T's Student Design and Experiential Learning Center (SDELC) provides hundreds of S&T students with leadership, networking and technical learning opportunities through industry-sponsored design competitions. The SDELC, headquartered in the Kummer Student Design Center, provides real-world team-based operations, including computer design laboratories, a manufacturing shop, office space and logistical support.
For more information about the teams, visit design.mst.edu.