Missouri S&T celebrates students for outstanding research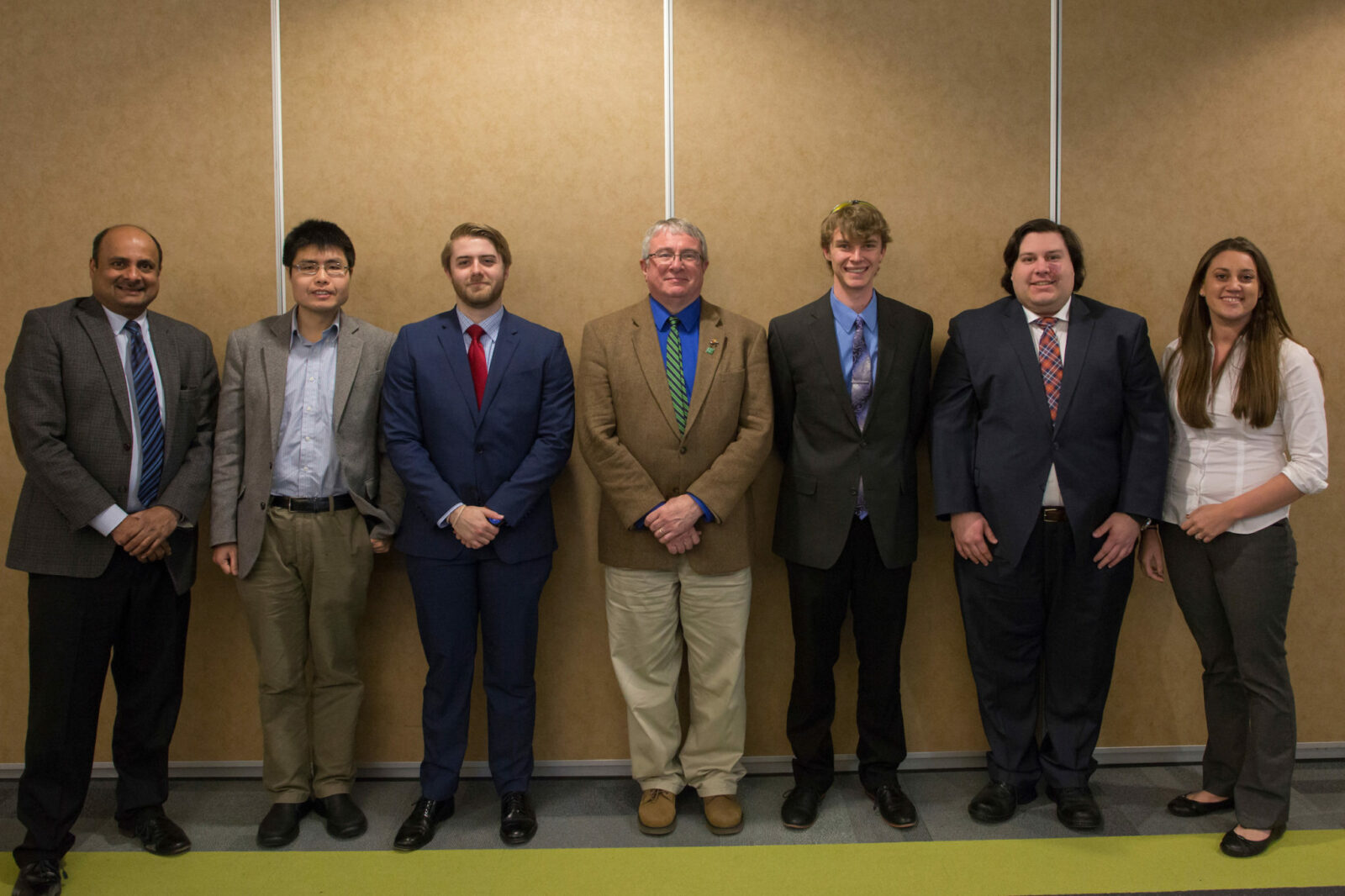 The graduate studies office at Missouri S&T celebrated the winners of the ninth annual Graduate Fellows Poster Session at an awards banquet held Wednesday, March 21.
Thirty-four graduate students submitted their research during an exhibition at the Havener Center on Feb. 26. All of the students participating are Chancellor's Fellows or Chancellor's Distinguished Fellows – groups of students who have proven their academic excellence and were chosen based on competitive criteria.
At the banquet, each of the four winning students gave a brief overview of their research.
James Seman, of Andover, Massachusetts, a Ph.D. student in explosives engineering, won first place for his poster, "Nuclear Barcode." Seman is working to create a nuclear barcode as an identification taggant for explosives. Such an identification system could give investigators more information about an explosive device used in a terrorist attack.
Andrew Taylor, of St. Louis, a Ph.D. student studying advanced materials and structures in aerospace engineering, tied for second place for his poster, "Validation of Constituent CFD Models Towards Microtube Catalytic Combustion." Taylor's research aims to design and validate a complex CFD Simulation on the catalytic combustion of monopropellant in a microtube.
Jaykob Maser, of Braymer, Missouri, a Ph.D. student in aerospace engineering, tied for second place for his poster, "Higher-Fidelity Model of Dielectrophoretic Injector-Thruster Smallsat System." Maser's research objective is to determine the thrust profile and start-up time for a dielectrophoretic (DEP) injector – plasmonic thruster system for small satellites using nanoparticle propellant.
Martin Di Stefano, of Kirksville, Missouri, a Ph.D. student in aerospace engineering, won Honorable Mention for his poster, "The Effect of Turbulence Model Uncertainty on Scramjet Isolator Flow Field Analysis." Di Stefano is studying the effect of turbulence model uncertainty on the analysis of a representative scramjet isolator flow field, which originates from the epistemic uncertainty in closure coefficients of commonly used turbulence models in Reynolds-Averaged Navier-Stokes simulations.