Missouri S&T athletics helps Zackrie's Make-A-Wish dream come true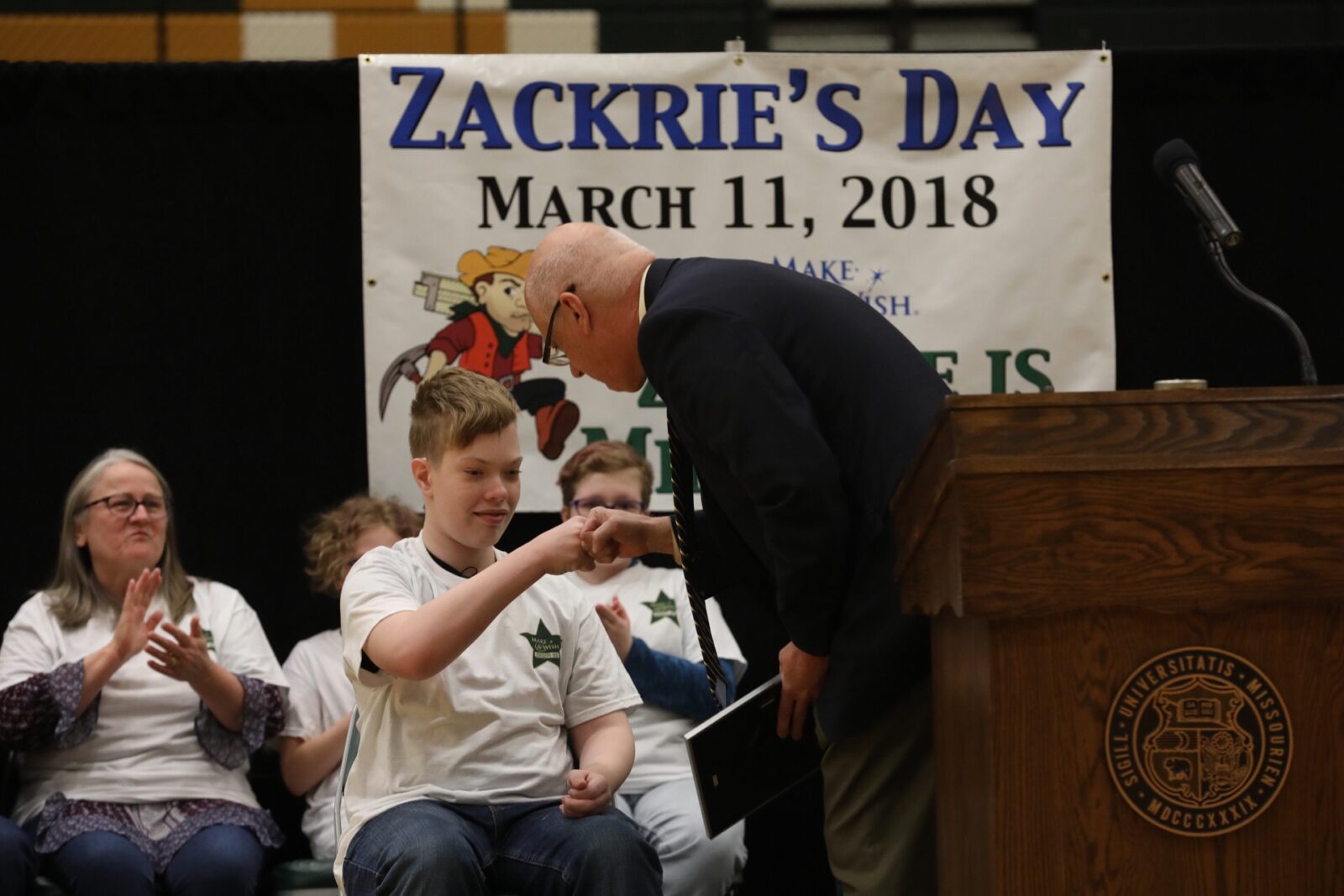 The basketball court at Missouri S&T set the stage for a celebration on Sunday, March 11, for one area youth, battling a health condition that led to kidney failure and a recent kidney transplant.
The Make-A-Wish Missouri foundation granted 15-year-old Zackrie's wish to travel to Atlantis Paradise Island, an ocean-themed resort in the Bahamas. He was the star during ceremonies Sunday on Billy Key Court in Missouri S&T's Gale Bullman Building, where representatives from Make-A-Wish Missouri, Missouri S&T and the city of Rolla announced that Zackrie's wish to visit his water oasis would be granted. Zackrie loves swimming and gets in the water every chance he can.
Joined Sunday on the court by his family, Zackrie received the good news from Make-A-Wish volunteer Wish Granter Cheryl Vernon, Missouri S&T Vice Chancellor Debra Robinson, Missouri S&T Chancellor Chris Maples, Rolla Mayor Lou Magdits and Missouri S&T Athletics Director Mark Mullin, who served as master of ceremonies for the event.
Zackrie also received a $250 gift card to GameStop that was made possible by donations from student-athletes, coaches and staff from Miner athletics.
The Make-A-Wish Foundation is a non-profit organization that grants wishes to children between the ages of 2 1/2 and 18 who are battling life-threatening medical conditions. The foundation operates through chapters and affiliate organizations throughout the U.S. and worldwide.
The Make-A-Wish Foundation is the official charity of NCAA Division II and its national Student-Athlete Advisory Committee. Student-athletes from all 15 institutions in the Great Lakes Valley Conference (GLVC), of which Missouri S&T is a member, take part in fundraising efforts for that organization. Missouri S&T has been one of the leaders annually in the GLVC and nationally for raising funds for the Make-A-Wish Foundation.
Joining the Miner Athletic Department in planning and celebrating the wish reveal were the Missouri S&T Chi Omega members. The Make-A-Wish Foundation is their chosen philanthropy, and they provided support to athletics in making the event a success.
About Make-A-Wish Missouri
Since 1983, Make-A-Wish Missouri has granted wishes to more than 5,000 local children with life-threatening medical conditions to enrich the human experience with hope, strength and joy. This year, Make-A-Wish Missouri will grant more than 300 wishes.
According to a U.S. wish impact study, most health professionals surveyed believe a wish-come-true can influence the health of children. Kids say wishes give them renewed strength to fight their illnesses, and their parents say these experiences help strengthen the entire family.
For more information about Make-A-Wish Missouri and how you can share the power of a wish, please visit the organization's website and connect with them on Facebook, Twitter, Instagram and YouTube.