Missouri S&T announces 2018 Honorary St. Pat and Knights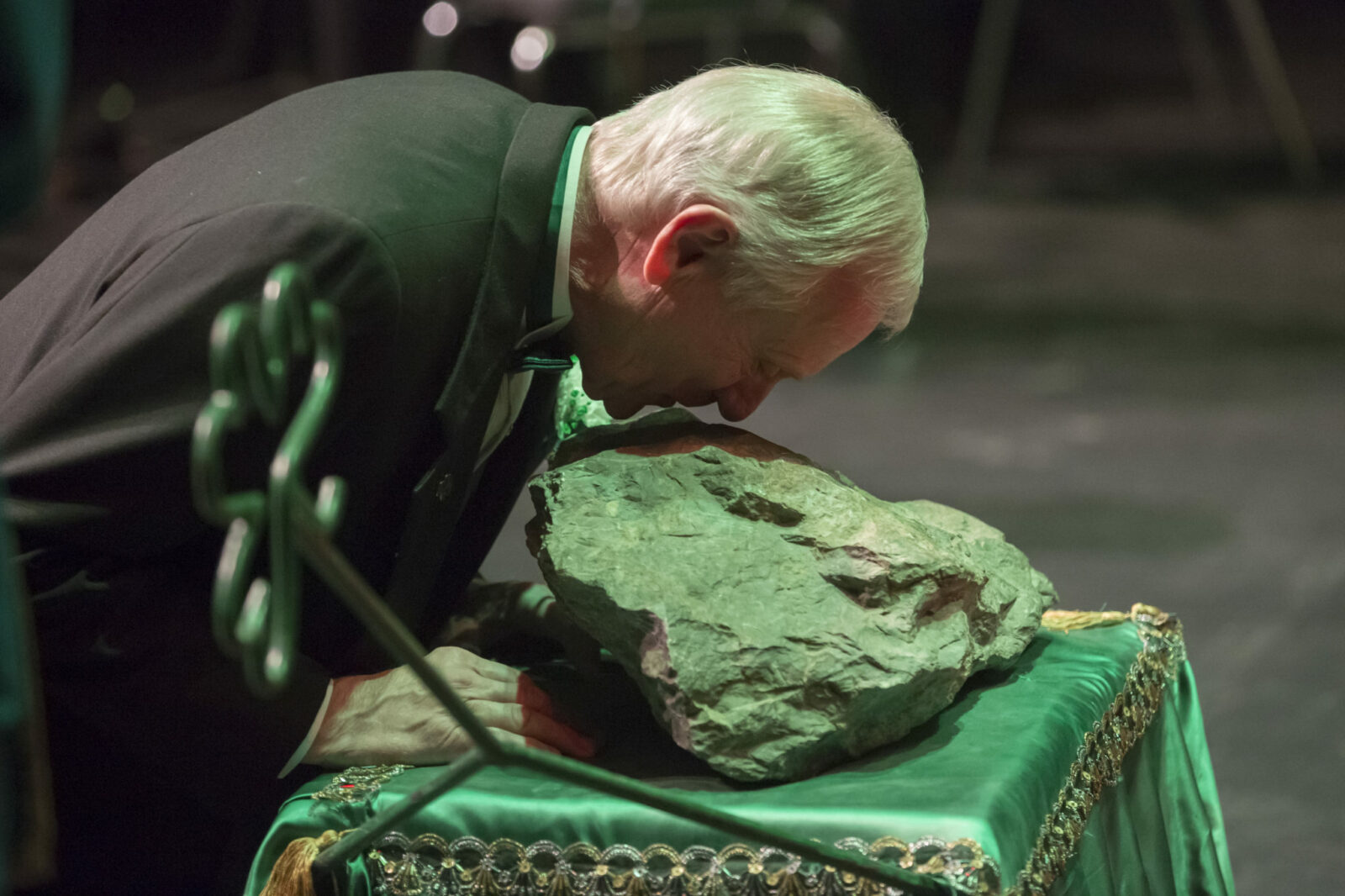 The St. Pat's Celebration Committee at Missouri S&T has announced Dr. John F. (Jack) Carney III as Honorary St. Pat and parade marshal for the 110th St. Pat's celebration. The committee also announced the 2018 list of Honorary Knights of St. Patrick. The eight Honorary Knights are Dr. Venkat Allada, Richard Eimer, John Gallagher, Nicole Galloway, Edward Harvey, Doug James, Mary Helen Stoltz and Steve Zimmerman.
The new knights will be honored during the coronation ceremony at 9 p.m. Friday, March 16, in Leach Theatre of Castleman Hall on the Missouri S&T campus. The public is invited to attend.
The Honorary Knights will also be a part of the 2018 St. Pat's Parade, which begins at 11 a.m. Saturday, March 17, on Pine Street in Rolla. Biographical information is as follows:
– 2018 Honorary St. Pat and parade marshal Dr. John F. (Jack) Carney III
Dr. John F. (Jack) Carney III of Cambridge, Massachusetts, served as chancellor of S&T from September 2005 through his retirement in August 2011. A Massachusetts native, Carney earned a bachelor of science in civil engineering in 1963 from Merrimack College, and master of science and Ph.D. degrees in civil engineering from Northwestern University in 1964 and 1966, respectively. Prior to becoming chancellor of Missouri S&T, Carney was provost and vice president for academic affairs at Worcester Polytechnic Institute. He previously served on the faculty at the University of Connecticut, Auburn University and Vanderbilt University. Widely recognized in the research community for his work in the area of impact mechanics, Carney's research has led to the development and implementation of a series of impact attenuation devices used in motorway safety applications. While at S&T, Carney was a strong supporter of the St. Pat's celebration and was presented with St. Pat's Order of the Emerald on his retirement.
– 2018 Honorary Knight Dr. Venkat Allada
Dr. Venkat Allada of Rolla, Missouri, is a professor of engineering management and systems engineering at Missouri S&T. Until December 2017, Allada served as Missouri S&T's first vice provost of graduate studies. During his 10-plus years in this role, he raised the university's graduate education profile by increasing recruitment and retention of high-quality doctoral students, attaining record enrollment of doctoral students and creating new professional development opportunities for graduate students. Allada earned his Ph.D. in industrial engineering from the University of Cincinnati in 1994. His teaching and research focuses on STEM education, lean thinking, design automation and sustainable product design. Allada is the recipient of the 1998 ASEE Dow Outstanding New Faculty Award, 1998 Outstanding Young Manufacturing Engineer Award by the Society of Manufacturing Engineers and 2005 Outstanding Contributions Award by MIT's Lean Aerospace Initiative. He has over 100 publications in refereed journals and conference proceedings.
– 2018 Honorary Knight Richard Eimer
Richard Eimer of Conroe, Texas, is retired executive vice president of operations for Dynegy Inc. Eimer began his career in 1971 with Illinois Power Co., which then merged into Dynegy in 2000. Eimer earned a bachelor of science degree in electrical engineering from Missouri S&T in 1971 and later earned an MBA from the University of Illinois. In 2002, Eimer received the Award of Professional Distinction in electrical engineering from S&T. He is a past president of the Miner Alumni Association and is a member and past president of the Missouri S&T Academy of Electrical and Computer Engineering. Eimer has served on the S&T Board of Trustees and its Corporate Development Council. Eimer and his wife, Cathy, are members of the Order of the Golden Shillelagh at S&T.
– 2018 Honorary Knight John Gallagher
John Gallagher of Rolla, Missouri, is director of student life at Missouri S&T. Gallagher works within the student affairs team to advance the mission of Missouri S&T, striving to engage students in a manner that complements classroom learning and develops a culture of lifelong learning and commitment to the university. He has held progressively responsible positions at both public and private colleges and universities since earning a bachelor of science degree in mathematics and communication, and a master of education in instructional design. In addition to work with the university, Gallagher spends time as a recruitment volunteer through the Penn State Alumni Association, has served with his home chapter of Rotary International in its annual Rotary Youth Leadership Award Program and locally supports his son's Boy Scout troop.
– 2018 Honorary Knight Nicole Galloway
Nicole Galloway of Columbia, Missouri, is the 38th auditor of the state of Missouri. A certified public accountant and certified fraud examiner, Galloway serves as the citizen's advocate, promoting transparency and accountability at all levels of government. Prior to becoming state auditor, Galloway served as Treasurer of Boone County and worked in the private sector as a corporate auditor, accountant and actuarial analyst. She earned bachelor of science degrees in applied mathematics and economics from Missouri S&T in 2004 and later earned an MBA from the University of Missouri. In 2003, she was chosen as St. Pat's Queen of Love and Beauty. Galloway and her husband, Jon, have three sons – William, Benjamin and Joseph.
– 2018 Honorary Knight Edward J. Harvey
Edward J. "Buz" Harvey of Rolla, Missouri, is an adjunct professor of business administration at Missouri S&T and Columbia College in Rolla, and of healthcare financial management at Webster University. Harvey served as an administrator at Phelps County Regional Medical Center for 13 years, was chair of the Rolla Area Chamber of Commerce and serves as a Rolla Ambassador. He earned three degrees from the University of Missouri, including a master of art in journalism and an MBA. Harvey is a combat veteran of the Vietnam War and the treasurer of the Phelps County Emergency Services Board. He was presented the Edmund Ward Bishop Award for lifetime service to the city of Rolla in 2006 and is a member of the Order of the Golden Shillelagh at Missouri S&T.
– 2018 Honorary Knight Doug James
Doug James of Rolla, Missouri, is a captain of the uniformed police officer division at the city of Rolla Police Department. James earned a bachelor of science degree in criminal justice administration from the University of Central Missouri in 1991. He then joined the city of Rolla police department in May 1991 and has been with the department for 27 years, frequently directing law enforcement efforts for the St. Pat's parade. James previously served on the Sports Incorporated of Rolla board and is current president of the Rolla Athletic Booster Club, which supports student athletes in Rolla Public Schools. He and his wife, Tracy, have been married for 28 years. Their two daughters, Kayla and Kelsi, both attended Missouri S&T. James has one grandson, Carter, from Kayla and her husband.
– 2018 Honorary Knight Mary Helen Stoltz
Mary Helen Stoltz of Rolla, Missouri, is the editorial director in the marketing and communications department at Missouri S&T, where she serves as news and features editor of the university's award-winning alumni magazine, Missouri S&T Magazine. Stoltz joined the Missouri S&T staff in 1995, the same year she earned a bachelor of arts degree in English from S&T. In addition to service on campus committees, she completed the University of Missouri System's 2016 Administrative Leadership Development Program and is a recipient of the Missouri S&T Staff Excellence Award. An alumna of Kappa Delta sorority, Stoltz is president of the Rolla Fins Swim Club board of directors, is a member and past president of the Rolla Lioness Club and serves on the vestry of Christ Episcopal Church. She and her husband, Bill Stoltz, the Phelps County assessor, have two daughters, Emma and Sydney. Sydney will serve as a page during the 2018 Coronation ceremony.
– 2018 Honorary Knight Steve Zimmerman
Steve Zimmerman of Rolla, Missouri, is owner of Beverage Mart in Rolla. Zimmerman has operated the business for 22 years. After serving six years in the U.S. Navy, he earned a bachelor of arts degree in business administration from Northwest Missouri State University in 1969. Zimmerman spent 35 years as an accountant in the supermarket industry, spending time in Atlanta and Anchorage, Alaska, before returning to his home state of Missouri. He serves as a volunteer advisor for Sigma Tau Gamma fraternity at S&T and has employed many S&T students throughout the years. Zimmerman has also owned several Clydesdale horses, which have pulled carriages for various weddings and parades.