Thomas Vojta named chair of physics at Missouri S&T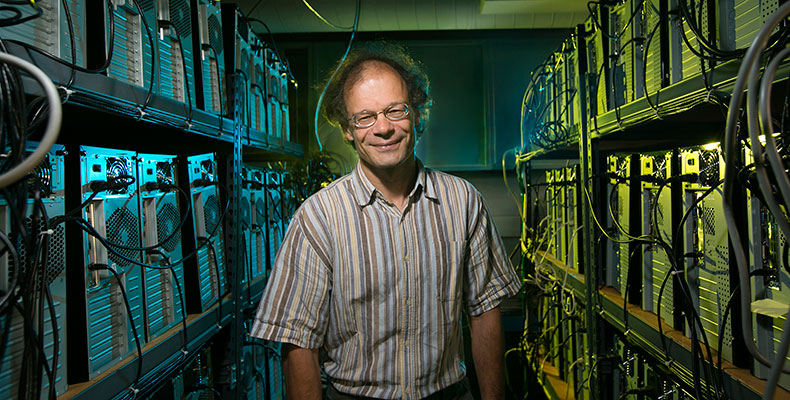 Dr. Thomas Vojta, Curators' Distinguished Professor of physics at Missouri University of Science and Technology, has been named chair of the department of physics. His appointment becomes effective Jan. 1.
Vojta takes over from Dr. G. Dan Waddill, professor of physics, who is returning to the faculty after serving as chair since 2007.
Vojta is a theoretical physicist recognized for his work on quantum phase transitions, transformations of materials near the absolute zero of temperature. Seeking to discover new states of matter, Vojta's research during his time at Missouri S&T has brought in grant awards totaling nearly $2 million from the National Science Foundation, the University of Missouri Research Board, the the University of Missouri Interdisciplinary Intercampus Research Program and the Research Corporation for Science Advancement.
Vojta joined the physics faculty at Missouri S&T in 2002 as assistant professor. He was promoted to associate professor in 2006 and to full professor in 2011. In 2015 he was named a Fellow of the American Physical Society for his "innovative analyses of quantum phase transitions in the presence of strong disorder." In 2016 he was named Curators' Distinguished Professor of physics by the University of Missouri System Board of Curators, a recognition for outstanding scholars with established reputations in their field of study.
Vojta teaches a wide range of graduate and undergraduate physics courses and supervises master's-, doctoral-, and post-doctoral-level students. He also serves the university by chairing committees involving information technology and research computing.
"Dr. Vojta is a researcher and educator of the highest caliber," says Dr. Stephen Roberts, vice provost and dean of the College of Arts, Sciences, and Business at Missouri S&T. "His work on quantum phase transitions and quantum materials is recognized internationally, and our STEM majors who study with him clearly graduate with an advantage."
Vojta earned a Ph.D. in physics from the Chemnitz University of Technology in Germany in 1994 and was awarded a prestigious Heisenberg fellowship from the German Research Foundation in 2001.
"I am excited about this opportunity to serve the physics department, the College of Arts, Sciences, and Business, and the entire campus," says Vojta. "As chair of physics, I will champion the expansion of the department's research portfolio and promote vibrant graduate and undergraduate programs that attract the best students from Missouri, the U.S. and from abroad."