Missouri S&T engineering students assist local governments as project management consultants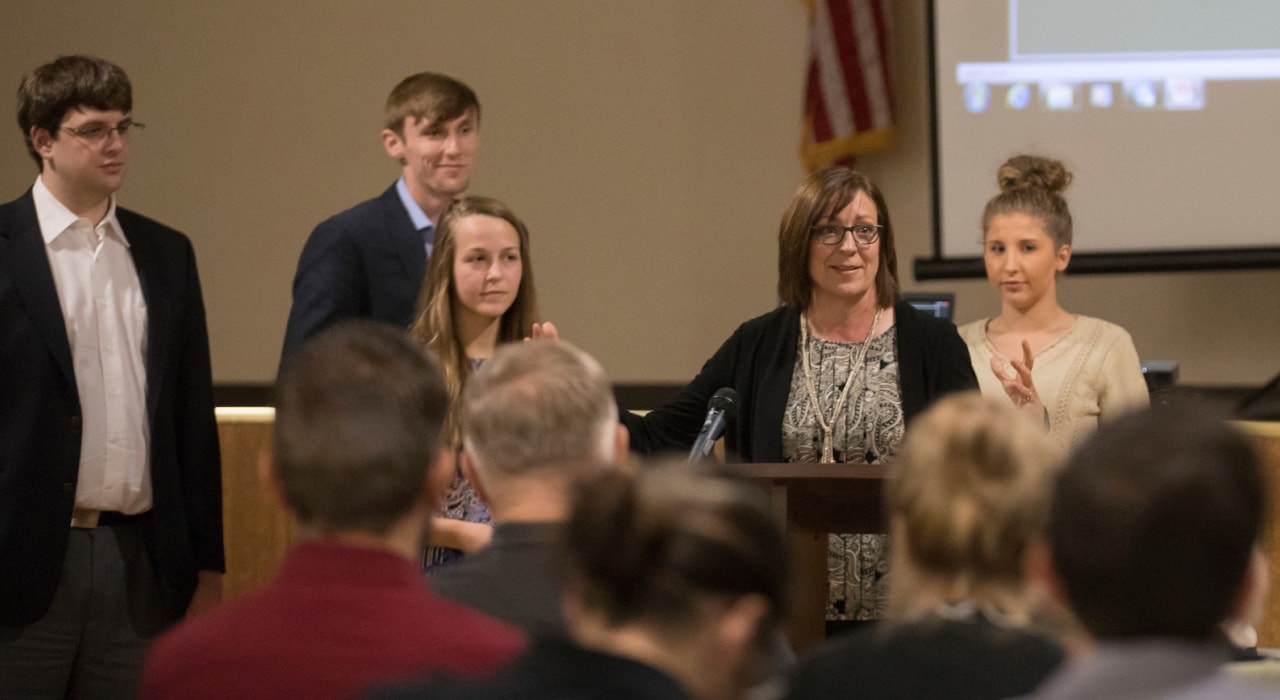 As far as undergraduate course schedules go, Dr. Joan Schuman's Introduction to Project Management class meets at a reasonable time: twice weekly for 75 minutes in the late morning.
But for Missouri S&T senior Sergey Isayko and his three classmates, advising the city of St. Robert on a plan to install solar-powered streetlights in a newly annexed neighborhood meant numerous trips after dark to the Fort Leonard Wood bedroom community, population 5,750, located about 30 miles southwest of Rolla.
"We got hands-on experience in the real world while taking college classes," says Isayko, a mechanical engineering major from Sedalia, Missouri. In his case, that experience included measuring the distance that a small batch of solar lights installed by the city illuminate neighborhood streets and sidewalks.
The solar lighting project was one of eight for which St. Robert city leaders received assistance from Schuman's students, whose tasks ranged from creating budget estimates and preliminary designs to developing construction timetables and gathering material cost estimates from vendors. Those ideas are then shared with the licensed professionals who create the final designs and oversee construction should the cities move ahead.
In St. Robert's case, the solar lighting project is among several already included in next year's municipal budget. Mayor George Lauritson says the city also hopes to build an RV park near Interstate 44 as well as a dog park on the same recently purchased tract. S&T students from Schuman's class also consulted on those projects.
"Their ideas were great," says Lauritson, a retired school administrator. "They have a younger perspective, which fits with our vision. And they have energy."
Since 2010, when Schuman took over the class, her students have provided their engineering management expertise on nearly 180 projects on behalf of 15 small cities and towns across the Ozarks and beyond: Belle, Cuba, Doolittle, Edgar Springs, Hermann, Linn, Potosi, Richland, Rolla, Salem, St. James, St. Robert, Steelville, Sullivan and Waynesville.
"They get fresh eyes," she says, with students sharing not only their technical expertise but also ideas on how to grow cities and attract young families. "They can use them for bids or grant applications. Typically, that would cost about $10,000.
"There's a lot of value in the students doing real projects," she adds. "Their experience often leads to jobs and internships. And they have real clients. They have to put in a lot of effort."
For Rachel Schlote, a senior computer engineering major from Catiwassa, Missouri, who also worked on the solar streetlight project,  "dealing with real people … makes you feel more responsible." Team leader Jonathan Stigge, a junior engineering management major from Washington, Missouri, concurs.
"You feel like an actual engineer, doing an actual project," he says.
The project management students often discover that community service can have a long-term impact.
"One of my goals for the class is to help instill the concept of being good citizens in their future communities," Schuman says.
"I typically have the students give me feedback on their project work," she notes. "One student's feedback really stood out to me. He stated, 'I have always thought that community service is important. This project was different, however, in that I was able to use my knowledge and skills about engineering to help someone rather than just doing the usual "grunt" work that volunteering sometimes entails. I will definitely continue volunteering in the future, and this project has opened my eyes to how volunteering my engineering skills can be used for the greater good.'
"This was exactly what I was hoping to achieve," says a proud Schuman.