STEM Monologues depicts hurdles for women in science, tech, engineering and math — in their own words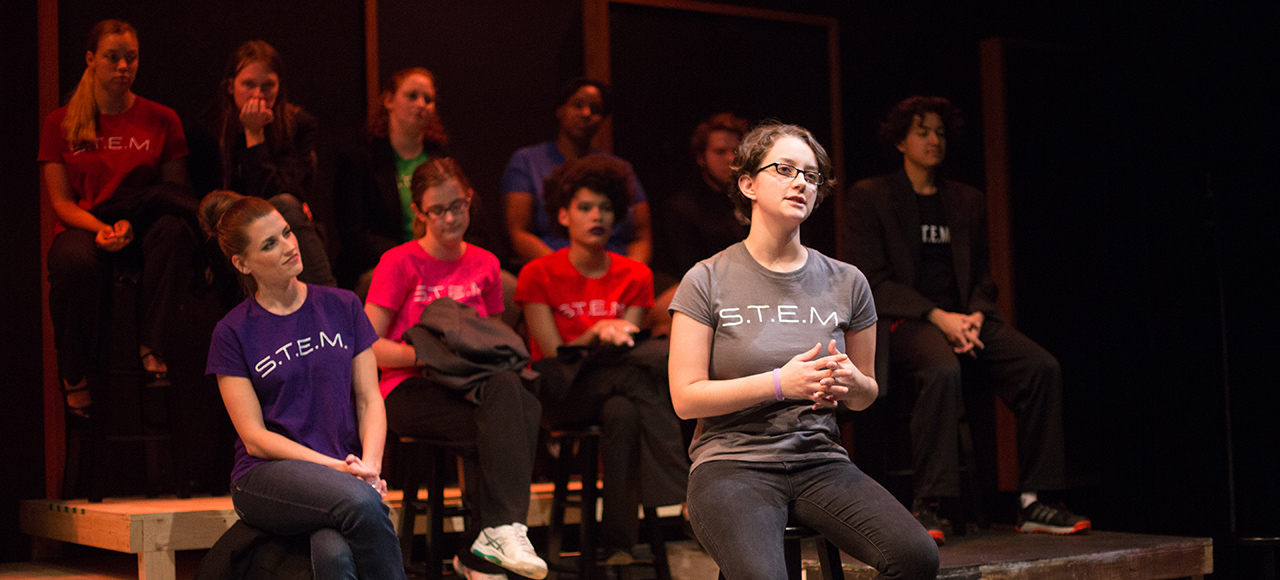 The challenges faced by women in the male-dominated fields of science, technology, engineering and mathematics are well-documented, and pervasive.
While more than 56 percent of college students on U.S. campuses are female, the percentages of women earning degrees in the fields collectively known as STEM hover at less than half that rate. In the workplace, women represent nearly half of the U.S. workforce but account for just 28.4 percent of American scientists and engineers, according to the National Science Foundation.
Beyond those statistics, though, are countless personal stories: withering accounts of casual discrimination; demeaning remarks that continue to sting years later; diminished expectations by classmates, professors, coworkers and supervisors; and in the most severe cases, sexual harassment and sexual assault.
Those personal stories are at the heart of "The STEM Monologues," a new play being performed over the next two weeks by Missouri S&T's Miner League Theatre Players.
Jeanne Stanley, an associate professor of theater at Missouri S&T and the play's writer and director, interviewed more than 50 people — both men and women — in Missouri and North Carolina's Research Triangle Park, including students, professors and administrators at S&T, the University of Missouri-Columbia and Northwest Missouri State University.
From those conversations, she culled firsthand accounts of 26 different monologists, who are identified in the play by only first names.
Michelle, a recent engineering management graduate, describes her struggles with "imposter syndrome" — the notion that one's accomplishments are rooted in luck, or other external factors. Jane recounts a male administrator responding to her transfer request with the comment that "we didn't expect girls to succeed anyway." And Megan, an early-career engineering professor, outlines the pressure she faced when working in industry to join a group of male colleagues at an out-of-town strip club while on company business.
"Everyone's story is different," says Stanley, who teaches in the university's arts, languages and philosophy department and is also its associate chair of performing arts. "Sometimes they're funny, with a lot of laughter. Sometimes you just want to cry. Sometimes you learn things you would never have known, particularly as a male, about what women go through."
The title is an overt nod to "The Vagina Monologues," a 20-year-old play based on interviews with women that explores issues of sex, gender, body image and more that has become a staple on college campuses in recent years.
The diverse cast includes aspiring engineers and liberal arts majors as well as several professors and Rolla community members. For many, the lines they recite from memory ring true to their own experiences.
One of the performance's actors, Arden Hawley, a senior from Fort Bragg, North Carolina, described an encounter she had with a male student she didn't know who followed her from the campus library to her car late one night. The student, who asked for her phone number, thought he was being friendly; for Hawley, the exchange left her in fear.
"I understand that you don't think you're being threatening," she says of the other student's reaction. "But there's this duality."
Hawley adds that the play is not intended to scold or rebuke audience members, but to instead highlight the persistent hurdles women in STEM face in the classroom and the boardroom, while also celebrating their achievements.
"It's not necessarily pointing out to everyone what people are doing wrong," says Hawley, an information science and technology major. "But people do need to see that this is a problem, even if you don't personally face it, that's still here."
For Jamie Schwartz, a sophomore cast member from Chesterfield, Missouri, the play's power resides in its authenticity.
"It's more personal," she says. "All of these people are real. All of these stories are real."
Cast member Olivia Holdman, a junior from Festus, Missouri, majoring in geology and geophysics, says that while her parents actively encouraged her interests in science and math as a child, others continue to struggle against more outdated societal and cultural expectations.
"A lot of women still feel like they have to go into teaching or nursing, she says.
Stanley first conceived of "The STEM Monologues" years ago, in part as a response to moving from a Kansas liberal arts college to a campus where men still greatly outnumber women. But she and several cast members are quick to recognize that the performance arrives at an opportune time, with significant public attention and media coverage aimed at sexual harassment and sexual assault allegations against top media executives as well as Hollywood producer Harvey Weinstein and Oscar-winning actor Kevin Spacey.
"There's definitely more urgency now," Holdman says. "Women are finally feeling like they can speak out. For such a long time, it was taboo. I'm glad this story is being put out there."
Performances of "The STEM Monologues" will be held at 7 p.m. nightly, Nov. 9-15, at the Black Box Theatre in Room 143 Castleman Hall, located at the corner of 10th and Main streets in Rolla. Tickets are $5, and can be reserved by calling (573) 341-4185 or emailing Renee Williams at williamsmelr@mst.edu.