Attend the Solar House sendoff Sept. 9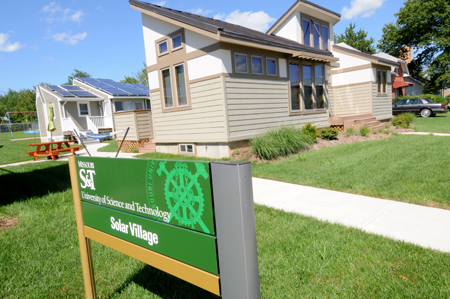 The Solar House Design Team at Missouri University of Science and Technology will host a dedication and open house in September for its newest entry into the 2017 Solar Decathlon.
The event will be held at 4 p.m. Saturday, Sept. 9, at the EcoVillage, located at 910 Innovation Drive along West 10th Street, between Missouri S&T's Allgood-Bailey Stadium and Innovation Park, near Phelps County Regional Medical Center. At the dedication, attendees can tour the new house and enjoy free crêpes, cookies and refreshments. The event is free and open to the public.
The Solar House Design Team will compete at the U.S. Department of Energy's 2017 Solar Decathlon Oct. 5-15 in Denver. This is the seventh time Missouri S&T has qualified for the event, more than any other team in the competition.
The house, named "SILO," which stands for Smart Innovative Living Oasis, is designed for a middle-aged couple looking to find a smaller home to start living more sustainably. With this in mind, SILO uses innovative technology that is user friendly and intuitive for the homeowner.
Later this fall, the team will ship its house to the contest site and then reassemble it. The house will be evaluated by judges in 10 categories, which range from simple comforts like hot water and working appliances to architecture and marketability.
Student teams will showcase their solar-powered houses to the public at the competition site. They will demonstrate renewable energy systems and energy-efficient technologies, products and appliances that are already available to help them save homeowners money by saving energy.
For more information about the event, contact Jenny Nickel at janxv8@mst.edu or visit solarhouse.mst.edu.