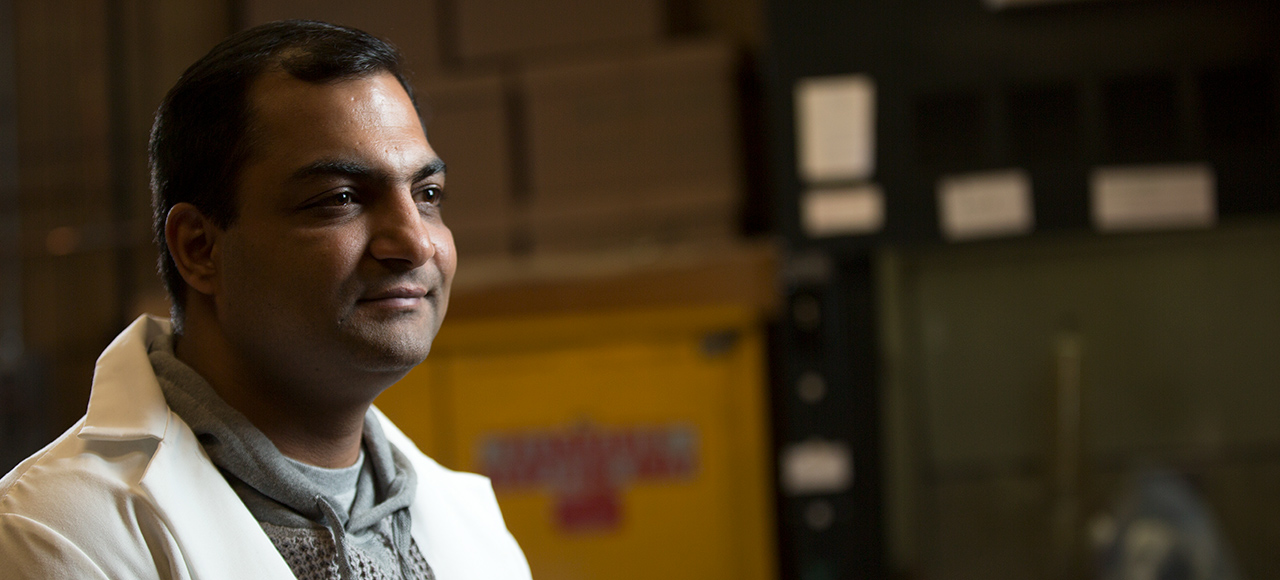 For years, Jatin Mehta watched his mother's health degrade as she dealt with the debilitating effects of type 2 diabetes. When she passed away on March 5, 2016, Mehta dedicated his research to her, and to the millions of others around the world that die from age-associated diseases every year.
Mehta is a doctoral candidate and teaching assistant in chemistry. He works with Dr. V. Prakash Reddy, professor of chemistry, on a project to design and synthesize medicinal compounds that could slow or prevent age-associated diseases such as Alzheimer's, cancer, cataracts, dementia and, of course, type 2 diabetes.
"I hope to solve the health problems that arise due to aging," he says.
Mehta doesn't believe in a mythical Fountain of Youth, but he does think that aging doesn't have to be so difficult.
"We get diseases when we get old," he says. "We can't stop aging, but we can make it more pleasant."
Before he started school at Missouri S&T in January 2013, Mehta was a research scientist for several major pharmaceutical companies in India for eight years. He holds two Indian patents for drug synthesis.
Mehta, who has both bachelor of science and master of science degrees from Kurukshetra University in India, noticed that he was often passed over for promotion due to candidates with doctoral degrees.
"If you want to do research in the pharmaceutical industry, you should have a Ph.D.," he says. "So I started to think about that."
Mehta applied to a number of universities around the world with organic chemistry research programs, but his first choice was always Missouri S&T. This was, in part, due to his desire to work with Reddy, whose research interests include drug design.
It was at Kurukshetra that Mehta met his wife, Meenakshi, who is also a doctoral student in chemistry at S&T. Together they have a 6-year-old son.
"My family is my motivation, especially my wife," Mehta says. "She sacrificed a lot in terms of her career to get me here. I believe this wouldn't be possible for me without her support and motivation."
Mehta is involved in a number of organizations on campus, but his passion is public speaking.
"That's my passion," he says. "I love public speaking. I'm continuously working on improving my communication skills."
That passion led Mehta to participate in S&T's 2016 3-Minute Thesis competition, where a presentation about his research garnered him the People's Choice Award.
Mehta has been a member of Toastmasters International since 2014, and is current vice president of education for the Ozark Orators #1056 Toastmasters International Club in Rolla.
"I welcome everyone to visit our club to improve public speaking in a fun manner," he says.