KMST Membership Reunion set for May 4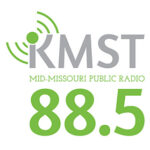 The management and staff of public radio station KMST will host the KMST Membership Reunion 5-7 p.m., Thursday, May 4, at the Lions Club Den in Rolla.
According to KMST marketing manager Joel Goodridge, the event is a chance for the KMST family to thank member families for their support.
"Our entire staff looks forward to this event each year," Goodridge says. "It's a wonderful opportunity for us to meet new friends, re-acquaint with old friends and just enjoy some time together."
This year, KMST will also honor a Member of the Year in addition to the Business of the Year award.
This year's Membership Reunion is being underwritten by Phelps County Regional Medical Center. Food will be supplied by Lee's Famous Recipe Chicken of Rolla. Beverages will be supplied by Ozarks Coca-Cola/Dr. Pepper Bottling Co. of Rolla. Members can RSVP to Karen Walberg at 573-341-4018 at walbergk@mst.edu.
KMST is a 100,000-watt non-commercial, educational station licensed to the Curators of the University of Missouri System. The station is located at 88.5 FM in Rolla and surrounding communities; 96.3 FM in Lebanon, Mo., at their translator facility; and online at www.kmst.org.