Attend a poetry reading by Charlotte Matthews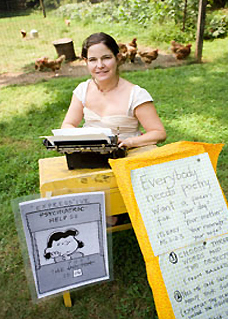 Poet Charlotte Matthews will offer a free reading of selections from her new book Whistle What Can't Be Said this April on the Missouri University of Science and Technology campus.
The reading will be held 2-4 p.m. Wednesday, April 19, in Room 140 Toomey Hall at Missouri S&T. The event is free and open to the public.
A professor in the Bachelor of Interdisciplinary Studies Program at the University of Virginia, Matthews' works have appeared in the Virginia Quarterly Review, Borderlands, Ecotone, Tar River Poetry, storySouth and other poetry publications. In 2007, she received the New Writers Award from the Fellowship for Southern Writers. Matthews has two other collections of poetry, Green Stars and Still Enough to Be Dreaming, which were published by Iris Press in 2006 and 2008, respectively.
"Charlotte Matthews writes intimate poems that refuse to skate over the trials of childhood: she perseveres through absence, illness and loss," wrote poet and author Ira Sadoff in a review of Matthews' book. "Thanks to her hard work she — and we — can look out at the world with fierce and loving attention and take in our beautiful, difficult lives."
Matthews served as a visiting professor at Missouri S&T in 2014, when she was the Maxwell C. Weiner Distinguished Professor of Humanities. While at S&T, she held numerous poetry readings for the campus and taught courses in poetry writing in the English and technical communication department.