Celebration of Nations honored by Rolla Chamber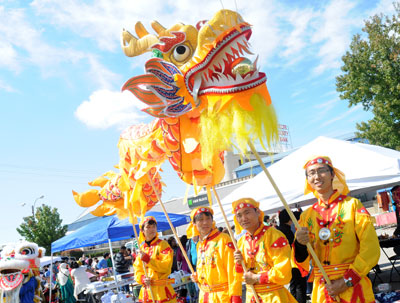 The Rolla Area Chamber of Commerce presented the Celebration of Nations Committee at Missouri University of Science and Technology with its Annual Achievement Award for 2017.
The award, which recognizes the committee for its efforts in growing the annual Celebration of Nations event, was presented during the chamber's 97th annual awards banquet, held Saturday, Jan. 21, at the Havener Center on the Missouri S&T campus.
Birdie Morgan, program director in international and cultural affairs at Missouri S&T, accepted the award on behalf of the Celebration of Nations Committee. Other committee members in attendance include Amy Smith, international student insurance advisor; Jodi Hasekamp, prospective international student advisor; Robin Ziegler, study abroad coordinator; Dr. Gregory Gelles, professor of economics; Richie Myers, cultural program coordinator, and Luce Myers, assistant teaching professor of arts, languages, and philosophy.
The Annual Achievement Award recognizes exceptional service by an individual or group of people for efforts to recruit and coordinate volunteers while significantly contributing to the Chamber of Commerce and the Rolla community over the past year.
September 2016 was the seventh consecutive year that the Missouri S&T, in collaboration with the city of Rolla, has hosted Celebration of Nations in downtown Rolla. This event is one of the largest multi-cultural, family-friendly events in mid Missouri. The theme of the event each year is "One Campus. One Community. One World."
Created in 2010, Celebration of Nations allows the campus and the community to come together to taste different international cuisines, create multicultural arts and crafts and experience cultural entertainment. It is coordinated by Missouri S&T's department of international and cultural affairs.
The event begins each year with the Parade of Nations. The parade begins on campus, travels through downtown, and ends at the City of Rolla Festival Lots and Band Shell. The 2016 parade featured students and other participants from over 80 countries with flags, themed floats, traditional dress, music and dancing, all celebrating the rich cultural diversity of the campus and Rolla community. The Celebrate Talent competition gives the students, faculty and members of the area communities an opportunity to perform for the community.
Throughout the year, the Celebration of Nations Committee and Missouri S&T international students visit area schools to educate children about other cultures around the world and the various countries represented on the S&T campus.
Children are provided souvenir passports to use during the September event. When children visit the festival booths, they receive stamps in their passports. With ten stamps, the children are presented with International Ambassador Certificates. Games and craft projects are also offered to the children at the Kids Station.
The eighth annual Celebration of Nations will be held Saturday, Sept. 30. For more information visit nations.mst.edu.