NASA astronaut to speak as part of Space Week Nov. 4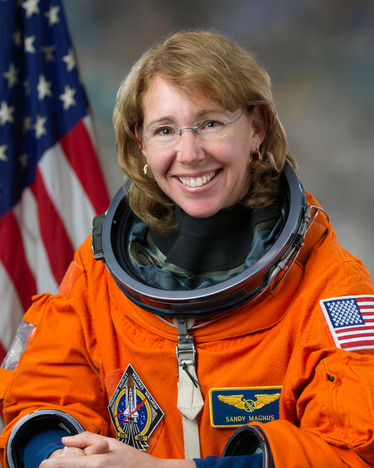 Dr. Sandra Magnus, executive director of the American Institute of Aeronautics and Astronautics and former NASA astronaut, will speak about space-related topics as part of Missouri University of Science and Technology's Space Week.
Magnus, who made three space shuttle voyages with NASA, will speak at 6 p.m. Friday, Nov. 4, in Room 140 Toomey Hall. The event is free and open to the public.
The talk is a part of Space Week, a week of space-themed events hosted by various clubs, groups and teams at Missouri S&T.
Magnus earned a bachelor of science degree in physics at Missouri S&T in 1986 and a master of science degree in electrical engineering at Missouri S&T in 1990. She also holds a doctorate from Georgia Tech.
Magnus was aboard Atlantis for the last flight of the program in July of 2011, one of the final four astronauts to orbit the Earth in a space shuttle. Magnus made two trips to the International Space Station. In 2008-09, she spent more than four months on the ISS. During that time, she traveled 50,304,000 miles and blogged about the experience.
Other events include:
— Evening with Dr. Thomas Shoberg, research scientist with the United States Geological Survey, 6 p.m. Wednesday, Nov. 2, in Room 254 Toomey Hall
— Screening of "October Sky" 6 p.m. Thursday, Nov. 3, in the Missouri-Ozark Room of the Havener Center.