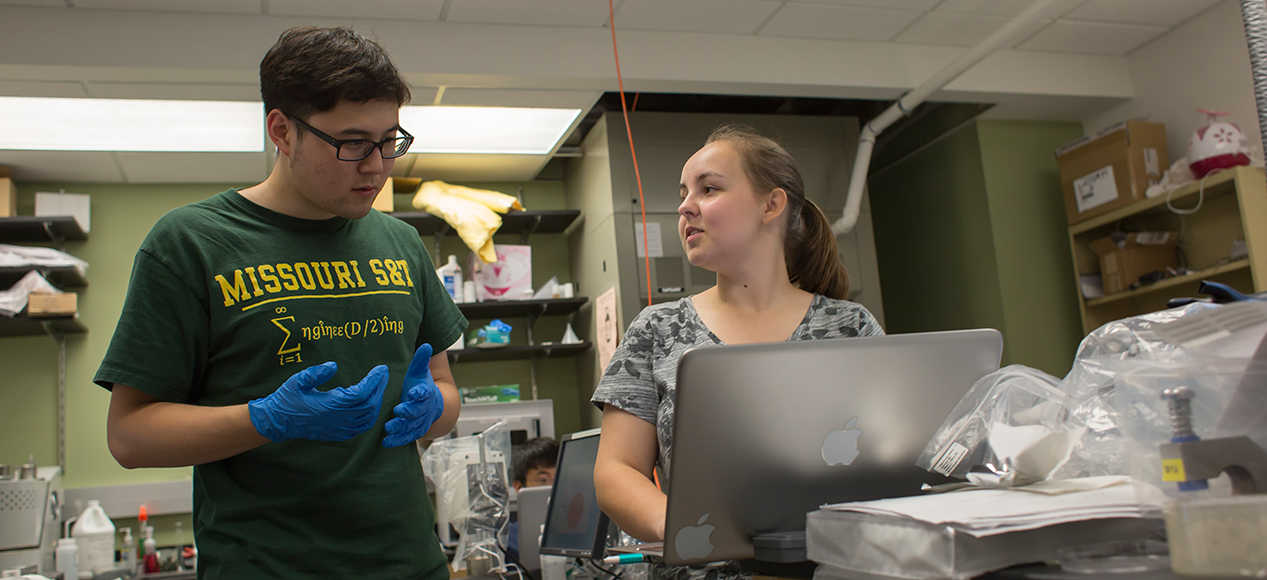 High school students experience intensity of lab life in six-week research academy
Jessica Slavick and Daniel Yoon could be spending their summer idly soaking in the sun at the neighborhood pool, or earning extra cash as a coffee barista or movie theater usher.
Instead, the rising high school senior (Slavick) and recent graduate (Yoon) spend their days at the Advanced Energy Materials & Systems laboratory in Toomey Hall.
Under the watchful eye of lab director Dr. Jonghyun Park and his team of graduate students, the two Summer Research Academy students are getting head starts in both the academic rigor of a technological university and the tried-and-true pairing of an experienced faculty mentor with junior researchers.
"My entire mission as a professor is to train, motivate and educate students," says Park, an assistant professor of mechanical and aerospace engineering. "This program allows me to involve highly motivated high school students and generate exciting research."
In Slavick's case, that research involves tinkering with the levels of various chemical ingredients in a polymer as part of a study of how to harvest energy systems. Yoon's research explores the flip side of that question: how to use nanowire-based electrodes to increase lithium battery capacity — a question with real-world ramifications for any owner of a laptop computer, cell phone or electric car.
"He's trying to store energy using batteries," Slavick explains. "I'm trying to create it."
"The main challenge with energy storage is that we want to uses systems longer per single charge with enhanced safety and longevity," says Park. "Simultaneously, the cost must be affordable."
Unlike most of the weeklong S&T summer camps, the research academy is a selective experience. Applicants must meet a standardized test score requirement and have completed a minimum of three high school math classes at the level of Algebra I or higher as well as at least one chemistry, physics or biology class, including a lab experience.
"They earn the trust of these professors to come in their lab and work alongside them," says Melanie Wulff, a program specialist in the office of Student Diversity, Outreach and Women's Programs who coordinates the research academy. "We've had students in the past who have actually been credited by the professors (as co-authors of academic papers).
The program draws students from across the country — this year, the 11 participants' home states include Arkansas, Kansas, Tennessee and Texas.
Slavick is preparing to finish her final year at the Oklahoma School of Science and Mathematics, a two-year, public residential school in her hometown of Oklahoma City.
Yoon, who lives in Columbia, won't have to travel far: he's due back in Rolla in just a few weeks for his first semester at S&T.
"This gives me an idea of the environment of the research lab," he says.
For Park, the opportunity to bring talented high schoolers into the inner sanctum of his research lab also means a fresh set of eyes and ears to not only work under his direction but to also challenge assumptions, when needed, without any preconceived notions.
"They have more open eyes," he says of the youthful researchers. "They don't know the details. They can imagine what they want to do."