Rogers named an ASCE Fellow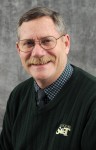 Dr. J. David Rogers, the Karl F. Hasselmann Missouri Chair in Geological Engineering at Missouri University of Science and Technology, has been named an American Society of Civil Engineers Fellow.
Rogers is an expert in the geoforensics of dam, levee and slope stability failures, flood control and fluvial geomorphology, the Mississippi Delta, and site characterization for seismic site response. He has written articles and prepared posted lectures on the evolution of flood control practice, dam and levee failures, landslide dams, Hoover Dam, the Panama Canal and the Tennessee Valley Authority, among many others.
He was the lead researcher on a paper published in 2015 in Water Policy law journal titled "Interaction between the U.S. Army Corps of Engineers and the Orleans Levee Board preceding the drainage canal wall failures and catastrophic flooding of New Orleans in 2005."
The article focuses on the U. S. Army Corps of Engineers and its lack of external peer reviews that allowed for faulty flood walls to be installed in the city. It pinpoints the key factors that led to the walls' failure and the actions taken years before the disaster that allowed the engineering oversights to occur.
"As more information has emerged from the time of the disaster and its prior decision-making processes, new details allow us to have a better idea of the situation and what led to the various levee failures," says Rogers. "This article is meant to put the record straight about the conclusions people drew from the disaster, many of which were based on incorrect information."
Rogers and his co-authors said that the main fault in the failure of the flood walls along the city's principal drainage canals was the misinterpretation of a full-scale load test carried out by the Corps in the Atachafalaya Basin a few years before Katrina.
Rogers joined the Missouri S&T faculty in 2001 as the only endowed chair in geological engineering in the nation. Before that, he was a lecturer in engineering geology from 1994 to 2001 at the University of California-Berkley, where he earned master of science and doctoral degrees in geological engineering in 1979 and 1982, respectively.
From 1984 to 1997 he owned Rogers/Pacific, a geotechnical firm with offices in San Francisco and Los Angeles. In 1987, Rogers and R. John Caulfield formed Rogers-Caulfield, a construction management firm specializing in repairs of creeping slopes, landslides and rockslides. In 1998, he founded Geolith Consultants, which specializes in geoforensic consultations.
###