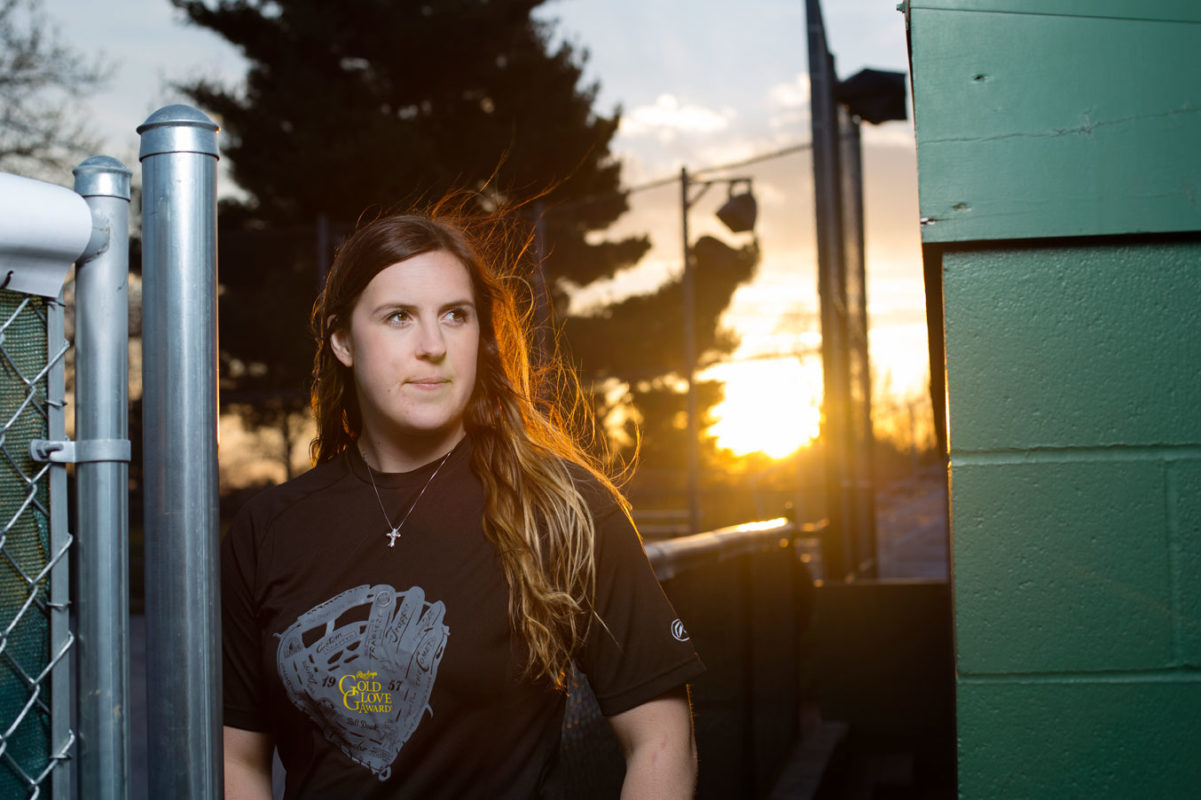 Softball is a sport of nuances. The slightest shift in a batter's stance or in the angle of a pitcher's arm can have a profound impact on an at-bat, a game and, sometimes, a season. Subtle changes in mechanics can be the difference between a batter striking out and lacing a home run to win the game. Engineering is a discipline of nuances. Much like softball, the smallest tweak in design can be the difference between a project as important as a new bridge holding or crumbling. Bonnie Wilt, a senior in engineering management, had the opportunity to meld the two during a co-op with Rawlings Sporting Goods in Chesterfield and O'Fallon, Mo., from May to December 2015.
Wilt worked with S&T's cooperative education program, which gives students the opportunity to gain practical work experience in their field of study before they graduate. The program is designed to give students a break from studies to work full time for one semester or a combination of semesters, which allows eight to nine months of work experience versus the three summer months allowed for internship positions.
Wilt's role at Rawlings included quality assurance and product development, two skills she had honed at Missouri S&T.
"It was kind of like the engineering side of sports," she says. "Which was really cool because I've played softball since first grade." Wilt played on the Missouri S&T softball team for two seasons.
During her co-op, Wilt tested Rawlings baseballs and helmets and helped design the company's 2017 fastpitch softball glove line. Her most demanding assignment was a five-week-long durability project at Rawlings' testing center in O'Fallon, Missouri. There she tested Major League, Minor League and NCAA baseballs for deficiencies. She checked the weight, size and compression of each ball to ensure they met standard specifications.
Balls that met specifications were further tested using a contraption affectionately called the "Mother of All Cannons," or "MAC." MAC shot the balls at very high speeds toward a curved metal plate that simulates a baseball bat. Wilt fed each ball to the MAC 100 times or until it failed. "You want to test it pretty much worst case scenario so you see how the product will hold up," she says.
Wilt also worked as a consultant with a team developing Rawlings' 2017 fastpitch softball glove line, which will be introduced to the public this summer, according to Denny Whiteside, senior project manager at Rawlings. Whiteside, a member of the Glove Development Team, says the team pulled in Wilt because of her softball and engineering experience.
"With her history of playing, she was just a really great resource to give us some feedback on prototypes we had made," he says.
As part of the experience, Wilt was asked to try on fastpitch softball gloves made by Rawlings, as well as other brands, and critique them. She was joined by a handful of her colleagues that were also former college softball players.
"We would point out different things we liked about them and what we didn't like," she says.  "We had to be super specific. They were taking our advice and rolling it into the new glove line."
"It was definitely really cool that I was pulled into it," Wilt says.
Her contribution didn't go unnoticed.
"Bonnie was very helpful from that standpoint," Whiteside says. "She was a great asset to the company."
Kathy Smith, director of quality assurance and warranty at Rawlings, served as Wilt's supervisor and mentor. "Bonnie was one of the best student engineers I have ever had," Smith, who earned an engineering management degree with an emphasis in mechanical engineering from Missouri S&T in 1984, says. "She was so cooperative, willing to learn, intuitive and humble — all great qualities for success in business, and sports."