Nixon, Middleton to speak at Missouri S&T commencement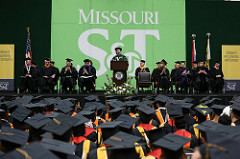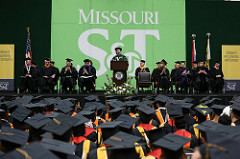 Commencement ceremonies will be live-streamed and available for post-commencement viewing here. Or follow commencement activity on social media using the hashtag #GoMiners2016.
More than 1,200 Missouri University of Science and Technology graduates will be awarded degrees during two commencement ceremonies to be held at Missouri S&T this month.
Michael A. Middleton, interim president of the University of Missouri System, will speak at the first commencement ceremony, which will be held at 10 a.m. Saturday, May 14. More than 600 degrees will be awarded during the 10 a.m. ceremony, which is for all graduate candidates and undergraduate candidates in arts, business and science programs.
Missouri Gov. Jeremiah W. (Jay) Nixon will speak at the second commencement ceremony, which will be held at 4 p.m. Saturday, May 14. More than 600 undergraduate engineering degrees will be awarded during the 4 p.m. ceremony.
Both ceremonies will be held in the Gale Bullman Building, located at 10th Street and Bishop Avenue in Rolla.
Middleton, who will speak at the 10 a.m. ceremony, was appointed interim president of the UM System on Nov. 12, 2015, by the University of Missouri System Board of Curators. He previously served as deputy chancellor of the University of Missouri-Columbia and is a professor emeritus in the MU School of Law.
Middleton joined the faculty of the MU School of Law in 1985 after an illustrious career with the federal government in Washington, D.C., where he was first a trial attorney in the Civil Rights Division of the U.S. Department of Justice. In 1977, he was appointed assistant deputy director of the Office for Civil Rights within the former U.S. Department of Health, Education, and Welfare.
After serving as director of the Office of Systemic Programs for the Equal Employment Opportunity Commission (EEOC) and as principal deputy assistant secretary for Civil Rights at the U.S. Department of Education, Middleton was appointed associate general counsel of the EEOC's trial division. He returned to his alma mater from St. Louis, where he was director of the EEOC's St. Louis District Office.
Beginning in 1997, Middleton served as the interim vice provost for minority affairs and faculty development at MU. A year later, he accepted the position of deputy chancellor, a role he held until his retirement on Aug. 31, 2015.
Middleton earned a bachelor's degree in political science from MU in 1968. He is a 1971 graduate of the MU School of Law.
He is married to Dr. Julie N. Middleton, who recently retired from serving as director of organizational development and an extension professional at MU. They have three children and seven grandchildren.
Nixon, who will speak at the 4 p.m. ceremony, is serving his second term as Missouri's 55th governor, after first being elected in 2008 and then re-elected in 2012.
As governor, his priorities have included making government more efficient, effective and responsive; attracting the jobs of the future to the Show-Me State; making record investments in education; and placing a college education within reach for all Missouri students. Nixon has worked closely with higher education leaders to keep tuition increases at the state's universities the lowest in the nation for the past seven years, making college more affordable for Missouri students and their families.
A native of De Soto, Missouri, Nixon was raised in a family of public servants. His mother was a teacher and served as president of the local school board. His father was elected mayor of De Soto and was a judge in the community.
First elected to the Missouri State Senate in 1986 and re-elected in 1990, Nixon was first elected as Missouri attorney general in 1992. He went on to serve as the state's chief law enforcement officer for a record four terms. As attorney general, he made a name for himself in standing up for Missourians to powerful tobacco and insurance companies, and in protecting consumers and the environment.
Nixon and the first lady, Georganne Wheeler Nixon, have two adult sons, Jeremiah and Will.