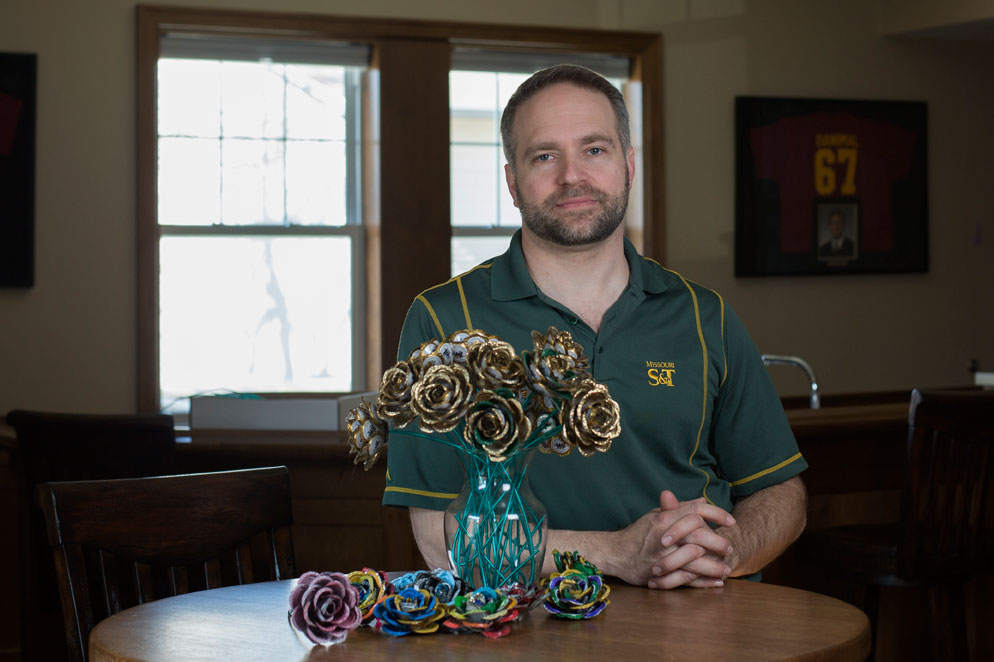 Nathan Rues started collecting bottle caps during his freshman year at Missouri S&T "for the same reason every college student collects them: to make a coffee table."
But Rues soon got busy with coursework and the university's Solar Car Team. He never started the coffee table, but he also never stopped collecting bottle caps.
Today, Rues turns bottle caps into creations that grace the table tops of restaurants throughout his home state of Indiana. What started as a hobby in college has turned into a flourishing business.
Rues, a 2002 mechanical engineering graduate who now lives in Fishers, Indiana, founded Kaps For Kids in 2014 as a way to benefit children's charities by "upcycling" bottle caps and turning them into metallic roses, holiday ornaments and mosaics. These days, he focuses on creating roses, but his earlier bottle cap projects were larger in scale.
Rues' first bottle cap artwork was a depiction of Vincent Van Gogh's "The Starry Night," which he unveiled in 2007 after working on the project for a year. By the time he was ready to start on that mosaic, Rues had accumulated "gallons and gallons of caps" and wanted to create something more involved than a coffee table.
Keeping it classy
"I thought, 'What's the classiest thing that I can do with bottle caps now that I'm in the grown-up world?'" Replicating the Van Gogh masterpiece in bottle caps was his answer.
An engineer for General Motors at the time, Rues continued to pursue his hobby. After GM announced that his job and others would relocate to Michigan, Rues decided to stay in Indiana and try to turn his hobby into a business while taking on part-time engineering work.
"For a while, I was just making one or two pieces, custom orders," Rues says. With every sale, he contributes 10 percent of the proceeds to a children's charity. He also made roses for chapters of his fraternity, Phi Kappa Theta, in exchange for bottle caps. "I said, 'You send me bottle caps, and I'll send you roses.'" He originally patented that rose design in 2012 specifically for Phi Kappa Theta's use. Fraternity chapters sell or auction the roses to raise funds for Phi Kappa Theta's national charity, the Children's Miracle Network.
Last year, he struck a deal with Scott Wise, the owner of Scotty's Brewhouse, a popular chain of restaurants in Indiana. "They always put fresh flowers on their tables, arranged in a growler," Rues says. "I approached Scotty and said I'd like to partner with you" by replacing the fresh flowers with bottle cap roses. As part of the deal, the restaurant would also sell individual roses to customers and donate 10 percent of the proceeds to the restaurant's charity of choice, the Peyton Manning Children's Hospital. "I thought it could be a win-win," Rues says.
From art to engineering
Wise agreed to try the arrangement at one restaurant. Soon, however, he approached Rues about furnishing the flowers for all 10 restaurants. The chain has since expanded, opening four new sites in the past year with plans to open more.
Suddenly, Rues had to scale his approach. So the engineer-turned-artist returned to his engineering roots and designed a way to make the process more efficient. In the past year, he's built three machines: one that sorts bottle caps by color (it's modeled after a machine that sorts Skittles by color, which Rues discovered on YouTube), one that presses the caps into rose petals and one that uses hot glue to assemble the final product. They're all contained in a spare bedroom that now functions more like a factory. "It's very space-efficient," he says. "My wife has wisely limited me to that room" – and to the attic, where about a million bottle caps are stored in boxes and barrels.
Despite the automation, some people think of Rues as an artist, but he doesn't necessarily agree.
"I'm in this neat place in the middle of art and engineering," he says. "It feels like I've never done more hands-on engineering in my life."
For more information on Kaps For Kids, contact Rues at Nathan.rues@kaps4kids.com.
Photos by Sam O'Keefe