Missouri S&T to host ASCE events like concrete canoe racing and bridge construction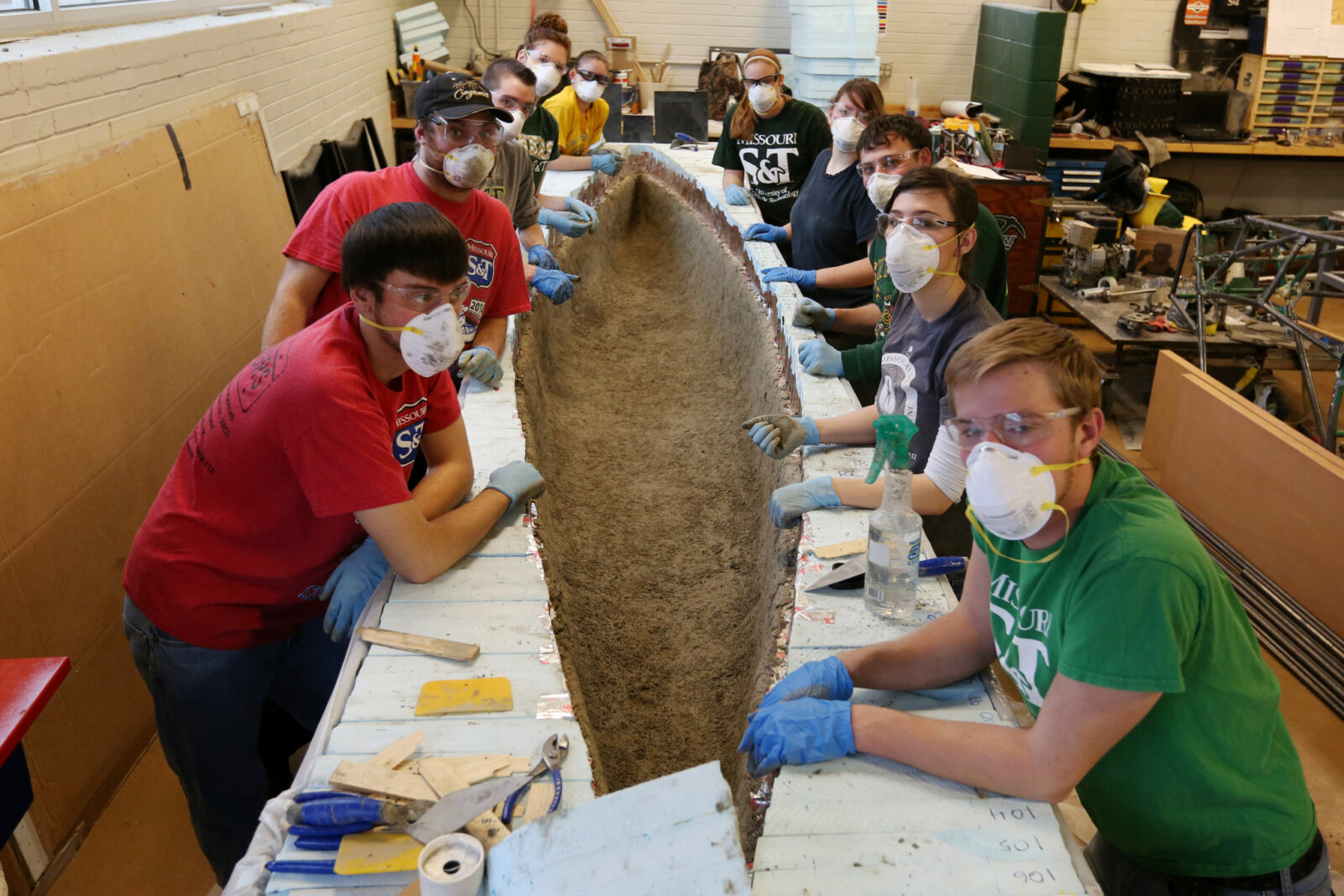 Concrete canoes will float, steel bridges will be constructed and retaining walls made of paper will support wooden structures when Missouri University of Science and Technology hosts the American Society of Civil Engineers' 2016 Mid-Continent Student Conference April 21-23.
Missouri S&T is hosting the conference for the first time in nearly 20 years and 16 college and university teams from Missouri and the surrounding states will participate. This year's events will include student competitions in concrete canoe, steel bridge, concrete bowling and GeoWall. All events are free and open to the public.
For the concrete canoe competition, students must design a "lightweight" concrete canoe that can remain buoyant when completely submerged in water, is strong enough to hold several paddlers and can easily maneuver through the water. After passing a "swamp test," designed to test the buoyancy of the canoe, teams will then race their boats in proof-of-concept women's, men's and combined sprints and endurance races to prove the strength of the thin-shelled canoes.
All the boats will be on display 9 a.m.-1 p.m. Friday, April 22, at the Puck on the Missouri S&T campus. Visitors are welcome to see the boats participate in the swamp test. Canoe races will take place 9 a.m.-1 p.m. Saturday, April 23, at Towell Lake in Little Prairie Conservation Area, located off Route RA in Rolla.
"The public is welcome to attend and even watch from their own boats, which can be launched at the lake," says Bob Phelan, outreach manager of the Student Design and Experiential Learning Center at Missouri S&T. "It's challenging, fun and often funny as things can, and sometimes do, go wrong."
During the steel bridge competition, teams will race to construct their bridge as fast as possible. The bridge is scored on its weight and rigidity, construction speed and the number of team members building the bridge. Penalties are assessed for infractions like dropping bolts, holding two pieces of the bridge at once and stepping over designated lines. Each bridge is also "load tested" to see if it can hold a required amount of weight.
The concrete bowling competition tests the students' ability to design and construct a concrete bowling ball that is practical, durable and aesthetically pleasing. Each team will roll in five combined frames (a maximum of 11 bowls in the case of a strike or spare in the fifth frame). The bowling ball must be able to perform in all frames of the competition; if the ball cannot remain intact, then the team will be disqualified from the competition.
For the GeoWall competition, teams have to design and build a model of a mechanically stabilized earth (MSE) retaining wall using paper reinforcement taped to a posterboard wall. Teams then apply uneven loads to the wall to test its durability.
The conference is sponsored in part by the Missouri State Highway Patrol, Columbia College, the Missouri Department of Conservation and the U.S. Geological Survey. For more information about the competition, including a complete listing of event times, dates and locations, visit mcsc2016.mst.edu.