S&T to celebrate Philanthropy Month in April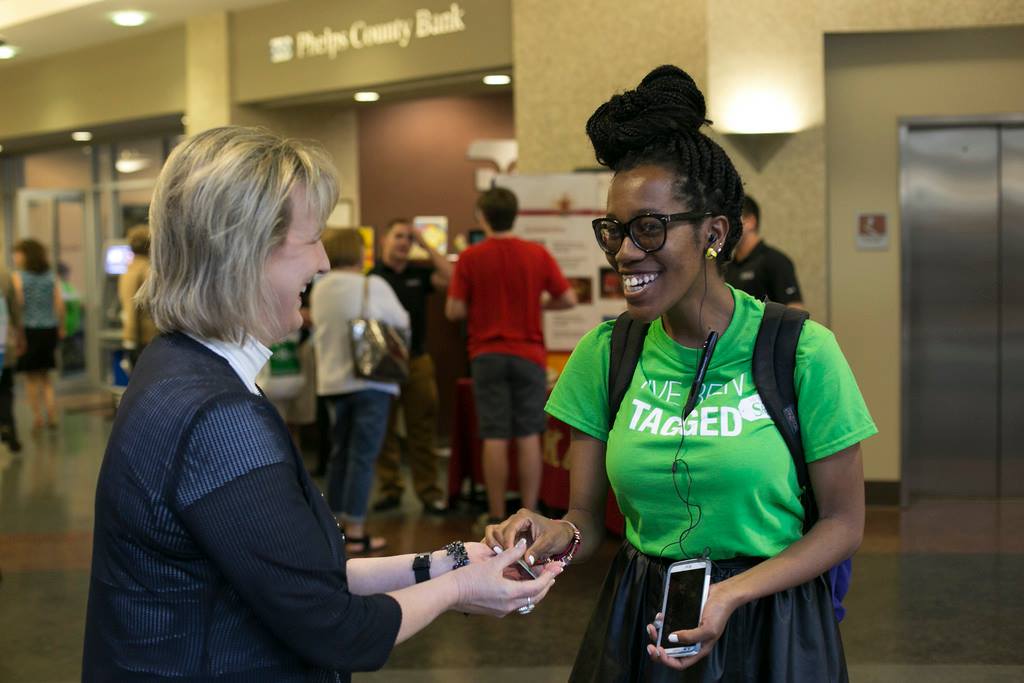 This April, Missouri S&T students, faculty and staff are celebrating more than the coming of spring. At S&T, April is Philanthropy Month, which celebrates giving, growth, pride, progress and philanthropic spirit.
Throughout the month, Missouri S&T's student alumni organization Students Today Alumni Tomorrow (STAT) will partner with Blue Key on a crowdfunding campaign for Spirit of Change, which provides funding for student support and random acts of kindness for Missouri S&T students throughout the school year. Recent examples include handing out free umbrellas on rainy days and free hot chocolate on cold days, or adding change to expired parking meters.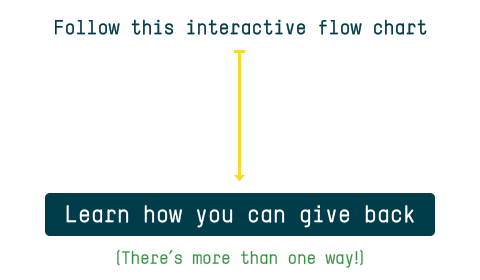 The crowdfunding campaign challenges 1,500 S&T students to give. The New Alumni Council has also challenged alumni to match the donations made by students.
Gifts can be made throughout April, but organizers will staff a booth 11 a.m.-2 p.m. on all Tuesdays and Thursdays during the month. All student gifts will benefit the Spirit of Change campaign. On Tuesdays, the booth will be located in the atrium of the Havener Center on the S&T campus. On Thursdays, the booth will be located outside of Curtis Laws Wilson Library.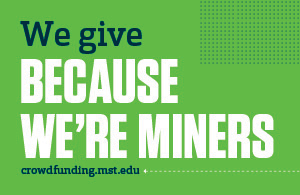 The booth will also hand out free snacks and Philanthropy Month T-shirts.
STAT and Blue Key will also host a month-long scavenger hunt for students. All clues will be philanthropy related. Three clues will be released to each team per week.
Starting April 1, green tags bearing the message "We give because we're Miners" will be placed on campus landmarks, offices, labs and equipment that serve as examples of generosity across campus.
Students, faculty and staff will also have a chance to share what they love about S&T during Philanthropy Month. Whiteboards will be moved around campus 11 a.m.-1 p.m. on all Wednesdays during the month of April for individuals to write what they love about S&T.
Missouri S&T will announce the 2016 Woman of the Year during an awards luncheon at noon Wednesday, April 20, in Hasselmann Alumni House. The award includes a $2,000 stipend funded by Missouri S&T graduate Cynthia Tang, founder and former chair of Insight Industries Inc.
On Thursday, April 21, and Friday, April 22, students spotted wearing their Philanthropy Month T-shirt will be eligible to receive a random act of kindness sponsored by Blue Key and STAT.
Scholarship students and donors will team up to raise money for student organizations on campus during the third annual Battle of the Brains scholarship banquet and trivia night on Friday, April 22. The event is designed to give donors the opportunity for fellowship with the students who benefit from their generosity, and to allow scholarship recipients to thank our generous donors.
At 5 p.m., Friday, April 29, Philanthropy Month activities will conclude with hot dogs and root beer floats at Hasselmann Alumni House, located at 1100 N. Pine St. in Rolla.
For more details about the scavenger hunt, Philanthropy Month activities, to register a scavenger hunt team, or to donate to the crowdfunding campaign, visit crowdfunding.mst.edu/Philanthropy2016.